The Best Women's Hiking Shorts in 2023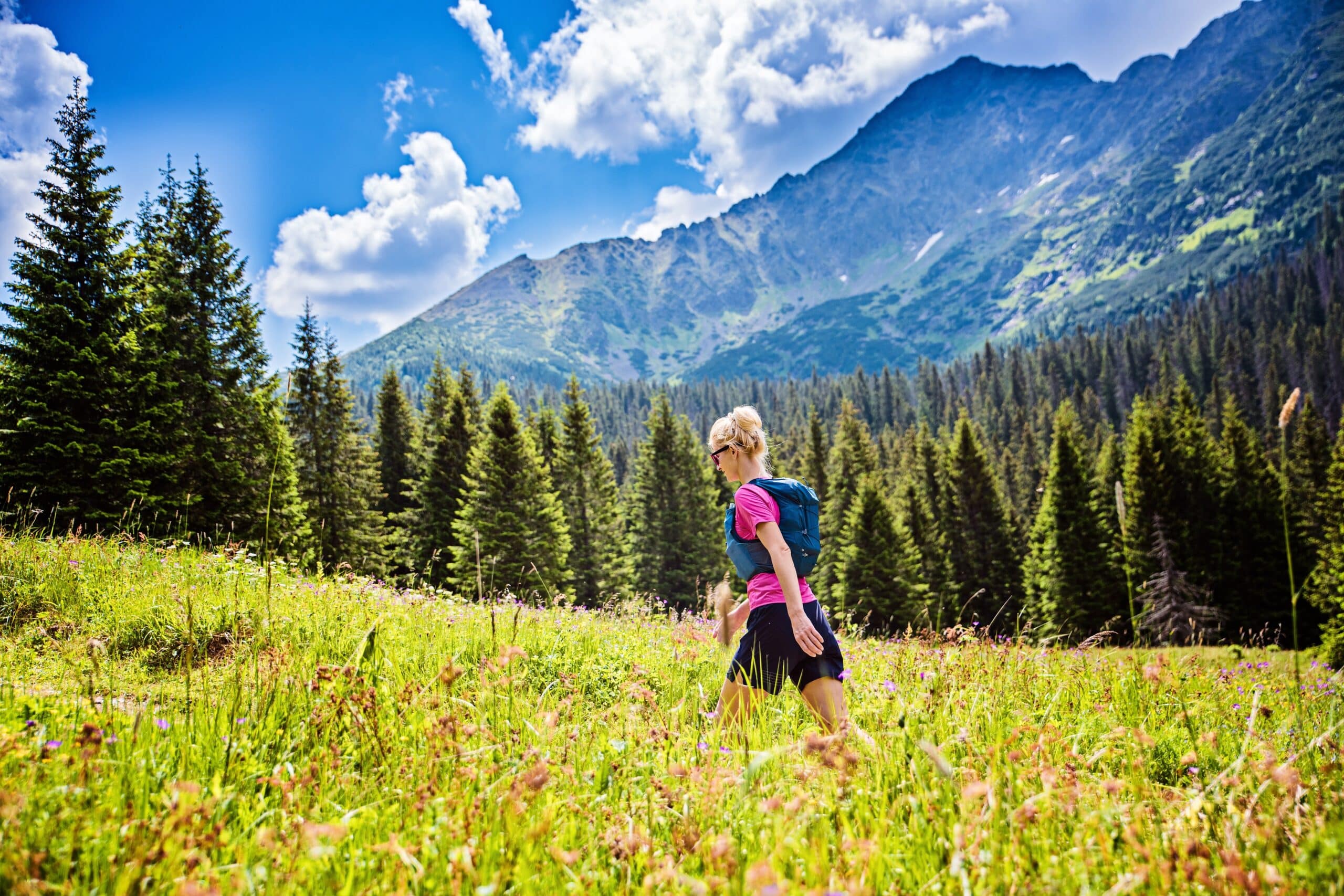 This guide reviews the best women's hiking shorts designed to offer comfort, durability, and functionality on the trails. They are usually made of high-quality materials that are lightweight, breathable, and quick-drying, such as nylon or polyester blends. Additionally, they often come with moisture-wicking technology, UPF protection, and stretchy fabrics that allow for a full range of motion.
The best hiking shorts for women also have strategically placed pockets for easy access to essentials, like a phone or a map. Lastly, they come in various lengths and styles to accommodate different preferences and body types. Overall, the best women's hiking shorts are essential for any female hiker exploring the outdoors in comfort.
This website includes affiliate links to various products. By using these links to make a purchase, you may support us, as we may earn a commission without any additional cost to you. Your support through these links is highly valued and helps us maintain the website and its content. We genuinely appreciate your support and thank you for using our links to make your purchases.
---
Our Top Picks for Best Women's Hiking Shorts:
---
Best Overall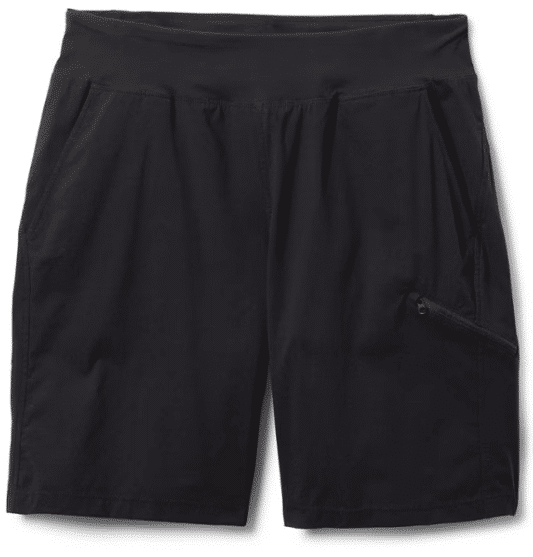 Features
Inseam Options: 4", 6" and 9"
Material: Nylon and Elastane
Waist: Flat Low Profile
MSRP: $65
Pros: Waistband works well under layers and with secured backpack belts, and they never ride up!
Cons: If you are in between sizes, there isn't an option to cinch or add a belt.
Our Take
This Mountain Hardwear design is the hiking shorts you need for all your outdoor adventures. They're tough, let your skin breathe, have built-in stretch, don't ride up, and dry quickly. I've worn my pair for endless miles on the trail, and they are still my favorite hiking shorts. They fit well, are comfortable, and let you easily move around.
They work well with other gear; you can stash all your stuff in them, too, with pockets deep pockets and a zippered pocket on the leg. The Mountain Hardwear Dynama/2 Bermuda shorts have it all – they're the best lightweight hiking shorts, have multiple inseam options, and even have a stretchy waistband that stays put when wearing a backpack.
Long Story Short- and yes, pun intended, they're the best hiking shorts I've ever tried and are my go-to hiking shorts.
---
Best Option for Durability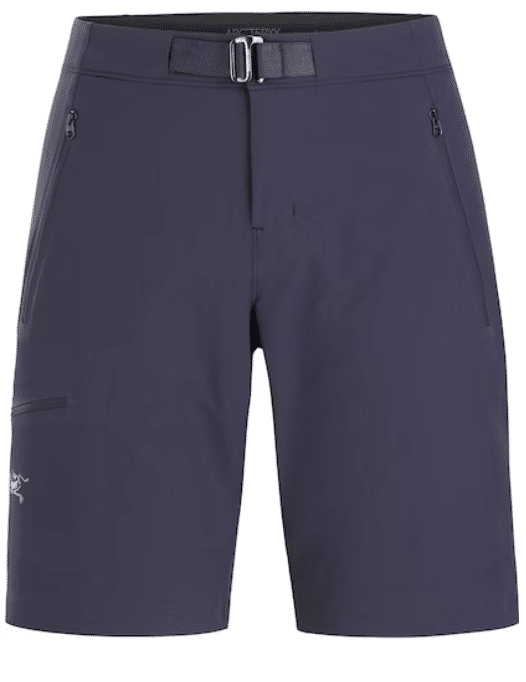 Features
Inseam Options: 6" and 9"
Material: Softshell with Stretch
Waist: Built-in Belt
MSRP: $120
Pros: Durable with abrasion-resistant material and construction. Ample pocket storage.
Cons: Heavy and don't dry fast. They are not the best option for hot days.
Our Take
The Arc'teryx shorts are not lightweight hiking short but perfect for hiking, climbing, or backpacking because they give you the right amount of protection from the elements while still letting your skin breathe. Plus, they're super stretchy, so you can move around however you want.
The built-in belt allows for a custom fit because you can adjust it to fit perfectly without getting too bulky. And let's talk about storage – these shorts have three big zippered pockets. They could be the perfect pair for thru-hikers looking for highly functional and durable shorts.
Now there are a few major downsides that shouldn't be overlooked; they are made of a heavier material and won't dry as quickly as many of the other options we tested. The major downside, however, is they are expensive, and at this price point, you could purchase two of most of the other shorts reviewed in this article and find options that check all the boxes.
---
Best Option for Quick Dry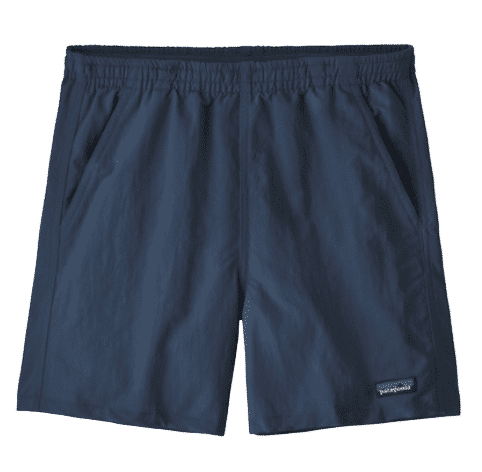 Features
Inseam Options: 2.5" and 5"
Material: 100% recycled nylon with DWR
Waist: Elastic waistband with a drawcord
MSRP: $59
Pros: Great for water activities and river crossings
Cons: The material can be abrasive and not as comfortable as other options.
Our Take
The Patagonia Baggies hiking short screamed swim trunks when I first picked them up, probably due to the board short material, mesh-lined pockets, and vibrant color options. But that doesn't mean they don't cover a much-needed gap in my short arsenal.
The quick dry material makes them ideal for warm weather hikes and anything water, whether you're rafting, paddling, or expecting river crossing on your day hike. The shorter inseam of the Patagonia Barely Baggies at 2.5" works well as a modesty option over swimsuits too.
---
Best Hybrid Short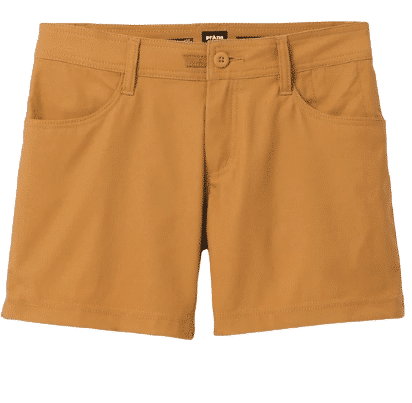 Features
Inseam Options: 5" and 7"
Material: 95% Recycled Nylon and 5% Elastane
Waist: Zip fly with button closure
MSRP: $69
Pros: Durable material that has a lot of stretch
Cons: Waistband isn't ideal for longer hikes or wearing with a backpack
Our Take
The prAna Halle hiking short fell just short of hitting the bullseye for best overall but is the clear winner for best hybrid short for trail-to-town functionality. The waist sizes gave me some serious challenges since there was no way to cinch it tighter (unless I added a bulky belt), and I had a habit of digging whenever I had on a backpack with a hip belt.
The newly updated version has resized the pockets, so they are now large enough to fit most smartphones but are seriously lacking in the zippered options. Let me tell you that the prAna Halle shorts take the cake when it comes to casual wear, on a bike ride, or for casual hiking. So while they may not be perfect, I still think they're pretty darn great.
---
Best Budget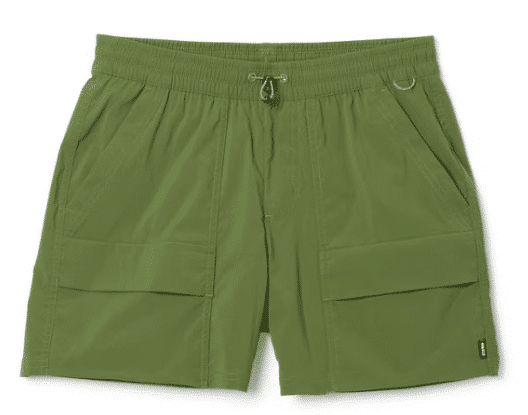 Features
Inseam Options: 5"
Material: 96% nylon and 4% spandex with DWR
Waist: Elastic with bungee drawcord
MSRP: $45
Pros: Loaded with storage with 6 total pockets and inclusive sizing
Cons: Not the most fashionable
Our Take
These women's REI Co-op Trailmade shorts – they're a real steal. REI even let me stack a member coupon plus a $20 voucher, so I was all in for under $20. Made from lightweight, 2-way stretch nylon/spandex fabric, these shorts can handle some serious wear and tear and will dry quickly if you get wet.
With six pockets, you'll have all the space you need to stash your trail essentials. Taking the top spot for storage with two front pockets, two drop-in pockets in the back, and two flat secured envelope thigh pockets. The elastic waistband and roomy fit will keep you comfy no matter how many miles you hike.
These shorts have a UPF 50+ rating, meaning you can hike all day without worrying about harmful UV rays. The styling may not be to everyone's taste, but if it works for you, that's what matters.
---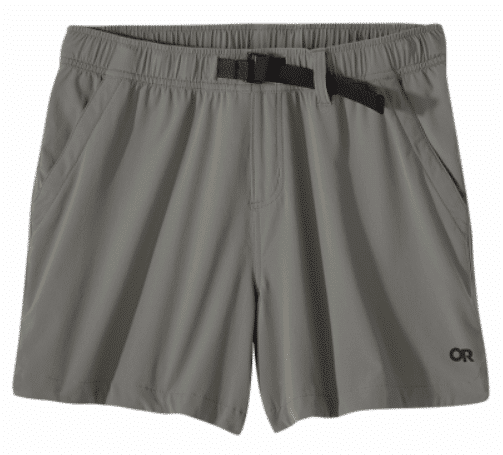 Features
Inseam Options: 5", 7", and Skort
Material: 86% Nylon (46% Recycled), 14% Spandex 90D Stretch Woven Ripstop
Waist: Elastic with a built-in belt
MSRP: $79
Pros: Proven durability and quality construction
Cons: The elastic waist belt design isn't for everyone
Our Take
I found the Outdoor Research Ferrosi shorts to be a versatile and durable choice. Made from a lightweight and breathable softshell Ferossi fabric, these shorts offer excellent stretch, quick drying, and freedom of movement, making them ideal for hiking, climbing, and other high-intensity activities.
The Outdoor Research 5" Ferrosi (shown) has an elastic waistband, a built-in belt for custom sizing, and a looser fit around the thighs. The 7" Ferrosi has a flat front with a button fly with a belt loop, and it is more fitted. Both inseams are comfortable fit with rugged construction and will be a great choice for any adventure.
---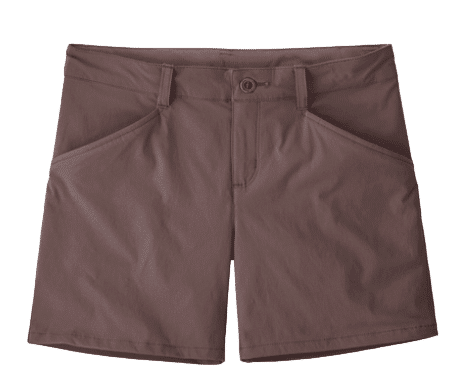 Features
Inseam Options: 5" and 7"
Material: 95% nylon (65% recycled)/5% spandex
Waist: Button Fly with belt loops and a hidden drawcord
MSRP: $65
Pros: Constructed from comfortable stretch fabric with a gusseted design for added mobility.
Cons: Limited pocket capacity and button fly could pinch under backpack belts.
Our Take
Overall the Patagonia women's Quandary shorts are comfortable and durable shorts that could have been our top pick if not for the button fly. Made with a stretchy and durable fabric, these shorts provide excellent mobility and protection against the elements. They also feature a DWR (Durable Water Repellent) finish that sheds moisture, making them suitable for water-based activities.
The Quandary shorts have two hand pockets and two back pockets, including a secure zippered back pocket. Their button-fly waistband is comfortable and easily adjustable, ensuring a snug daily fit. Still, it could be problematic under layers of clothing and a secured pack or harness.
---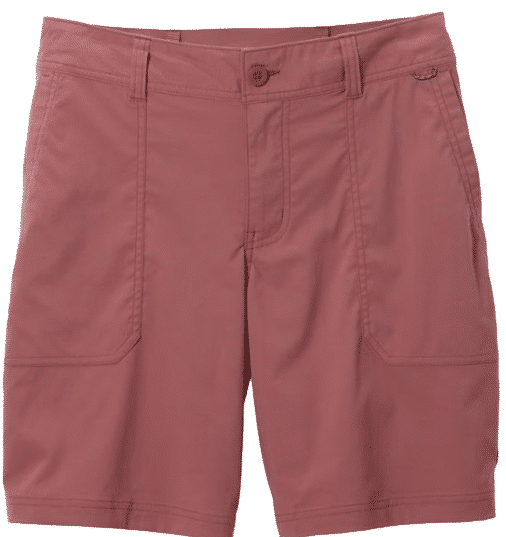 Features
Inseam Options: 9"
Material: 96% recycled nylon /4% spandex
Waist: Elastic with drawstring
MSRP: $60
Pros: Extensive size and color options
Cons: Aesthetically, the look of the elastic waist on the back may not be for everyone.
Our Take
The REI Sahara Bermuda shorts for women are a great option for anyone looking for comfortable and practical shorts for all their summer activities. The fabric blends nylon and spandex, making it soft, breathable, stretchy, and dries quickly. The length is perfect for those who want a little more coverage without being too long or bulky.
The shorts feature multiple pockets, including a zippered back pocket, which provides secure storage for small essentials. The waistband is adjustable with elastic on the back, which is a great feature for those who need a more customized fit. Overall, the REI Sahara Bermuda shorts are a great choice for hiking, camping, or any outdoor activity where comfort and practicality are essential.
---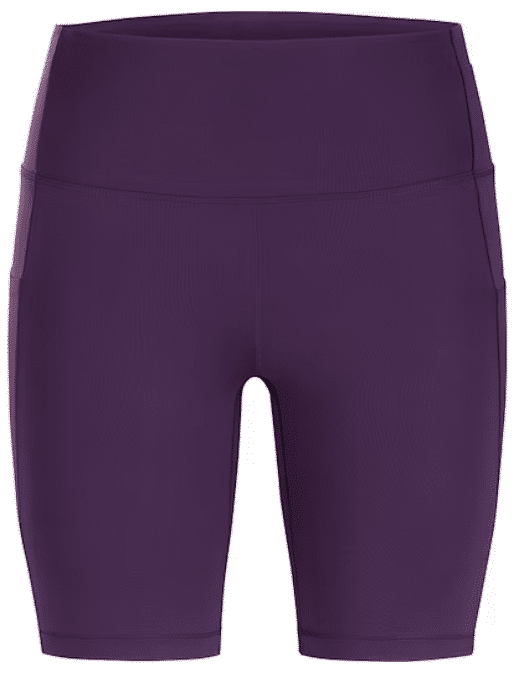 Features
Inseam Options: 8"
Material: 71% nylon, 29% elastane
Waist: Flat wide waistband
MSRP: $70
Pros: Freedom of movement and don't ride up
Cons: Can hold in moisture (aren't quick drying) and do not allow airflow on hot days
Our Take
We love the Arc'teryx Essent compression shorts, and so will anyone who loves to hike in leggings. All the freedom of movement and compression fit you love in your yoga pant-inspired leggings are found in an 8" short that won't ride up.
These women's hiking shorts won't have the durability or breathability of most of the other shorts we have reviewed. Still, the compression fit and the coverage of the high waistband can't be beaten for certain activities. I wouldn't recommend these for any long-distance or thru-hikes, but they are ideal for short hiking adventures, trail running, mountain biking, climbing, or bouldering.
---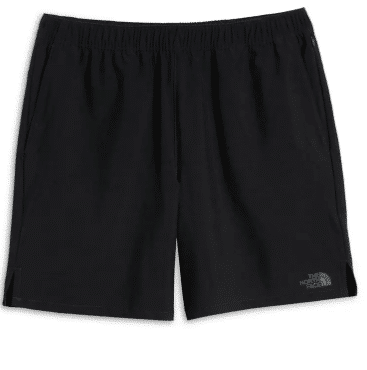 Features
Inseam Options: 3" and 5"
Material: 86% recycled polyester, 14% elastane
Waist: Elastic Waistband
MSRP: $50
Pros: Flat waistband that fits well under hip belts
Cons: The material is not as durable as some of the other shorts reviewed
Our Take
We find the Women's Northface Wander Shorts to be a comfortable and versatile choice. Made with a lightweight polyester fabric and designed in an athletic fit, ease of movement, and breathability in warm weather.
They will work well under hip belts while hiking and dry fast if you expect to be in the water. The material's durability won't make it an option for long days on the trail or thru-hikes. However, they are very comfortable for a day of adventuring, trail running, or relaxing in town.
---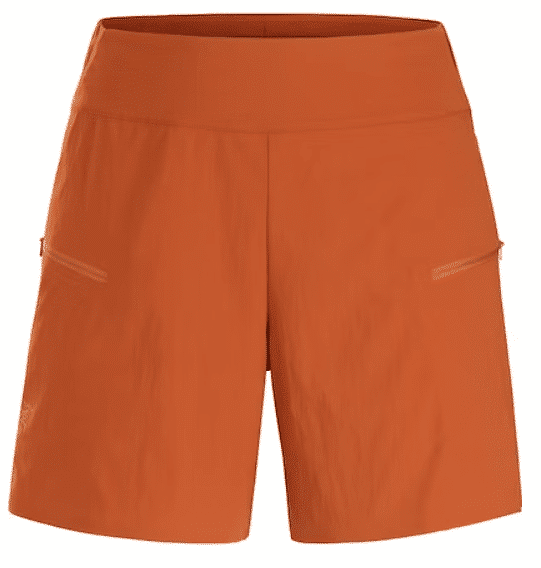 Features
Inseam Options: 5"
Material: 93% nylon, 7% elastane
Waist: Wide Elastic Waistband
MSRP: $80
Pros: Flat waistband easily fits under a hip belt and thigh zip pockets
Cons: New style without a history of durability
Our Take
New this year, the Arc'teryx Aestas lightweight hiking shorts are designed for active outdoor activities and are made with lightweight, breathable, and quick-drying material. The shorts are engineered to provide maximum mobility and flexibility, allowing you to move freely whether you are hiking, climbing, or trekking.
One of the standout features of these shorts is the durable, water-resistant fabric that protects against rain. We love the excellent quality of the materials and the attention to detail in the construction of the shorts. They are high-waisted, providing ample coverage with a fitted leg. We are excited to see how these stand the test of time against the Moutain Hardware Dynama Shorts.
---
Features
Inseam Options: 4", 8", 10" Cargo and Skort
Material: 50% Polyester, 50% New Polyester
Waist: Button fly
MSRP: $89
Pros: Tons of storage and the added length provides added protection.
Cons: Not the best option for hot weather and won't dry out as quickly as other shorts we've reviewed.
Our Take
The Kuhl Freeflex shorts are rugged, abrasion resistant, and for outdoor enthusiasts looking for comfort, function, and durability in a pair of shorts. The shorts are all polyester which provides a four-way stretch and excellent flexibility. This means they will protect your skin while scrambling across boulder fields or the unexpected bushwacking excursion.
---
Factors for Selecting the Best Hiking Shorts?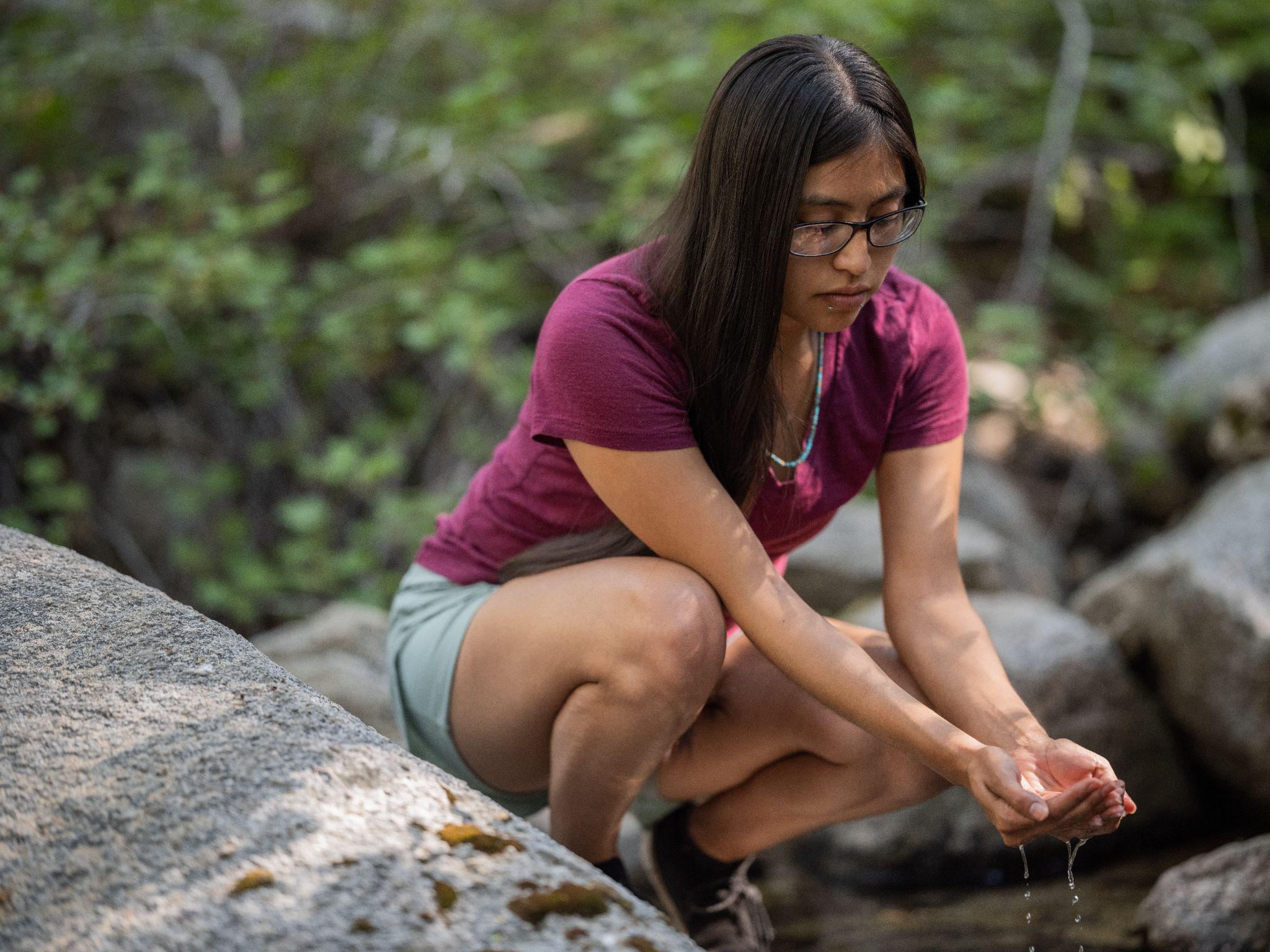 Material
Choosing hiking shorts made of the best fabrics for your hiking needs is crucial to having an enjoyable hike. Durability is a key feature of hiking shorts, particularly compared to casual, athletic, or running-specific designs. Hiking shorts are designed to withstand the rigors of the trail and camping, ideally lasting for multiple seasons of use.
Select lightweight, breathable, quick-drying fabrics if you intend to hike in warmer climates. Look for stretchy fabric that offers flexibility and mobility in your movement so you can easily conquer boulder fields and scrambles.
Some stretch to the fabric can improve durability by allowing it to stretch without tearing when subjected to stress, although there should not be too much stretch to maintain the material's strength. Consider the material's durability for both protection from abrasions and to ensure your shorts can withstand what you put them through.
Water-resistant fabric is handy if caught in an expected rainstorm, and UPF-rated materials offer sun protection.
Inseam Lengths
Selecting your shorts' inseam length is a personal preference, but hiking conditions should be considered. The level of coverage needed for protection from sun, bugs, and brush will vary based on your hike, season, and temperature.
Think about your own body type, how tight the material is against your thighs, if your skin rubs together when you walk, and if that changes when you are sweating or on extended trips. Chafing and other skin irritations can lead to a miserable day on the trail.
Storage Pockets:
Functional storage is a critical requirement for hiking shorts, yet it remains a significant source of dissatisfaction among hikers. Ideally, a good pair of hiking shorts should feature hand pockets, one pocket that can accommodate a smartphone, and a zip pocket to safely secure smaller items such as lip balm, sunscreen, or snacks.
Regrettably, not all hiking shorts are designed with these features in mind, so finding the perfect pair requires some legwork.
All the hiking shorts listed above offer at least one pocket, and some boast as many as six pockets. Hello– REI Trailmade, including two on the front, two on the back, and dual thigh pockets.
If more storage is required, versatile shorts such as the KUHL Freeflex Cargo shorts are a good choice. Consider the placement of the pockets and accessibility when carrying gear, wearing a harness, or having hip belts secured.
Waistband Design
Find a comfortable waistband that allows for movement and flexibility while providing coverage. Drawcord or adjustable options with integrated belts, like the Ferrosi shorts, are excellent if you are between sizes to ensure a secure and comfortable fit, especially useful if the fabrics stretch out during the day.
Consider the other outdoor gear you may carry, such as packs with hip belts or harnesses, and if the waistband will fit comfortably without digging into your skin.
Ventilation
Hiking shorts are a ventilated alternative to hiking pants for outdoor clothing. Look for shorts with breathable, lightweight material to help regulate body temperature. Some shorts will have ventilation features such as mesh panels or flap vents to dump heat.
Style and Fit
We recommend choosing shorts that fit your personal preferences while being mindful not to compromise comfort or function for style. Consider the color and pattern options for visibility or how well they may hide the dirt, especially for multi-day trips. Many brands have incorporated stretchy fabrics, flat elastic waistbands, and gussets to offer a better range of motion.
Additionally, as mentioned above, it's common for hiking shorts to come in several different inseam lengths. We recommend trying on several pairs of hiking shorts before purchasing and always vet the shorts thoroughly with all-day wear before committing to wearing them on a longer hike.
Final Thoughts
Finding the best hiking shorts for women can be daunting, but we hope our comprehensive guide has helped make the search easier. By considering factors such as comfort, functionality, durability, and style, we have compiled a list of the top hiking shorts on the market.
The Mountain Hardwear Dynama is our overall top pick. Whether you prefer longer or shorter shorts, a particular fit, or a variety of pockets, there is an option for you. From the breathable and moisture-wicking Patagonia Baggies to the versatile and stylish prAna Halle Shorts, we have showcased a range of hiking shorts that will keep you comfortable and protected on the trail.
Remember, it's important to prioritize your personal preferences when selecting hiking shorts that suit your individual needs, and maybe that means two pairs of hiking shorts. Happy hiking!