The Best Women's Hiking Pants in 2023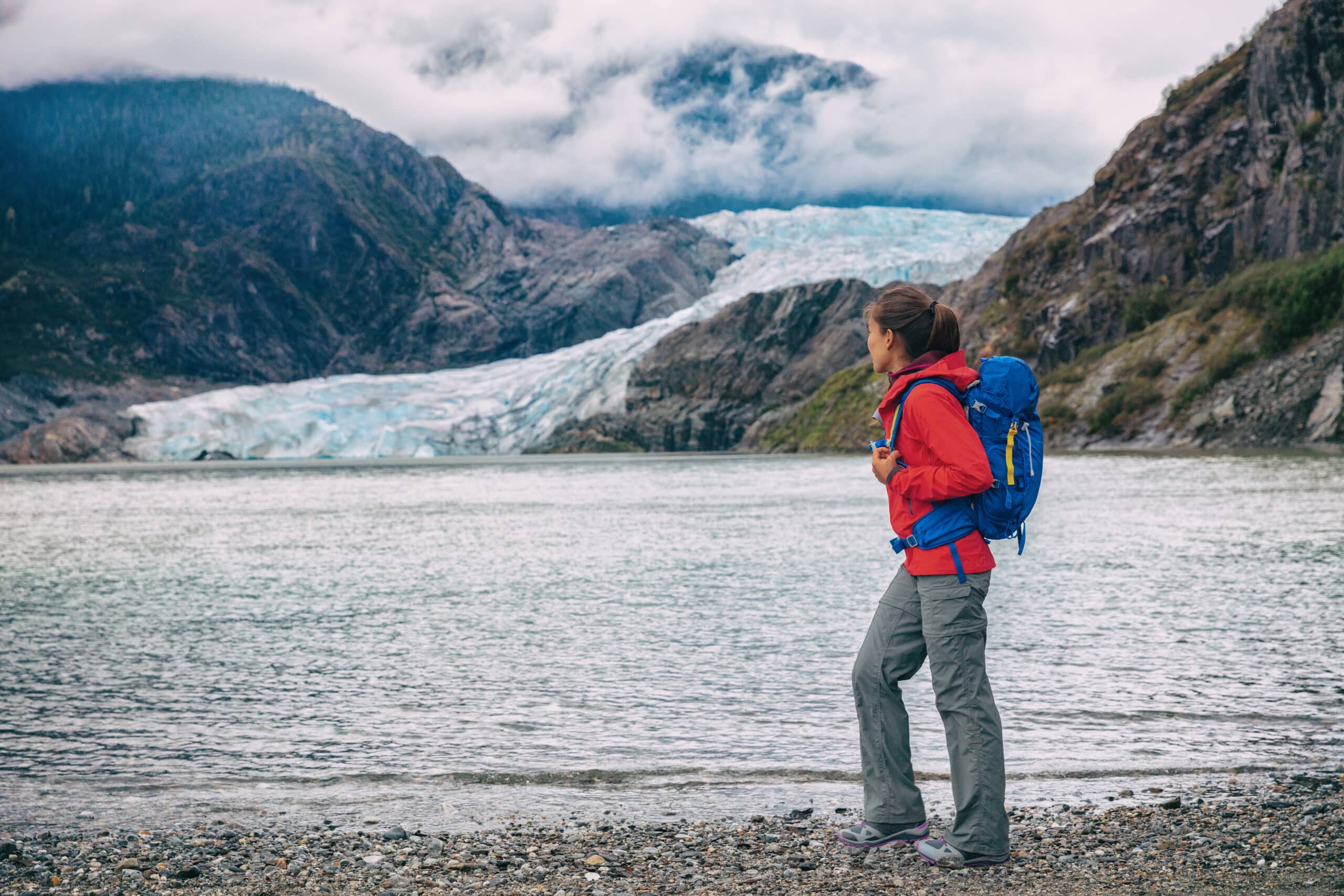 Regarding outdoor exploration, having the right gear and hiking pants are essential in ensuring comfort and durability throughout your adventures. Designed to withstand the demands of rugged terrains while providing optimal mobility, hiking pants have become vital to any hiker's wardrobe.
Crafted with advanced materials and innovative designs, modern hiking pants have revolutionized how outdoor enthusiasts experience their journeys. All these pants are engineered to offer a balance of breathability, flexibility, and protection against the elements, allowing hikers to push their boundaries while feeling comfortable and confident.
This website includes affiliate links to various products. By using these links to make a purchase, you may support us, as we may earn a commission without any additional cost to you. Your support through these links is highly valued and helps us maintain the website and its content. We genuinely appreciate your support and thank you for using our links to make your purchases.
Our Top Picks for Best Women's Hiking Pants
---
Best Overall
Outdoor Research Ferrosi Pants
MSRP: $99
Features
Sizing Options: 0-24W
Inseam: Short, Reg, and Tall
Material: Stretch Woven Ripstop 86% Nylon, 14% Spandex,
Waist: Flat with button fly and belt loops
Pros: Waistband works well under layers and with secured backpack belts
Cons: Updated fabric doesn't have a long track record of durability
Our Take
The Outdoor Research Ferrosi Pants are our long-time favorite and top pick for the best women's hiking pants. The recent updates offer greater benefits with enhanced stretch and added functional features. They are designed to elevate your outdoor experiences while providing improved recovery for extended use.
Updated stretchy fabric is now 46% recycled, ensuring the same trusted abrasion resistance, breathability, and weather protection. Their durability allows you to wear them for weeks without washing, and they will retain their shape without stretching out.
And if that wasn't enough to sell us on these hiking pants, the storage on the Ferrosi Pants is great with drop-in hand pockets, right hip zippered pockets, back zip, and drop-in pockets. They are available in convertible, Capri, and legging options, making them suitable for all outdoor activities.
Whether you're rock climbing, crossing boulder fields, traversing trails, or anything in between. The Ferrosi pants will undoubtedly be a great go-to option.
---
Best Option for Durability

Fjallraven Keb Trouser Curved W
MSRP: $235
Features
Size Options: 24"- 37"
Inseam: 30" and 32"
Material: 63% polyamide, 26% polyester, 11% elastane
Waist: Button fly plus suspender attachments and belt loops
Pros: Durable with abrasion-resistant material and construction. Ample pocket storage.
Cons: Expensive and overkill for most uses.
Our Take
Fjallraven has taken these heavy-duty hiking pants to the next level with improved performance, fit, and incredible durability. The curved fit design offers a high waist and ample room in the hip and thighs. Made from Fjallraven's signature G-1000 Eco fabric, they are notably durable but lacking in breathability, and the fabric can feel a bit stiff.
But overheating is not an issue with large thigh and calf vents, and the leg bottoms boast a new design that allows for easier adjustments and repairs. These trousers retain the timeless appeal of classic hiking pants with spacious pockets, ample ventilation zippers, and knee pad openings.
If you need highly durable and functional pants, these are the pair you have been looking for –if you can get past the hefty price tag.
---
Best Option for Breathability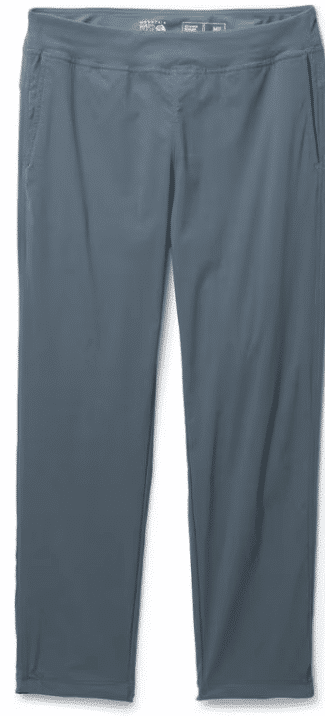 Mountain Hardwear Dynama 2
MSRP: $85
Features
Size Options: XS-XL
Inseam: Short, Regular, and Tall
Material: 94% Nylon, 6% Elastane
Waist: Flat low profile
Pros: Waistband works well under layers and with secured backpack hip belts
Cons: Limited pocket options
Our Take
With years of experience wearing (and loving) the Mountain Hardwear Dynama shorts, I had high hopes for the Dynama 2 pants. And they did not disappoint with their remarkable stretch and fit that effortlessly moves with you on the trail.
Constructed from lightweight material, these lightweight hiking pants offer enhanced mobility while ensuring excellent breathability, moisture-wicking capabilities, and quick-drying properties. Notably, the wide elastic waistband, free from closures, sits comfortably beneath a backpack's hip belt, minimizing chafing and discomfort against sweaty skin.
With fit options from high waist, ankle-length crop, and joggers, they will work well for hot-weather hikes, bouldering sessions after work, or simply lounging around camp or at home.
While the Dynama 2 pants may not be specifically designed for rugged mountain thru-hikes (if that's your aim, consider the Outdoor Research Ferrosi Pant) but it excels in combining all the essential elements better than most for warm weather hikes, earning our top spot for breathability.
---
Best Legging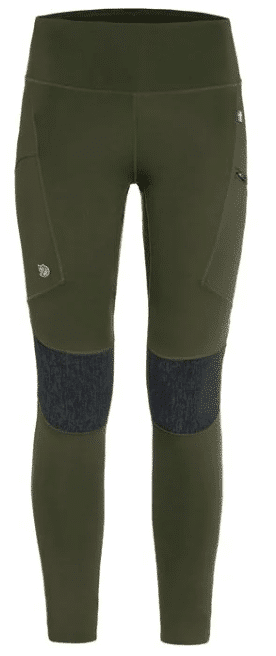 Fjallraven Abisko
MSRP: $185
Features
Size Options: XXS-XXL
Inseam: 32"
Material: 95% Recycled Nylon and 5% Elastane
Waist: Wide flat waistband
Pros: Durable material that has a lot of stretch.
Cons: No breathable enough to wear on hot days and expensive.
Our Take
Fjallraven pushes the boundaries of performance with the Abisko Trekking Tights, reaching new heights in outdoor leggings. Priced at $175, these hiking tights may be a budget buster, but if the need is for rugged leggings, they fit the bill. The design of the Abisko offers exceptional mobility and features reinforced panels on the knees and seat, providing protection against sharp rocks and branches.
Crafted with the backcountry in mind, these leggings are meticulously designed to withstand the rigors of regular use and demanding conditions. The reinforced panels and ample storage options, including a large pocket on the right leg, a smaller zippered pocket on the left, and a zippered pocket at the hip, are appealing features.
However, if you are having a hard time justifying the investment and are more of a casual-use hiker, the Patagonia Pack Out Tights are a good option and less than half the price.
---
Best Budget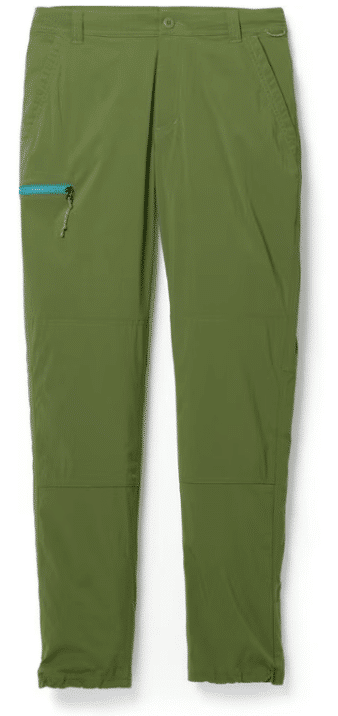 REI Trailmade
MSRP: $69.95
Features
Size Options: 0-26W
Inseam: Petite, Regular and Tall
Material: 96% nylon and 4% spandex with DWR
Waist: Zip fly closure with internal drawcord
Pros: Loaded with storage with five total pockets, including a zippered thigh pocket
Cons: Not at durable as the Mountain Hardwear Dynama, and the aesthetics of the elastic waist in the back may not be for everyone.
Our Take
The REI Trailmade Pants offer a lot of bang for your buck as our best budget hiking pants. Featuring excellent breathability and quick-drying properties, making them an ideal choice for summer adventures and travel. With a UPF 50+ rating, you can hike all day without worrying about harmful UV rays.
Notably, they provide comfort, thanks to integrated stretch and articulated knees that enhance mobility for hiking and camp activities. REI has thoughtfully incorporated additions into these lightweight hiking pants, including reinforced knee patches and bungees at the cuffs.
These features provide the option to secure the legs at the calf or keep them away from your shoes, making them particularly valuable for stream crossings or if you want to dump heat during hot weather.
---

MSRP: $180
Features
Size Options: 00-16
Inseam: Short, Regular, and Tall options
Material: 86% Nylon (46% Recycled), 14% Spandex 90D Stretch Woven Ripstop
Waist: Zip fly with a built-in belt
Pros: Proven durability and quality construction
Cons: Not as versatile as a lot of the other hiking pants we reviewed
Our Take
The Arc'teryx Gamma are durable hiking pants and are the most weatherproof pair we tested, and for that reason, we would only recommend these hiking pants for use outside of the summer hiking season. The softshell material is highly water-resistant and quick to dry.
They work nearly as well as a dedicated pair of rain pants. The Gamma pants are light enough for spring and fall weather and can handle cooler temps if you size them large enough to fit a base layer underneath. (These can be tricky since they have a trim cut even after we sized up.) We also love the integrated belt and handy zippered hand pockets
Even though the Gamma is light for softshell pants, they are still heavier and hold in more heat than many other models we tested. They breathe well but are best for milder weather, shoulder seasons, and rainy days. They are also expensive. But this model is our top recommendation if you need a highly technical pair for hiking in alpine conditions or cold weather.
---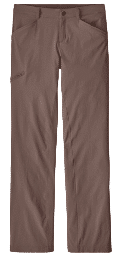 MSRP: $89
Features
Size Options: 0-22
Inseam: 30" and 32"
Material: 95% nylon (65% recycled)/5% spandex
Waist: Waistband has belt loops, zip fly, and a hidden drawcord
Pros: Constructed from comfortable stretch fabric with a gusseted design for added mobility.
Cons: Limited pocket capacity within only one zippered option, and button fly could pinch under backpack hip belts.
Our Take
The Patagonia Quandary hiking pants for women feature a classic design that can be worn all year round with clean lines that look good on or off the trail—made from a durable yet lightweight fabric with a durable water-repellent coating (DWR). I particularly found them to have freedom of movement equipped with articulated knees and a gusseted crotch, enhancing flexibility and movement.
The Quandary has a built-in tab and snap system to keep rolled-up cuffs securely in place. The Quandary is also available in shorter variations, ideal for warmer summer temperatures. We found the pockets have limited capacity and aren't practical for storage.
---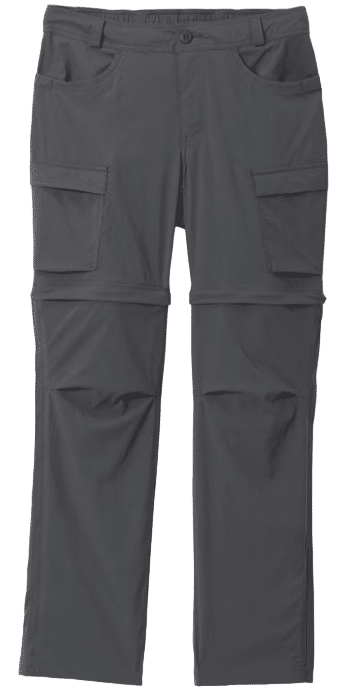 MSRP: $80
Features
Size Options: 0-22W
Inseam: Petite and Regular
Material: 96% recycled nylon /4% spandex
Waist: Zip fly with button closure
Pros: Convertible hiking pants with the option to wear as pants or shorts and inclusive sizing
Cons: Aesthetically, the look of the elastic waist on the back may not be for everyone.
Our Take
The REI Sahara convertible hiking pants for women are all-season hiking pants equipped with a durable water-repellent (DWR) coating that effectively repels moisture, and the lightweight nylon fabric dries quickly if it does happen to get wet. The low-bulk design, along with flat seam stitching, not only prevents chafing but also allows the pants to be packed down small for easy storage.
For added convenience, the pants feature color-coded thigh zippers that aid in distinguishing the right leg from the left when converting the shorts back into pants. Vertical zippers running from the bottom hem to mid-thigh provide increased ventilation options and enable you to remove the pant legs without having to take off your hiking boots.
The fabric boasts a UPF 50+ rating, offering excellent protection against harmful UV rays. I love the mobility of these convertible hiking pants, especially how the mid-thigh zipper doesn't bind when my thigh is flexed as other convertible pants tend to do.
---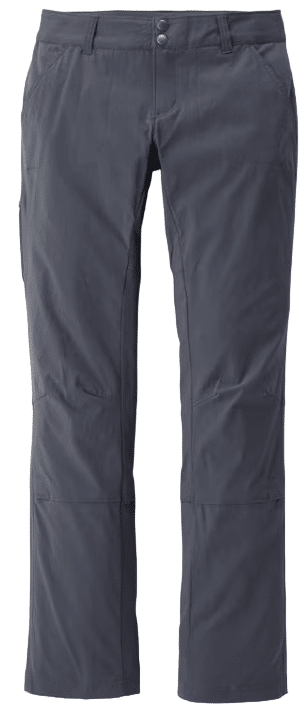 MSRP: $70
Features
Size Options: 0-24W
Inseam: 29", 32" and 34"
Material: 71% nylon, 29% elastane
Waist: Snap closure with zip fly
Pros: Comfortable mobility
Cons: The fabric is not as durable as some of the other pants we reviewed.
Our Take
The Columbia Saturday Trail Pants are budget-friendly summer hiking pants with tons of features. These lightweight hiking pants for women come with water-and-stain repellency and UPF 50 sun protection to stay dry and shaded no matter the weather.
They've got that active fit, hugging your body just right with a 2-way stretch for ultimate flexibility during all your adventures and a mid waist that you have coverage climbing over logs and across boulder fields. These pants have articulated knees and a mid-rise waist, which are all about comfort and mobility. The straight leg design and comfortable stretch give you a comfy fit.
You can roll up the legs and convert the Saturday Trail Pants whenever you need to cool off or ford a river. As with most Columbia pants, I don't find the fit to be that flattering on my thighs and waist, and I typically size up. But the feature pack and price point make these pants worth a try if the fit works for you.
---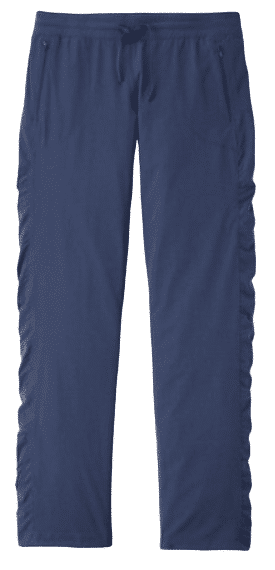 MSRP: $89
Features
Size Options: XS-XL
Inseam: 30", 32" and 34"
Material: Freeflex fabric 50% Polyester, 50% New Polyester
Waist: Wide pull-on waistband with external drawcord
Pros: Flat waistband that fits nicely under hip belts
Cons: These pants aren't as durable as some of the other options we reviewed and limited storage
Our Take
The KUHL Freeflex Move pants offer a luxurious super soft feel, making them exceptionally comfortable for any activity while keeping you cool and dry with the quick dry moisture-wicking tech in this UPF-rated fabric. These lightweight pants are designed to move and flow with your body, providing unrestricted motion.
With its innovative Freeflex technology, the fabric stretches and rebounds with each stride, ensuring the pants maintain their form and fit even during extended wear. KUHL offers a few different styles in the Freeflex pants, and we found these pants the best fit under a hip belt, but if storage is more critical, you may consider the KUHL Freeflex Roll-Up Pants.
---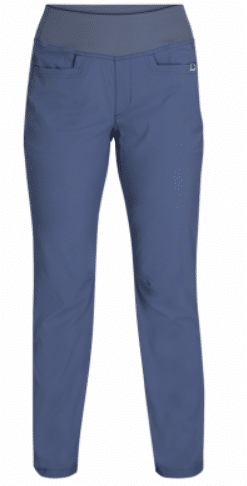 MSRP: $80
Features
Size Options: XS-XXL
Inseam: 31"
Material: 94% Recycled Nylon, 6% Spandex
Waist: Wide Knit Mesh-Lined Waistband with 5/8″ Interior
Pros: We love the tech fabric for its breathability and quick-drying specs
Cons: There is no way to cinch the waist, and the waist tends to stretch out after wear.
Our Take
Updated this season, Outdoor Research aims to make the Zendo Pants your ultimate pair of outdoor bottoms you won't want to take off. The updated waistband offers a wide flat coverage that works well under a hip belt, but now without a drawstring, this can be problematic when they stretch out as they tend to do.
I love the stretchy construction that moves and flexes with your body, allowing you to conquer any outdoor mission easily. The fabric elevates your performance, wicks sweat, and dries quickly, making this a solid choice for warm weather day hiking.
The limitations of the waistband, with the tendency for the waist to stretch out, remove the Zendo Pants as a contender for multi-day hikes or treks. These are a good pick for shorter adventures or around town.
---

MSRP: $129
Features
Size Options: XS- XXL
Inseam: 29"
Material: 87% recycled polyester and 13% spandex
Waist: Wide flat waist
Pros: Tons of storage and the added length provides added protection.
Cons: Not the best option if you plan to get wet or on a hot day. The fabric doesn't breathe well and dries slowly when wet.
Our Take
These hiking tights offer a range of features that enhance their functionality beyond other leggings or yoga pants. They boast ample storage options, ensuring you can easily carry your essentials, including a zippered thigh pocket.
The materials used in the Pack Out Hike Tights strike a balance between softness and durability, allowing them to retain their shape even after prolonged use and feature water-resistant patches at the butt and knees, providing protection in areas prone to moisture exposure.
I love how the wide elastic waistband effectively stays in place under a hip belt, and the form fit of the legging protects inner thighs from friction and the dreaded chafe. As much as I love and live in leggings, it's important to acknowledge they have certain limitations in performance.
Compared to traditional hiking pants, leggings are generally less durable and provide less breathability and water resistance. While it is possible to find cheaper generic leggings, the Patagonia Pack Out Hike Tights offer a mountain-ready alternative that can withstand most of the demands of trail life.
---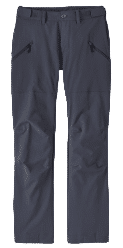 MSRP: $139
Features
Size Options: 0-22
Inseam: 29" and 31"
Material: 90% recycled nylon and 10% spandex
Waist: Zip fly with hook and loop tabs to adjust the waist
Pros: Rugged enough for multiday day treks in challenging terrain.
Cons: Cool weather or high alpine applications. Not suitable for summer hiking on hot days.
Our Take
The Patagonia Point Peak women's hiking pants are exceptional for cold-weather outdoor adventures. These softshell hiking pants are versatile enough to be worn on summit alpine peaks during the summer or in the challenging terrains of mountains during winter.
These pants were tough enough to withstand rough alpine conditions while providing reliable protection against cold temperatures, wind, and rocky terrain. In line with Patagonia's commitment to sustainability, these pants are crafted with recycled materials, solidifying Patagonia's reputation as one of the leading eco-friendly outdoor brands.
The gusseted crotch and articulated knees allow for flexibility and mobility. Offering a roomier fit to the Arc'teryx Gamma Pant, we found the Point Peak hiking pants more comfortable over a base layer. Overall, these pants are a solid option for warmth, durability, and protection from the weather during cooler times of the year or in high alpine climates.
---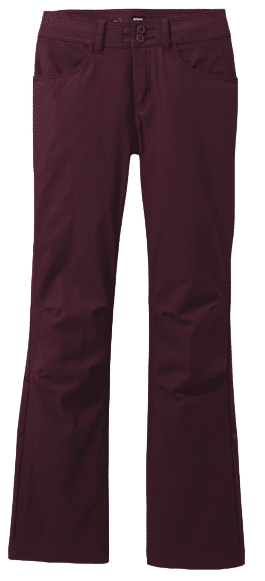 MSRP: $95
Features
Size Options: 00-16
Inseam: Short, Regular, and Tall
Material: 95% Recycled Nylon and 5% Elastane
Waist: Zip fly with drawstring
Pros: Quality build and super versatile at a competitive price.
Cons: They aren't the best option for thru-hikes during hot summer weather, and the waist can be bulky under some hip belts or harnesses.
Our Take
If we had to pick one pair of women's hiking pants off our list that would work for almost all hiking pant applications, this would be the pair! The prAna Halle pant offers a broad feature set for all your hiking needs and a flattering fit you'll want to wear to the office during the week.
It helps that the ReZion fabric is incredibly durable, maintains shape, and resists stains, all while being made of recycled nylon. Moreover, the Halle pant has ample storage, including a zippered thigh pocket that will fit small smartphones (or without a case) and the roll-up legs.
prAna also offers these Halle pants in a jogger, Capri, or short version in many colors and with inclusive sizing. Overall, we love these pants as an all-around player that can fill any gap in your gear arsenal.
---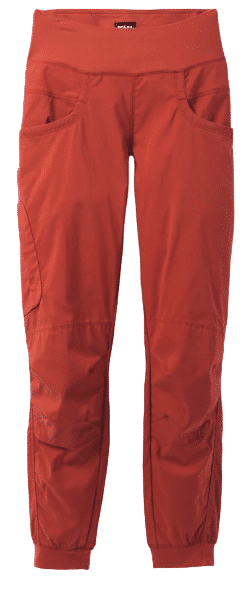 MSRP: $89
Features
Size Options: XS-XL
Inseam: 28"
Material: 62% Organic Cotton, 36% Nylon, and 2% Elastane
Waist: Knit elastic waistband
Pros: Comfortable option for casual outdoor adventures or day-to-day use
Cons: Not suitable for longer hikes due to the high cotton content in the material.
Our Take
The prAna Kanab boasts numerous impressive features in a comfortable jogger hiking pant. Hikers will appreciate the trendy pull-on jogger design, while the soft knit waistband and gusseted knees offer exceptional comfort and mobility on both trails or while wearing harnesses.
The storage options are plentiful, with two deep hand pockets, two rear pockets, and a zippered stash pocket on the right thigh that easily accommodates a smartphone. It's important to note that the Kanab pants are primarily cotton and not suited for a backpacking trip or intense adventures where wicking or breathable materials are required.
They may feel slightly warm for use in hot summer conditions. However, they are a solid alternative for shoulder-season hikes, camping trips, and relaxed outings in nature. We found these pants to be comfortable joggers for everyday wear and built to meet the needs of casual outdoor enthusiasts.
---
Factors for Selecting the Best Hiking Pants?
When it comes to hiking, having the right gear is crucial for a comfortable and enjoyable experience. Choosing the right pair of hiking pants can significantly improve your comfort, mobility, and overall performance on the trail. Here are the key factors to consider when selecting hiking pants, ensuring you make an informed decision for your outdoor adventures.
Material and Durability
Choosing the right hiking pants made of top-quality fabrics is essential for a comfortable and enjoyable hiking experience. Compared to casual pants or athletic designs, hiking pants offer superior durability, making them ideal for withstanding the demands of the trail and extended camping trips.
Opt for pants made of lightweight, moisture-wicking properties and breathable fabrics that dry quickly, like Mountain Hardwear Dynama 2 pants, particularly if you plan to hike in hot weather. Additionally, choose hiking pants made from UPF sun protection materials to shield your skin from harmful UV rays while enjoying the great outdoors.
Consider the durability of the fabric to protect against abrasions and ensure longevity. Water-resistant fabrics are beneficial in unexpected rainstorms, providing added protection, or consider softshell materials if you plan to hike in higher alpine areas or colder months.
Flexibility and mobility are crucial when navigating challenging terrains like boulder fields and scrambles. Look for hiking pants with stretchy fabric that allow easy movement without compromising durability. A moderate stretch enhances durability by preventing tearing when stressed while maintaining the material's strength.
By selecting hiking pants with suitable fabrics and features, you can hike confidently, knowing that your pants are designed to withstand the challenges of the trail while keeping you comfortable and protected.
Comfort and Fit
Comfort is paramount during long hikes. Look for hiking pants with a comfortable fit that allows freedom of movement. Opt for pants with a gusseted crotch and articulated knees for enhanced mobility. Consider the waistband style—options like elasticized waistbands or integrated belts provide a secure and adjustable fit. Try on different styles and sizes to find the perfect fit for your body type.
Waistband Design
When selecting hiking pants, carefully consider the waistband design to ensure optimal comfort and functionality. Look for a waistband that offers a balance of movement, flexibility, and coverage. Options with drawcords or integrated belts, such as the REI Trailmade Pants, are particularly beneficial, especially if you fall between sizes or anticipate the fabric stretching throughout the day.
These adjustable features allow you to achieve a secure and comfortable fit, accommodating changes in your body shape or movement.
Consider how the waistband will interact with other outdoor gear you may carry, such as backpacks with hip belts or harnesses. Ensure that the waistband fits comfortably without digging into your skin, providing freedom of movement and preventing discomfort during extended hikes or climbs.
A well-designed waistband will enhance your overall hiking experience, allowing you to focus on the trail ahead without distraction.
Storage Pockets
Functional storage can be crucial for hiking pants, and finding the right balance of hiking pants pockets can significantly enhance your hiking experience. When choosing hiking pants, look for designs that prioritize ample storage options.
Ideally, they should feature hand pockets for easy access, cargo pockets, a dedicated pocket to accommodate your smartphone, and zippered pockets for securely stashing smaller essentials like lip balm, sunscreen, or snacks. Unfortunately, not all hiking pants are created equal in this regard, so it's essential to research and find a pair that meets your storage needs.
Many hiking pants mentioned above offer multiple pockets for your storage requirements. For example, our top pick, the Outdoor Research Ferrosi pants, boasts two front hand pockets, two back pockets (one that zips), and even zippered thigh pockets for added versatility.
When evaluating the pockets, consider their placement and accessibility, especially when wearing a backpack with a hip belt, harness, or additional layers of clothing. Ensuring easy access to your gear while maintaining comfort and convenience will make your hiking adventures more enjoyable.
Breathability and Ventilation
Proper ventilation prevents overheating and excessive sweating, especially during intense hikes or hot days. Look for pants with breathable fabrics and mesh-lined pockets that promote airflow to help regulate body temperature and prevent overheating. Pants with zippered vents along the thighs or mesh-lined leg zippers allow you to regulate airflow and cool down when needed.
Additionally, some pants, like the Fjallraven Keb Trouser, have vents that can be opened to dump heat when needed. This feature becomes particularly important in hot and humid climates or hiking through multiple climates or ecosystems.
Versatility and Style
While functionality is key, you don't have to compromise on style. Choose hiking pants that align with your personal taste and outdoor aesthetic. Many brands offer a variety of colors and designs to suit different preferences.
Consider convertible pants if you would benefit from hiking shorts and pants in one piece of gear. Additionally, consider pants that can easily transition from the trail to casual settings, allowing you to wear them beyond your hiking adventures.
Wrap Up
Investing in the best women's hiking pants is a game-changer for any female hiker seeking optimal comfort and performance in their outdoor gear. With their unparalleled combination of comfort, durability, and functionality, these pants will elevate your hiking experience, allowing you to fully immerse yourself in the beauty of nature without any distractions.
So gear up, embrace the trails, and let the best women's hiking pants be your ultimate companion for unforgettable adventures.