The Roofnest Condor Rooftop Tent 2023: A Detailed Review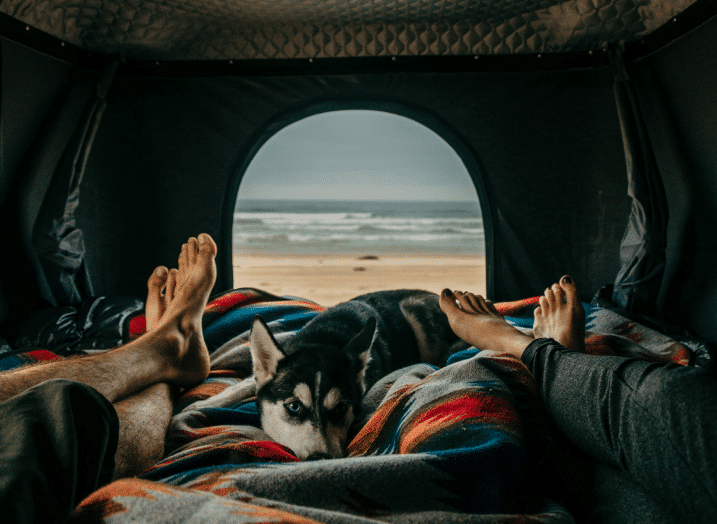 It can sometimes be frustrating for a camper or a group of campers if they struggle to find a suitable camping space outdoors. Their whole trip can be a mess. However, there is nothing to worry about when they have a Roofnest Condor rooftop tent.
This rooftop tent is a pleasant and practical way to enjoy the outdoors, thanks to its thoughtful design and premium materials. The Condor tent is a radical transformation from conventional tents regarding comfort and convenience.
This website includes affiliate links to various products. By using these links to make a purchase, you may support us, as we may earn a commission without any additional cost to you. Your support through these links is highly valued and helps us maintain the website and its content. We genuinely appreciate your support and thank you for using our links to make your purchases.
What is the Roofnest Condor?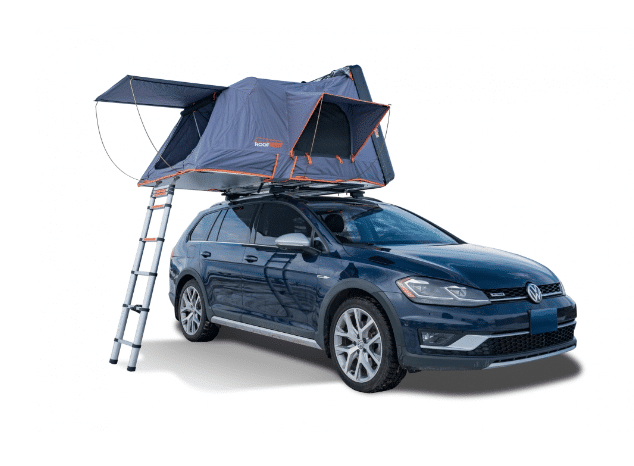 You can install the Roofnest Condor roof top tent on your vehicle. It is a portable outdoor shelter that is simple to erect with awning poles and offers a convenient and comfortable place to sleep while traveling or camping.
This tent has a waterproof rating of 3000mm, which is ideal for all-weather performance.
When you think about an ideal camping trip, there is no best alternative to this condor tent. Imagine it as a comfortable elevated bed on the top of your vehicle! The exterior dimensions are 60 inches in length and 48 inches in width.
The accessories that come with this typical backpacking tent are a 2.5" Foam Mattress, Universal Mounting Kit, 7.5′ Ladder, 4×4 Ground Mat, 2 Detachable Pockets, Roofnest Privacy Tent, and Interior LED Light.
Who Created the Roofnest Condor?
Tim Nickles, a veteran outdoorsman, and native Coloradan, founded the firm in 2016. It makes a variety of dependable yet stylish truck bed racks and rooftop tents that allow just about everyone to sleep under the stars.
Top benefits of the Roofnest Condor
When you buy this rooftop tent, you must be aware of some of its advantages:
Convenient and Easy Setup: The Condor rooftop tent is made for quick setup. It can be swiftly and easily installed on your vehicle because of its straightforward and user-friendly design, saving you time and effort.
Comfy Sleeping Place: The Roofnest Condor provides a roomy and comfy sleeping place on top of your vehicle. For a restful night's sleep, the elevated platform offers a comfortable and safe environment that keeps you away from the ground and any wildlife.
Defending against the elements: The Condor provides exceptional defense against wind, rain, and UV rays because it is constructed from tough and weather-resistant materials like polyurethane-coated polyester. You can go camping even inclement weather thanks to its durable design, which guarantees a dry and secure interior.
Portability: The Condor's portability and versatility make it appropriate for various outdoor activities. The Condor offers a simple and portable shelter that can be moved and set up wherever you are, whether on a road trip, camping excursion, or exploring off-grid regions.
Design: The Condor's aerodynamic design reduces wind resistance and its effect on your vehicle's fuel efficiency. This design choice guarantees a comfortable and effective driving experience while minimizing the drag that the rooftop tent creates. So, it has a great weather resistance feature.
High-quality and Long-Lasting Construction: Roofnest is renowned for its dedication to excellence in design and construction. The Condor is made of high-quality materials that can resist the demands of outdoor experiences and is designed to last. Its rugged design ensures longevity and durability, giving it a dependable option for frequent campers.
Convenient and ideal for storage: The Condor rooftop tent with condor packs includes built-in interior pockets and compartments to keep your items arranged and easy to find. This feature makes the tent more practical and increases the space that may be used.
Elevated Camping Experience: The Condor offers a distinctive and elevated camping experience, allowing you to spend the night atop your car. It provides breathtaking views, improved safety, and the flexibility to camp anywhere without requiring conventional campsites or flat ground.
Included comfy Mattress: The Condor has a comfy built-in mattress to promote a restful and revitalizing night's sleep. The supportive and comfortable high-quality mattress lets you wake up feeling rested and prepared for your adventures.
Flexibility: With the Condor rooftop tent, you can camp and travel anywhere your vehicle can take you. It offers versatility in travel options, letting you discover distant and off-the-grid areas where conventional campgrounds might not be accessible.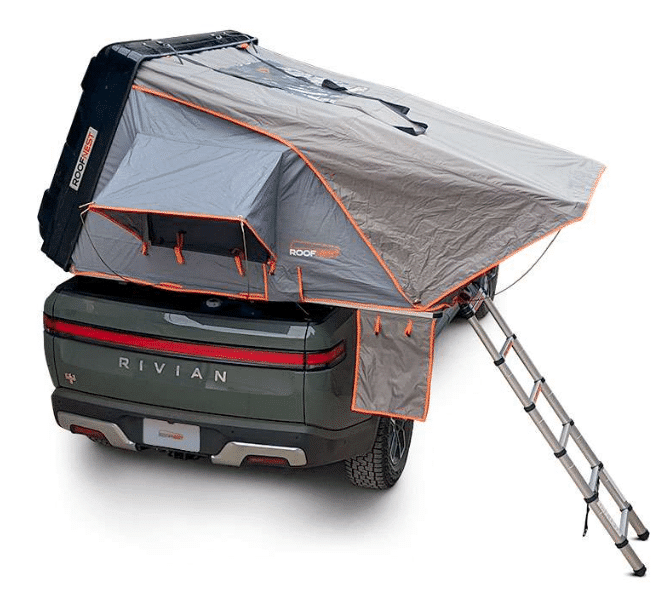 There are several features why one should buy the Roofnest Condor tent. So, let's take a close look at them:
Hanging gear and shoe holder:
The hanging gear and shoe holders are the Roofnest's best features. You may easily store your dirty shoes and other stuff as you climb inside the tent rather than tossing them into a corner or leaving them on the ground by sliding the flexible rod sewn into the top of the holder onto the floor frame on each side of the ladder.
Zippered window:
Roofnest's second and third-best features are inside the privacy tent. Stargaze through the ceiling's zippered window with a screen. The rainfly has a transparent plastic pane. The doors and the windows have full zip mesh.
USB-powered light strip:
The tent's removable USB-powered light strip (battery not included) above the door can illuminate your work without enough starlight.
Built-in sleeping pad:
Once you're settled, the Condor's built-in sleeping pad is another top-three feature. It's thicker than most sleeping pads at 2.4 inches. After five days on the road, the firm foam was comfy all night. This is why this "sleeping bag" is excellent outdoors.
Highly specious:
The tent's startling amount of space is a result of its ability to expand by a factor of two. It's much roomier than the two-person privacy tent, measuring 83 inches in length, 60 inches in width, and 50 inches in height.
Shell:
The hard shell roof is made with abs plastic or asa plastic, and this abs plastic guarantees its durability.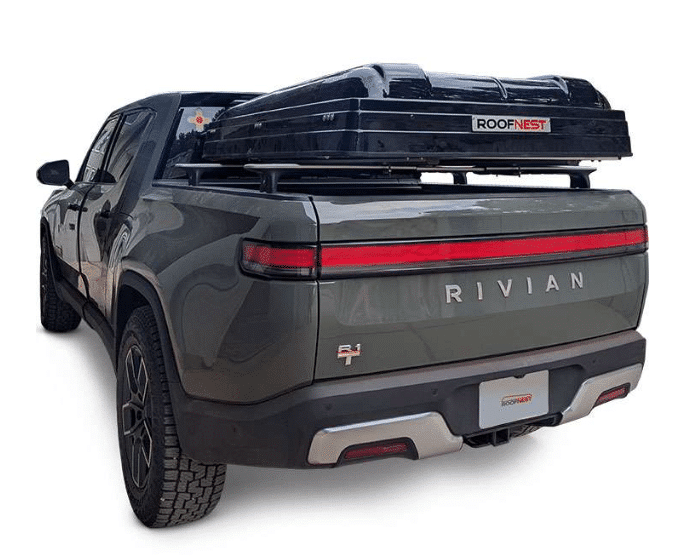 Waterproof:
The waterproof cover ensures the Roofnest privacy tent is safer in extreme rain.
Roofnest Condor Pricing
The Roofnest Condor is now available at $3,395.00. Considering the features it offers, this is worth the price.
Roofnest Condor Pros and Cons
Roofnest Condor rooftop tent has its pros and cons. Understanding these criteria can help you choose the appropriate option.
Roofnest Condor Pros
Polyester and cotton mixed with a waterproof rating of 3000mm make up the canopy and rainfly.
It's a practical choice for devoted campers because of its lightweight, compact form, which makes storage and transit simple.
It comes with a condor awning and Condor Anex, and a solar panel can also be accommodated here.
The tent has an antimicrobial waterproof silver coating.
The Condor's aerodynamic shape reduces wind resistance, making driving smooth and fuel efficient.
Minimum space front-back between rack crossbars: 28″.
Roofnest mounting rails spacing, left to right, is 24″.
It keeps your entire camp space dry and in the shade.
Interior LED light shell.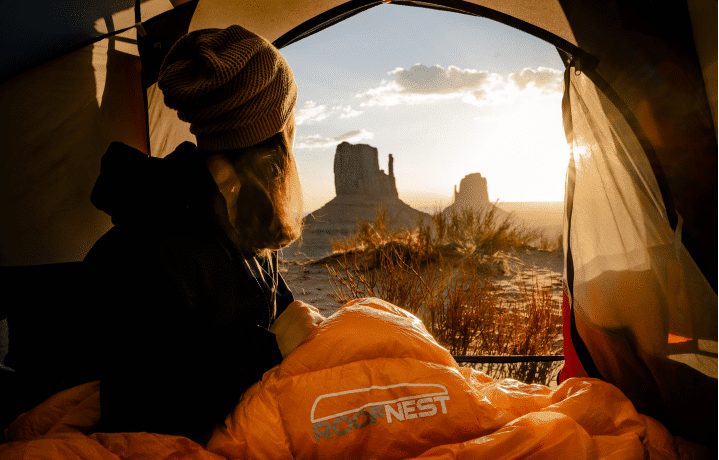 Roofnest Condor Cons
The hard shell Condor can hold sheets and blankets when folded, but it's too tight to close.
Expensive than other alternatives.
The telescopic ladder is too high.
It is ideal for two adults only. (three can fit if the 3rd one is a child).
The proper sequence for Packing a Tent needs to be revised.
Roofnest Condor Alternatives
Here are some of the top alternatives for Roofnest Condor:
Tepui Kukenam Sky Tent.
Yakima SkyRise.
iKamper Skycamp.
Front Runner Feather-Lite.
Is the heat keeping you from enjoying the outdoors?
The Zero Breeze portable air conditioner is a versatile and practical solution for cooling and ventilation in various settings, particularly outdoor activities and on-the-go situations. This compact and lightweight device is designed to provide relief from heat and humidity in small spaces. Its portability is a standout feature, allowing users to transport it wherever they need it easily.
One of the key advantages of the Zero Breeze is its battery-powered operation. With a built-in rechargeable battery, it can function without requiring a direct power source, making it ideal for outdoor adventures, camping trips, or situations where traditional air conditioning units are unavailable. The battery life may vary depending on the model and cooling settings used, so it's important to consider your specific needs and plan accordingly.
The Roofnest Condor rooftop tent is a game changer for your camping experience. Its easy assembly, roomy sleeping area (if you need more room, check out the Condor XL), durability, portability, waterproof rating of 3000mm, and aerodynamic design made camping easy and fun. The Condor gave me a safe and convenient place to enjoy nature and make memories.
Ready for your next trip? Get the Roofnest Condor today!