Thule Tepui Explorer Kukenam 3: Exploring New Heights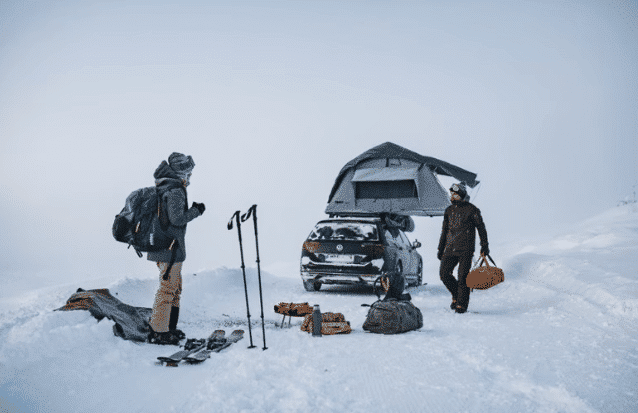 Anyone who enjoys camping and wishes to make the most of their time in nature should buy the Thule Tepui Explorer Kukenam 3.
The space limitation in conventional tents is one of the key issues it addresses. With the Thule Tepui Explorer Kukenam 3, you can benefit from the roomy cabin that can easily fit three people.
Additionally, the tent is constructed from high-quality, breathable, and waterproof fabrics that will keep you dry and comfortable throughout your camping excursion.
This website includes affiliate links to various products. By using these links to make a purchase, you may support us, as we may earn a commission without any additional cost to you. Your support through these links is highly valued and helps us maintain the website and its content. We genuinely appreciate your support and thank you for using our links to make your purchases.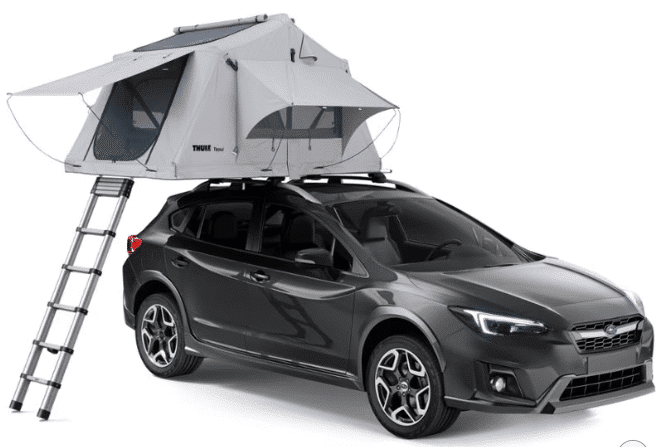 The Thule Tepui Explorer Kukenam 3 is an excellent tent for camping since it offers both protection from the elements and a panoramic view of your surroundings. This roof top tent is made to be put on the top of your car, making it convenient for travel and quick to set up. Besides, it's mold resistant and can endure elements of any season.
Besides offering a sleeping capacity of up to three people, the roof top tent is made of season tent fabric that is highly durable and easily withstands harsh weather.
The trouble of erecting and dismantling a tent is another issue that the Thule tepui5 tent addresses. You can swiftly put up your campsite with the Thule Tepui Explorer and take it down just as quickly. For people who prefer to spend more time enjoying the great outdoors and less time fumbling with difficult camping equipment, the Thule Explorer is a perfect option.
The different camping accessories includes a rainfly, a telescopic ladder, mesh windows and doors, a high-density foam mattress, large internal pockets, etc, to make your camping fun.
We will look at the benefits and features of this roof top tent in a while.
Who Created Thule Tepui Explorer Kukenam 3?
The Swedish manufacturer Thule Group, specializing in outdoor and transportation equipment, designed the Tepui Explorer roof top tent to fit up to three people. Rooftop tents, bicycle racks, and other outdoor gear made by Thule are among the best in the industry. They are a reputed producer of gear and camping accessories.
Top benefits of Thule Tepui Explorer Kukenam 3
Here are a few top benefits of the Tepui Kukenam roof top tent. Let's check them out:
Highly spacious
The Tepui Kukenam 3 boasts one of the best inside heights for this kind of tent, at a maximum of 52 inches. The entry awning is absent but provides the same interior floor space as the Tepui Autana 3. The floor dimensions measure 56 inches broad by 96 inches long, providing enough room for two large individuals, their storing gear, and, if necessary, sleeping capacity for three people.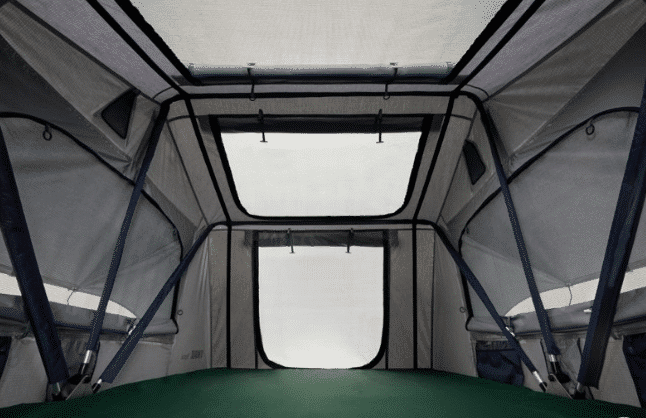 Convenience
The Kukenam converts from travel to camping mode easily. After removing the cover, the ladder conveniently unfolds the tent, and Self-collapsing telescoping ladders reach 8′ 6″. When breaking camp, Thule Tepui tents have internal bungees to aid fold-up. When folding the tent, the rainfly poles must be slid into the main canopy slots and removed. Though simple, it takes a minute to convert.
Easy to install
As far as installation, it is pretty simple if you follow the instructions. Every tent from Thule Tepui comes with a ratcheting 13mm wrench, which speeds up mounting the tent to your rack compared to using a conventional wrench.
Tent built to endure
The Kukenam is a year-round tent built to endure, and its fabrics are highly durable and can withstand harsh elements. Since it can sustain elements of any season, it will be a great investment if you are an adventure freak.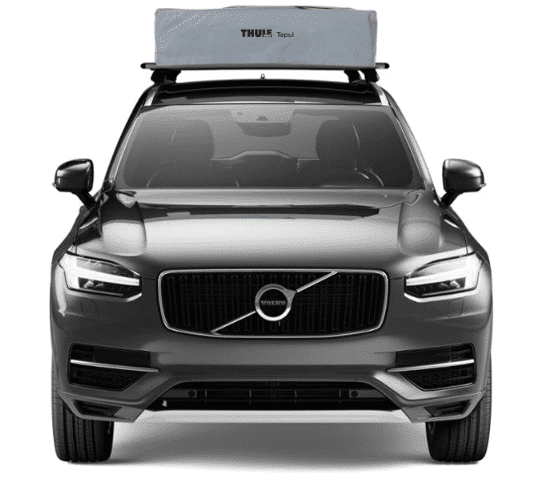 Best Features of Thule Tepui Explorer Kukenam 3
Some of the top features of the Kukenam 3 year-round tent are explained below. This will make your buying decision easier.
All weather performance
Constructed with durable materials such as a water-resistant ventilate coating, this year-round tent is designed to withstand a wide range of climates and environments, ensuring reliable performance in different weather conditions. This tent's high-quality build offers long-lasting durability and protection, making it a dependable choice for outdoor adventurers.
Great ventilation
Including mesh windows and doors in the design allows for enhanced airflow inside the tent while also providing a reliable defense against insects. Additionally, the tent features an adjustable skylight and solid season mesh panels, ensuring optimal ventilation and improved air circulation throughout different weather conditions.
Enough Storage
The tent boasts spacious internal pockets, offering ample room for storing even the bulkiest gear with utmost ease and convenience. These large pockets within the tent enable the hassle-free organization and effortless storage of heavy equipment.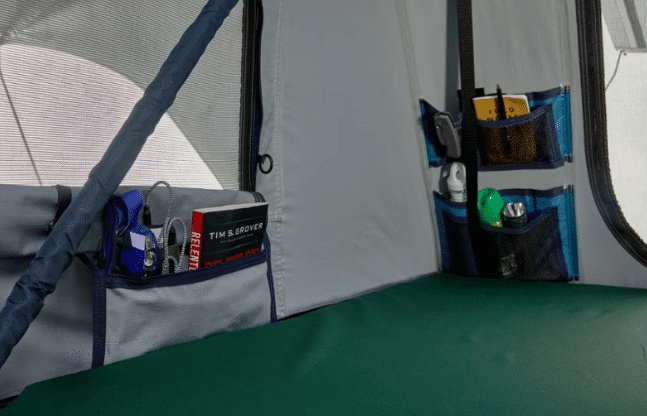 Quality foam mattress
Experience the pinnacle of comfort with a high-quality foam mattress that elevates your sleeping experience to new heights. Indulge in unparalleled relaxation as you rest on this superior mattress designed to provide optimum support and a blissful night's sleep.
Highly compatible
The Tepui Kukenam is compatible with a wide range of automobiles, including SUVs, trucks, and off-road vehicles, offering versatility in its application. Its user-friendly design makes this rooftop tent effortless to fasten and mount onto various roof rack systems, ensuring a hassle-free setup process.
Durable
The Tepui 3-person tent is impressively resistant to mold, ensuring a clean and hygienic camping experience even in humid and damp environments. Additionally, its durable design enables it to withstand the harshest elements of any season, providing reliable shelter and peace of mind for outdoor enthusiasts.
Thule Tepui Explorer Kukenam 3 Pricing
As far as the price is concerned, the price of the Kukenam 3 is $1,999.95. Considering its features, this wouldn't be a bad investment either.
Thule Tepui Explorer Kukenam 3 Pros and Cons
So, have you decided to buy the Kukenam 3? Then, you must consider the pros and cons to ensure you never go wrong in your purchase.
Thule Tepui Explorer Kukenam 3 Pros
The tent offers ample storage with a 3-person sleeping capacity.
The tent is UV and mold resistant and can endure elements of any season.
High-density foam mattress for excellent sleeping.
Large internal pockets for storing gear and camping accessories.
It comes with a water-resistant ventilate coating, which helps to absorb moisture.
The highly durable material of the Tepui Kukenam helps it sustain any climate.
Hassle-free set up with wrench provided from Thule. The instructions are specific with color-coded poles.
Thule Tepui Explorer Kukenam 3 Cons
The pricing is on the higher side. As a result, it might not suit everyone's budget.
There might be limited headroom on the sides as there might be an issue with the peak internal height and sleeping footprint. Taller campers in this rooftop tent may be uncomfortable with a lower peak internal height and sleeping footprint.
It's a bit heavy, which can make installation challenging.
The tent isn't great for small vehicles.
Thule Tepui Explorer Kukenam 3 Alternatives
Here are a list of alternate options for the Kukenam 3:
Conclusion: Should You Buy Thule Tepui Explorer Kukenam 3?
The Thule Explorer Kukenam rooftop tent is ideal for outdoor enthusiasts seeking a reliable and comfortable camping experience. Its roomy size, solid construction, and good weather resistance make it a safe and cozy outdoor shelter. Solo travelers and small parties can trust the tent's versatility, ease of use, and attention to detail.
The Thule Tepui Explorer Kukenam 3 combines functionality and comfort for years of excellent camping, whether exploring the distant wilderness or road-tripping.