Ultimate Comfort: Women's Osprey Aura AG 65 Review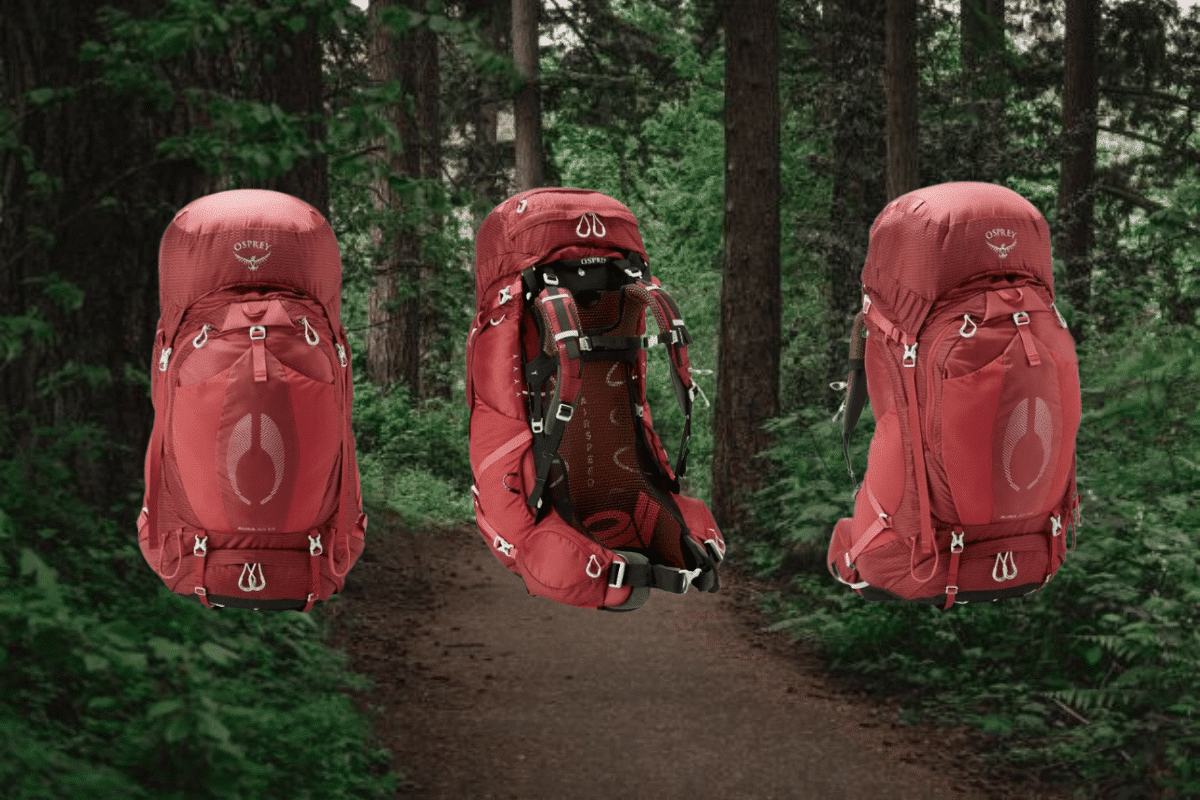 The Osprey Aura AG 65 is designed for women and comes with a sleeping bag compartment, adjustable harness, and separate hip belt pockets where you can keep your camera, energy bars, and other items for easy access on a hiking trip. The lightweight mesh and the zippered sleeping bag compartment are all designed to make the Osprey Aura AG 65 one of the best hiking bags for women.
You must purchase the Aura pack if you want a backpack with an anti-gravity suspension and bottom compartment. Here are some of the key features of the Osprey Aura AG 65.
This website includes affiliate links to various products. By using these links to make a purchase, you may support us, as we may earn a commission without any additional cost to you. Your support through these links is highly valued and helps us maintain the website and its content. We genuinely appreciate your support and thank you for using our links to make your purchases.
What is the Women's Aura 65?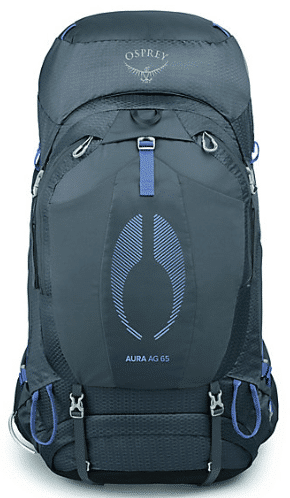 If you are looking for backpacking packs with features such as anti-gravity suspension, a lightweight back panel mesh pocket that provides complete ventilation, and web attachment points, check out the Osprey Aura AG 65. The anti-gravity suspension offers women's specific fit and a continuous back panel so that the backpack hugs around your back and waist.
You will find that the shoulder straps and the waist belt help with the load transfer, as does the adjustable harness. The Osprey Aura AG 65 also has a suspended mesh and seamless structure for complete comfort even when carrying heavy loads.
The load lifter straps, hip belt pockets, mesh pockets, and additional zip pockets are all designed to make it easy to carry the bag on a long hiking trip.
Who Created the Women's Aura 65?
Osprey offers the Women's Aura packs. Osprey, founded in 1974 by Mike Pfotenhaue, develops the Women's Aura 65.
Top benefits of the Women's Aura 65
Floating top lid

Anti-gravity suspension

Separate sleeping bag compartment

Zippered sleeping bag compartment

Side mesh pockets to hold water bottles

A full peripheral frame that transfers weight

Integrated design for less weight

Hipbelt pockets to hold additional items

Dual-zippered side pockets

Compression straps for better weight adjustment
Thus, several benefits of the Osprey Aura AG 65 make it ideal for women, primarily features like zip pockets and adjustable shoulder straps that make the Osprey Aura pack light weight. Some of the other features of the pack are discussed below.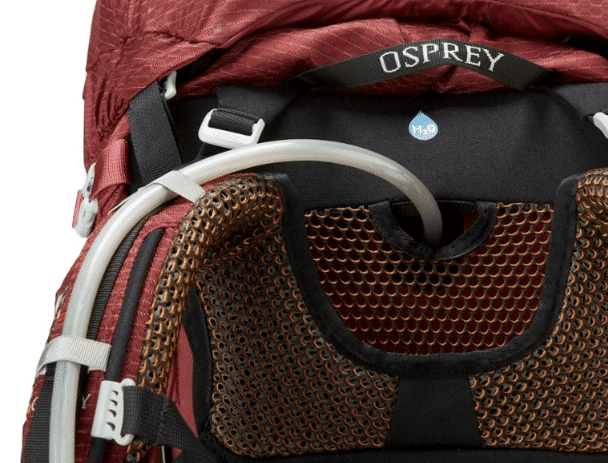 Best Features of the Women's Aura 65
The Osprey Aura AG 65 has several unique features, such as removable sleeping pad straps and extra layers, making the backpack ideal for long hiking trips.
If you plan to carry a heavy load on the trip, features like anti-gravity suspension and mesh back panel can make moving the backpack easier. Moreover, the pack comes with a drawstring top lid which sets it apart from other bags. Here are some of the essential features of the Osprey Aura AG 65.
Anti-gravity suspension for comfort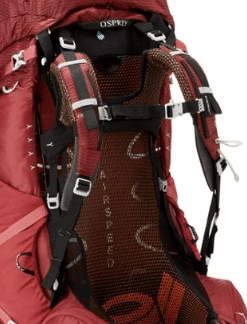 The entire pack is built for women, and hence it is lightweight. The mesh, the anti-gravity suspension system, the dual zippered pockets, and the peripheral frame of the back panel all add to the less weight feature of the pack.
Even if you have wider hips, the pack will distribute the weight across your body, and the mesh will ensure you do not feel the backpack's weight. And with straps to help you fine tune the fit, even when it's fully loaded with gear.
Straps, zippers, and pockets are all designed for women.
Among the many features of the Osprey Aura AG 65, it is exclusively designed for women. For instance, unlike other backpacks, the Osprey Aura AG 65 has a zipper lower compartment where you can keep your sleeping bag.
The durable and light weight fabric. All pockets and the lid have zippers to pack the camping gear quickly.
Removable sleeping pad straps for extra storage
Just as the anti-gravity suspension makes the backpack less weight, you will find that you can remove the sleeping pad straps to create extra storage space in the main compartment. You can pack the pack and the hip belt pockets per your requirements, but the extra space can help you carry the water bottles and packs of food.
Women's Aura 65 Pricing
The Osprey Aura AG 65 is available in two sizes priced at $340.00.
Women's Aura 65 Pros and Cons
If you want to go on a trail, you must invest in a good-quality backpack; for that, you must evaluate its pros and cons.
Women's Aura 65 Pros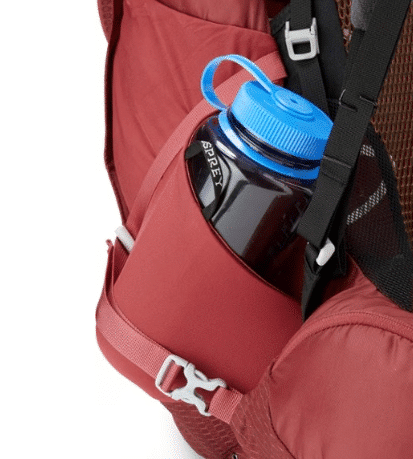 Multiple zip pockets to store items

Lightweight mesh pockets

Mesh pockets have a zipper

Mesh sheet connects back panel and hip belt for better flexibility

Easy access to the main compartment and pockets.

Main compartment expandable

Breathable fabric
Thus, there are several reasons to purchase the Osprey Aura AG 65. However, the backpack has a few drawbacks, which are discussed below.
Women's Aura 65 Cons
The bag's interior will get wet if you do not use a rain cover

You Must be intuitive to adjust the bag to your torso
If this Osprey model is not right for you, check out the following alternatives.
Women's Aura 65 Alternatives
Conclusion: Should You Buy the Women's Aura AG 65?
Regarding backpacks, you need to purchase one that fits your body type and has features such as an adjustable harness and breathable mesh fabric. When the weight of the backpack sits on your hips, you will find hiking on the trail becomes more effortless.
When you invest in the pack, you will find that it does not put any extra weight on your hips, which is essential when you are on a hiking trail. You can also adjust the Osprey Aura AG 65, like other Osprey packs, to your torso length with the help of the adjustable shoulder straps and suspended mesh.
This makes the bag ideal for women as it comes with a rain cover, an extra holder for water bottles, and hip belt pockets for easy access to items you need to store within your arm's length.
Thus, if you plan to invest in a backpack for the next hiking trail, you must purchase the Osprey Aura AG 65 for women.