Best Ski Poles for 2023-2024: Carve with Confidence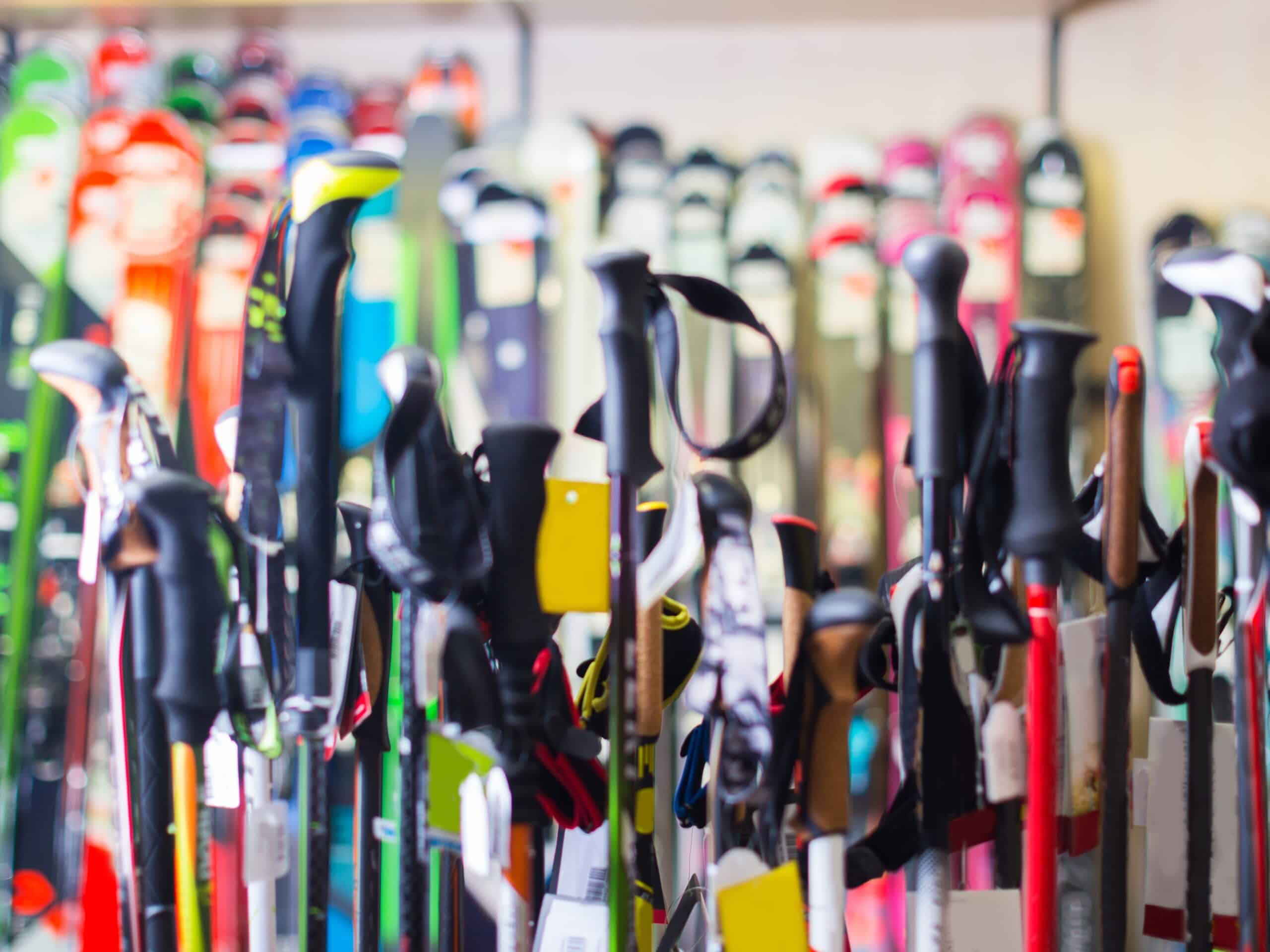 Skiing is a great way to get outside and enjoy the winter weather. Whether skiing down a mountain or through the backcountry, having the right equipment can make all the difference. Here, we will review the best ski poles for downhill and backcountry skiing.
We will include both premium options and budget-friendly choices. So whether you are just starting or are looking for an upgrade, we have you covered!
What are the best ski poles?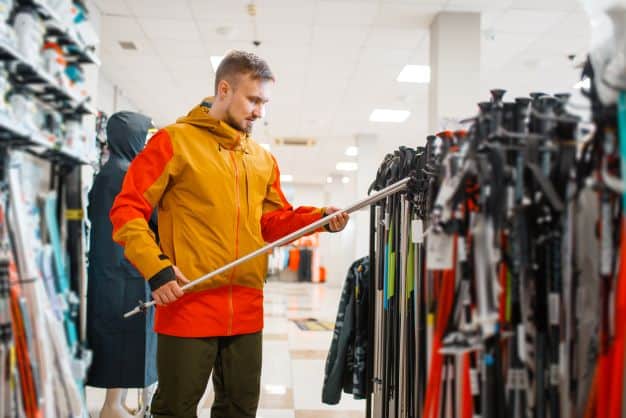 Downhill Skiing
For downhill skiing, you will want a sturdier pole that can handle higher speeds and more challenging terrain. Look for poles made of aluminum or carbon fiber for the best durability. You will also want to ensure the poles have large baskets that can grip the snow well.
Some other features to look for in downhill ski poles include straps that keep your hands in place and adjustable lengths.
Backcountry Skiing
Regarding backcountry skiing, you will want a light pole that is easy to carry. Carbon fiber poles are a good choice as they are strong but lightweight. You will also want to ensure the baskets are small so they don't catch on branches or other vegetation.
Some other features to look for in backcountry ski poles include collapsible sections that make them easy to pack and straps that keep your hands in place.
No matter what type of skiing you do, having the right ski poles can make a big difference. Be sure to choose a pole that is durable and fits your needs. With the right ski pole, you can enjoy the slopes all winter!
This site contains affiliate links to products. At no cost to you, we may receive a commission for purchases made through these links. If you do make a purchase, we cannot thank you enough. It keeps our fridge stocked with caviar and champagne. Just kidding, of course, but seriously we genuinely appreciate it when you use our links to make your purchases.
---
Leki Detect S
MSRP $99.95

Overview
If you're looking for a pole that will work in all conditions, then look no further than the LEKI DETECT S. With its lightweight and sturdy aluminum construction, this latest addition from LEKI is perfect for taking on your next resort lap or side country ski mission!
The compatible Trigger S Pro grip provides precise control while feeling comfortable with an ergonomic design, so nothing is holding back progress when using these excellent poles.
Features
Tube Material: Aluminum
Basket Options: Alpine and Backcountry
Sizes (cm): 110, 115, 120, 125, 130, 135
Weight: 249 grams/pole at a length of 120 cm
---
Black Crows Furtis
MSRP $165.95
best overall runner up downhill

Overview
It is time to show off your style and elegance on the slopes with these well-built poles. The Black Crows Furtis Ski Poles will get you through those challenging turns and make a statement as well!
Touted to perform best in powder conditions, we found they are excellent in all conditions.
Features
Tube Material: Composite
Basket Options: Powder
Sizes (cm): 110, 115, 120, 125, 130, 135
Weight: 250g / pole at a length of 120 cm
---
Black Crows Meta
MSRP $54.95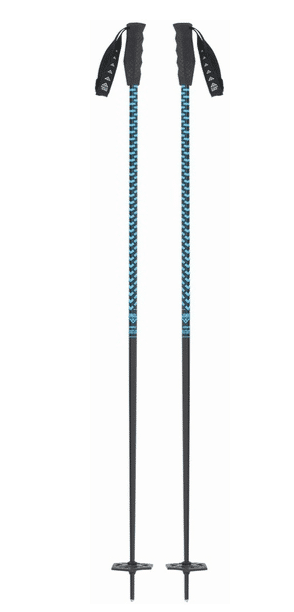 Overview
The Meta ski pole is a fun and exciting weapon, perfect for any snow event. The handle has been carved from rubber, so it can be shaped according to your needs and made of a durable aluminum shaft!
It comes with 90 mm baskets, which allow easy adaptation in different terrains – no matter how rough or smooth they may seem at first glance. And with many color options – there's one just waiting perfectly for whatever mood strikes your fancy.
Features
Tube Material: Aluminum
Basket Options: Powder
Sizes (cm): 110, 115, 120, 125, 130, 135
Weight: 230g / pole at a length of 115 cm
---
Leki Neolite Airfoil
MSRP $84.85
honorable mention downhill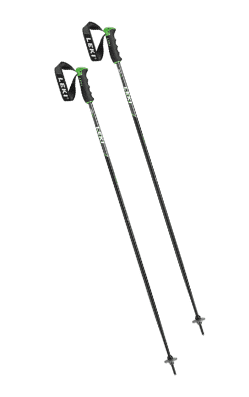 Overview
What's not to love? The Leki Neolite Airfoil has a 14 MM Aluminum airfoil shaft with outstanding performance. If you're looking for extra grip, the Pro G handgrip gives off that soft rubberized feel and classic strap design!
With modern color options like red or blue, there will be an option no matter what color your ski outfit is.
Features
Tube Material: Aluminum
Basket Options: Alpine
Sizes (cm): 110, 115, 120, 125, 130, 135
Weight: 210g / pole at a length of 120 cm
Grass Sticks Bamboo
---
MSRP $109.95
best Alternative downhill

Overview
These bamboo sticks have been on our radar after initially spotting them in the wild while on a lift in Colorado a few years back and hearing the first-hand testimonial to their durability.
They will undoubtedly be conversation starters should you make the switch. Each pair is custom-made from sustainable bamboo and made in Steamboat Springs, Colorado.
Features
Tube Material: Bamboo
Basket Options: Tiny Disc, Medium basket, and Huge Powder Basket
Sizes: Custom-sized to any length
Weight: 1lb 2oz
---
Black Diamond Razor Carbon Pro
MSRP $179.95

Overview
With its lightweight and robust construction, this backcountry ski pole is a dream come true for any avid backcountry skier.
It boasts an aluminum-carbon design perfect for helping you make your way up those challenging climbs. It also features our Forged Flickock Pro adjustment system, which provides more ease when finding optimal length settings on the fly!
Features
Tube Material: Aluminum and carbon
Basket Options: Powder
Sizes: 100- 140cm usable length (2 options)
Weight: 524 g (1 lb 2 oz)
---
Voile Camlock 3 Touring Poles
MSRP $115.00
best overall runner up backcountry

Overview
Voile's innovative poles are designed for all your backcountry touring needs and are ideal for split boarding. The lightweight, durable aluminum construction is easy to adjust and has a positive grip that won't slip when needed!
Features
Tube Material: Aluminum
Basket Options: Alpine and Powder
Sizes: 65 -135 cm
Weight: 1 lb 6 oz
---
BCA Scepter Aluminum
MSRP $89.95

Overview
The BCA Scepter Aluminum Poles are a solid option for all mainstream backcountry skiers. The Scepter Grip has been designed to be a secure and comfortable grip, but it also incorporates a utility hook, making binding and heel riser adjustments easy when climbing!
These poles feature a light yet durable grip and added spray foam texture, providing extended grip protection.
Features
Tube Material: Aluminum
Basket Options: Multifunction basket
Sizes: Adjustable 105 cm – 145 cm
Weight: 10.3 oz / 293 g (single pole)
---
Leki Haute Route 2
MSRP $109.95
honorable mention #1 backcountry

Overview
The new Leki Haute Route 2 is an infinitely adjustable pole for all terrains. Made with high-strength aluminum, the durable yet lightweight shaft provides exceptional performance and ensures maximum power output without any unnecessary weight or bulkiness in your backpack; you can push off quickly when palming this grip head while climbing hills!
Features
Tube Material: Aluminum
Basket Options: Powder
Sizes:110–150 cm
Weight: 290 grams per pole
---
Black Diamond Traverse
MSRP $114.95
honorable mention #2 backcountry

Overview
The Black Diamond Traverse is a classic, all-aluminum touring pole for any day of backcountry skiing. With its durable construction and the legendary reliable FlickLock adjustability, it will easily hold up to season after season abuse! It is outfitted with a rubber grip extension so you can choke up while side-hilling on skin tracks or steep terrain without missing a beat.
Features
Tube Material: Aluminum
Basket Options: Powder
Sizes: 145 cm, 155 cm
Weight: 296 grams per pole
---
What are the key parts of the ski poles?

Ski poles typically have five parts: the grip, the strap, the shaft, the basket, and the tip.
The Grip
This is the part of the pole that you hold onto. It is usually made of molded rubber or plastic and has an ergonomic shape that should fit comfortably in your hand. When selecting a grip, consider whether you intend to wear ski gloves or mittens.
Grips with grooves for your fingers work better with gloves, whereas a smooth grip is preferable for mitts. The size of the grip also matters not only to have it sized appropriately to your hand, but extended grips are helpful for touring poles when climbing steep terrain.
The Strap
The strap is attached to the grip of the ski pole, loops around your gloves or mitts, and rests around the large part of your hand or wrist. Most straps are made from synthetic material, leather, or webbing with loop-style straps that your hand is fed through before taking hold of the grip.
More technologically advanced poles offer snugger fit with click-in and quick-release technologies. These are particularly useful for close grip or during a fall.
The Shaft
This is the long tube or thin part of the pole that extends from the grip to the basket. It is typically made of aluminum, composite, or carbon fiber and can be straight or bent. Aluminum is the most common material used in ski poles and is liked for its durability, affordability, and strength.
Carbon is less common due to its higher price tag but is known for its strength, lightweight, and flexibility. Composite materials that blend aluminum and plastics perform better than carbon and plastic in some conditions and offer shock absorption in hard-packed snow.
The Basket
This is the round, plastic piece at the end of the shaft that helps keep your pole from sinking into soft snow. The overall performance of the pole can vary greatly depending on the type of baskets used in given conditions.
Most alpine poles have small baskets that perform well in most conditions found within a resort, such as groomed runs and shallower powder over hardpack.
On those days with deep powder or in the backcountry, a powder basket is preferred, providing more surface area, keeping the pole near the surface, and not sinking deep into the powder snow.
The Tip
The tip of the ski pole is the part that comes into contact with the ground and is designed to provide grip and stability.
There are three main types of tips: metal, carbide, and rubber. Metal tips are the most durable and offer the best grip on hard-packed snow but can damage soft surfaces.
Carbide tips are made of a harder material than metal and are less likely to damage surfaces but don't provide as much grip.
Rubber tips are the softest, provide the best grip on slippery surfaces, but wear down quickly.
What materials are ski poles made from?
The best ski poles are typically made from one of four materials: bamboo, aluminum, steel, or carbon fiber. Each material has its benefits and drawbacks.
Bamboo is strong and lightweight but also flexible, making it less than ideal for downhill skiing.
Aluminum is more rigid than bamboo, making it better suited for downhill skiing but also heavier.
Steel is even more rigid than aluminum, making it the best choice for mogul skiing and other high-speed skiing disciplines, but it is also the heaviest of the four materials.
Carbon fiber is the lightest of the four materials, making it ideal for cross-country skiing but also the least durable. As a result, the best material for a ski pole depends on the type of skiing that will be done.
How do you choose the size of your ski poles?
The best ski poles come in various sizes, and choosing the right size can be the difference between a fun day on the slopes and a frustrating experience. The general rule of thumb is your forearm should be parallel to the floor when grasping the ski pole grip, and the tip is touching the ground.
However, there are a few other factors to consider when selecting. First, think about the type of skiing you will be doing.
If you are primarily groomed trails, you will want a shorter pole, giving you better control. If you plan off-trail skiing, you will want a longer pole, giving you more leverage when pushing through deep snow.
Second, consider your height and weight. If you are taller or heavier than average, you may want to go with a longer or heavier pole. Conversely, you may want to go with a shorter or lighter pole if you are shorter or lighter than average.
Ultimately, the best way to choose the right size ski pole is to try different sizes and see what feels comfortable.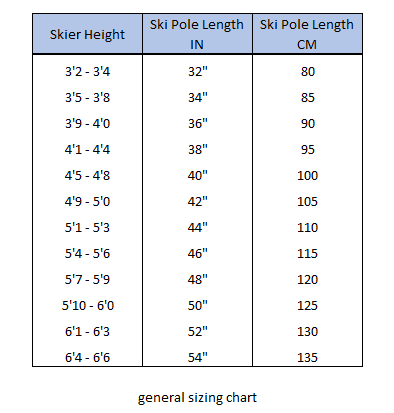 Are good ski poles worth it?
The quality of your ski poles can make a big difference in your overall skiing experience. Good ski poles are designed to provide the perfect balance of weight and stiffness, making them comfortable and natural to hold.
They also feature durable construction that can withstand the rigors of skiing, plus grips that won't slip even when your hands are sweaty. In addition, good ski poles come with baskets specifically designed for powder or groomed snow so that you can enjoy optimum performance no matter the conditions.
And if you get an adjustable pair, you can customize the length to suit your height and skiing style perfectly. So whether you're a beginner or a seasoned pro, investing in a good pair of ski poles is worth it.
What are other features to consider?
In addition to material and length, there are several other features of the best ski poles to consider. First, most poles come with removable tips that can be replaced if damaged. Some poles also have straps that help to keep the poles attached to your wrists, even if you take a tumble.
Another important feature to look for is adjustability. Many Poles can be lengthened or shortened to accommodate snow conditions and skier heights.
Finally, it's worth considering the weight of the poles. Heavier poles can be more challenging to swing but offer greater stability on steep or icy slopes.
Ultimately, the best ski pole for you will be the one that strikes the right balance between weight, durability, and adjustability.
How much should I pay for ski poles?
Skiing is a popular winter sport requiring poles to help balance and propulsion. But how much should you pay for ski poles?
The answer depends on a few factors, including the type of skiing you plan to do and the materials you prefer. If you're just getting started, you may want to purchase a pair of inexpensive aluminum poles.
But if you plan to do more advanced skiing, you'll need a stronger pole made from materials like carbon fiber. You can also find ski poles in various lengths, so be sure to choose a size that's comfortable for you.
The best way to determine how much to spend on ski poles is to consult a professional ski shop or instructor. They can help you choose the right pole type for your needs and budget.

Frequently Asked Questions
Q: How do I determine the correct length for ski poles?

A: Stand upright with your ski boots on and hold the poles upside down. Gripping the pole just below the basket, your elbows should form a 90-degree angle. Adjust the pole length accordingly for comfort and efficiency.

Q: What materials are best for ski poles?

A: Ski poles are typically made from aluminum, carbon fiber, or a combination of both. Aluminum poles offer durability at a lower cost, while carbon fiber poles are lighter and more shock-absorbent but tend to be pricier.

Q: What types of baskets should I consider for ski poles?
A: Basket size depends on the type of skiing and snow conditions. Larger baskets are suitable for powder or off-piste skiing as they prevent poles from sinking deep into the snow. Smaller baskets are ideal for groomed trails and hard-packed snow. Some poles have interchangeable baskets for versatility.
Conclusion
When looking for the best ski poles, you should consider a few factors. One important consideration is the type of skiing you will be doing – whether you're alpine skiing or backcountry skiing. Other features to look for include the size and materials of the ski poles.
Good ski poles are worth it if they fit your needs and preferences. With so many different options on the market, we hope you found the best ski poles here today.
Other Related Reads
Beginners Guide to Downhill Skiing
Beginners Guide to Alpine Touring