Unveiling the Thule Tepui Explorer Autana 3: A 2023 Review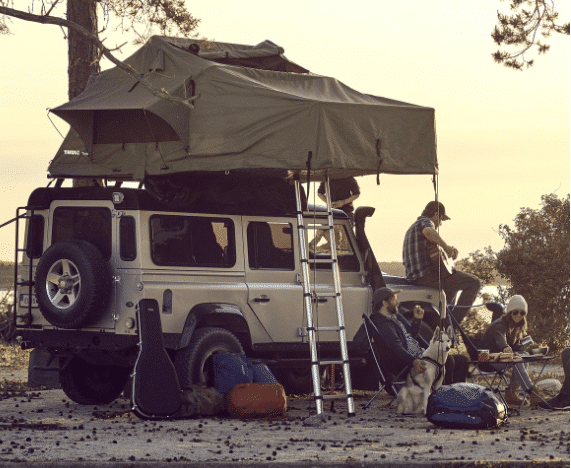 If you are traveling/camping outside with your car, you might be worrying about finding shelter with your vehicle, especially on dusty roads or in places where the weather isn't friendly. The parking problem may double up, especially if it's dark outside.
However, when you have the Thule Tepui Explorer Autana 3 with the roof top tent, say bye-bye to all your car camping worries. This roof top tent is an excellent option for your outdoor needs, whether camping in the mountains or somewhere secluded.
This website includes affiliate links to various products. By using these links to make a purchase, you may support us, as we may earn a commission without any additional cost to you. Your support through these links is highly valued and helps us maintain the website and its content. We genuinely appreciate your support and thank you for using our links to make your purchases.
What is Thule Tepui Explorer Autana 3 with Annex Rooftop Tent?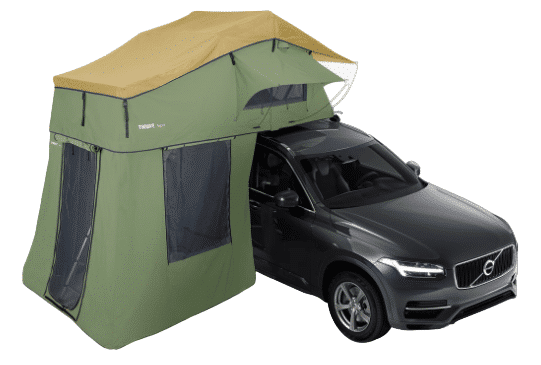 While camping or touring, the Thule Tepui Explorer Autana 3 with a rooftop tent offers a cozy and secure place to sleep. Its roomy layout, which can house up to three people, makes it ideal for a small family or gathering of friends. Besides, you can easily set it up in just a few minutes.
A built-in extended canopy that provides shade and weather protection is also a feature of the annex rooftop tent. This good-quality tent is also simple to put up and take down, making it ideal for people constantly moving.
For any outdoor lover, the Thule Tepui Explorer Autana 3 is an excellent investment because it can save your life in various circumstances. Even in the most isolated and challenging locations, this rugged, resilient, and high-quality roof-top tent is intended to offer a cozy and secure haven.
The tent can offer you a safe and comfortable sleeping space insulated from the weather and any potential threats, for instance, if you find yourself stranded in the woods due to a vehicle breakdown or other emergency.
While its integrated mosquito screens will shield you from insects and other pests, its sturdy structure and weather-resistant materials keep you secure and dry. Besides, it also comes with a telescoping ladder, making the mounting system a bit easier.
This tent with a cover zipper has several amenities. The camping accessories includes a high-density foam mattress, gear storage pockets, a telescopic ladder, and inside LED illumination that can improve your camping experience. Thus, the Thule Tepui Explorer Autana 3 is an excellent option for extended camping, kids camping, or vacations.
Who Created Thule Tepui Explorer Autana 3 with Annex Rooftop Tent?
The roomy three-person Thule tepui explorer autana with extended canopy entrance was manufactured by Thule, a reputed supplier of Thule tepui tents, roof racks, bags, and other camping accessories over the years.
Top benefits of Thule Tepui Explorer Autana 3 with Annex Rooftop Tent
Here are some of the benefits that suggest why buying the Thule Tepui Explorer Autana 3 is a good option:
Setting it up is easy: The autana 3 rooftop tent's simple setup lets you spend more time outdoors and less time putting it together.
Enough accommodation: It is worth noting that the Autana 3 can enable three persons to sleep comfortably. The annex provides gear storage and sleeping space. So, anyone will love sleeping here.
It is resistant to rough weather: The rooftop tent is resistant to inclement weather. Its sturdy design with nice thick materials protects it from wind, rain, light snowfall, and other harsh elements. It's also mold resistant. Rainfly and waterproof fabrics keep you dry and comfy.
Elevated Sleeping Experience: Camping on your car's roof gives you a unique view and sleeping experience. It keeps you off the ground, safe from animals and uneven ground.
Breathable and Comfortable: The Autana 3's big mesh side windows and doors allow good airflow in warm weather. Sleep comfortably on the provided high-density foam mattress.
Versatile Use: The Thule Tepui autana rooftop tent suits weekend camping or extended expeditions. It's ideal for camping, overlanding, road trips, and other adventures requiring a portable sleeping solution.
Convenient Storage: The removable annex tent gives a storage room to organize and retrieve your goods. It maximizes car space by storing gear, clothes, and other items.
Quick Pack-up: The Autana 3 first roof top tent folds up quickly for travel. Its compact dimensions and lightweight design make transit easy and reduce aerodynamic drag.
Durability: The Thule Tepui Autana 3 is made of high-quality, long-lasting materials. It can handle heavy use and outdoor experiences.
Trusted Brand: Thule, a trusted outdoor brand, makes high-quality, reliable items. The Autana 3 rooftop tent is reliable due to its experience and dedication.
Best Features of Thule Tepui Explorer Autana 3 with Annex Rooftop Tent
Before buying this Autana 3 rooftop tent, consider its features and see whether they suit you. Here is the list of its features: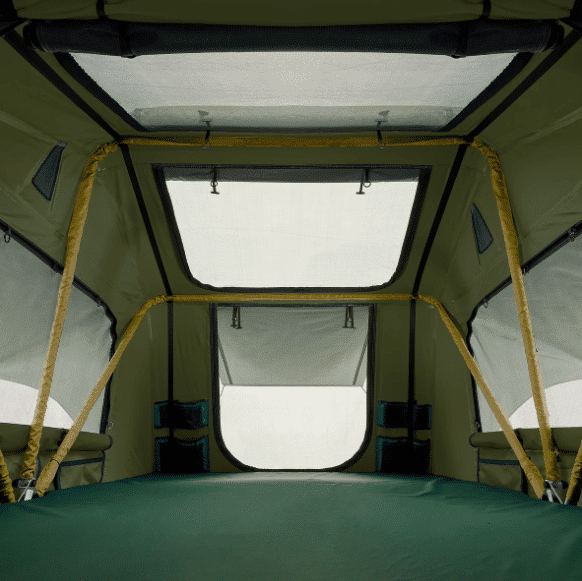 Comfortable built and privacy guaranteed:
A 2.5-inch foam mattress is included with the Autana 3 roof top tent, making for a comfortable night's sleep. Large windows and a mesh screen for ventilation are also included in the tent, and the screen can be closed for additional privacy.
Extended private canopy entrance:
An enlarged canopy entrance covers the roof top tent's outside, and this feature protects tent entrances from rain, sun, and other factors. The extended private canopy entrance lets you remove wet or soiled gear before entering the main sleeping area, making it cleaner and more comfortable.
Removable annex:
The annex attaches to the rooftop tent. This versatile annex enhances camping. It can enable family and friends to sleep joining the expedition. The annex can arrange and store camping gear, clothes, and other items. So, this annex ensures additional privacy.
Panoramic windows:
The panoramic windows and skylights provide excellent ventilation and lighting for stargazing and a close connection to nature.
Highly durable:
The tent is made from high-quality materials that can withstand the elements.
Mesh Panels:
The season mesh panels provide increased circulation and ventilation to enjoy a nice cross breeze.
Large internal pockets:
Because this annex tent has four large internal pockets, which are good for storing gear, you can easily store your heavier belongings.
High-Density mattress:
This annex tent has a foam mattress with a high density of 2.5 in / 6 cm. This will ensure additional comfort.
Thule Tepui Explorer Autana 3 with Annex Rooftop Tent Pricing
The price of the Thule Tepui Explorer Autana 3 with a roof top tent is $2,499.95.
Thule Tepui Explorer Autana 3 with Annex Rooftop Tent Pros and Cons
Before buying the Thule Tepui Explorer Autana 3 with Annex Roof Top Tent, consider its benefits and cons. This will ensure that you consistently make the right choices in your purchases.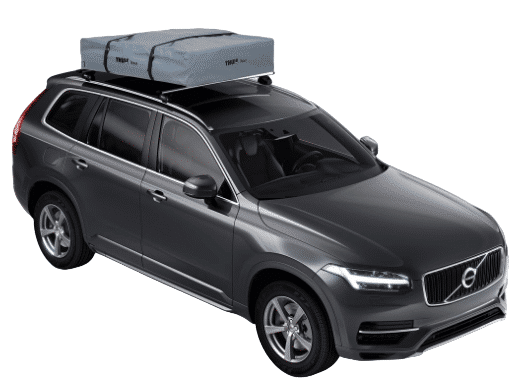 Thule Tepui Explorer Autana 3 Pros:
Comfortable and spacious
Quick and easy installation
Elevated sleeping experience
Excellent ventilation with rear door(s)
Highly versatile
Durable and can withstand harsh weather.
Mold resistant.
Fits Thule TracRac.
Thule Tepui Explorer Autana 3 Cons
The price is high compared to its other alternatives.
It needs crossbars with a compatible truck rack and vehicle to install it.
Adds weight to the vehicle.
Not ideal for large families or groups who need more sleeping capacity.
Limited headroom at peak internal height.
Thule tepui explorer autana 3 w annex Alternatives:
Here are a few alternatives to the Annex Auatana 3 Roof Top tent:
Conclusion: Should You Buy Thule Tepui Explorer Autana 3 with Annex Rooftop Tent?
The Autana 3 is just for you if you go camping frequently. Its features and benefits, such as easy setup, spacious accommodation, extended private canopy entrance, versatile annex, excellent ventilation, and durable materials, will surely make your camping experience comfortable, convenient, and memorable.
So, if you are an outdoor enthusiast, look at the Autana 3 for high-voltage excitement outside.
Happy camping!