Illuminate Your Path: The Best LED Headlamps for 2023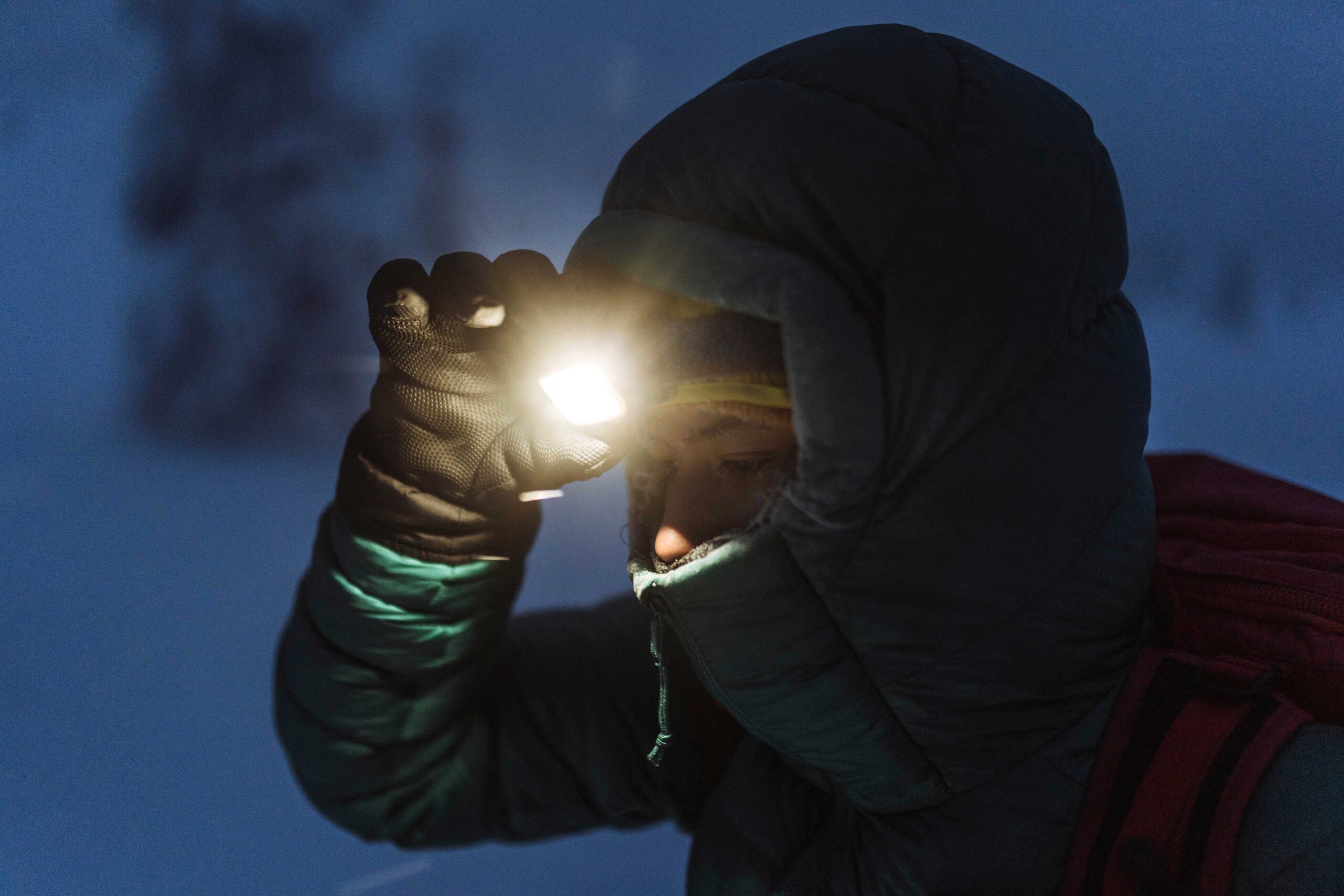 Are you heading off on your next outdoor adventure and can't decide what type of headlamp to take with you? Searching for the perfect headlamp to provide a reliable light source can be overwhelming. Knowing where to start is often hard with countless options available – but fear not!
In this blog post, we'll look at the top LED headlamps in 2023 and discuss which models suit hikers, backpackers, mountaineers, walkers, bikers, and runners. We'll explore key features like burn time, beam distance, and weight so you have all the necessary information to pick your ideal headlamp for 2023.
So get ready for some night-time exploration – let's shed some bright light on the world of LED headlamps!
This website includes affiliate links to various products. By using these links to make a purchase, you may support us, as we may earn a commission without any additional cost to you. Your support through these links is highly valued and helps us maintain the website and its content. We genuinely appreciate your support and thank you for using our links to make your purchases.
Best 5 LED Headlamps
---
Best Overall LED Headlamp
Black Diamond Spot 400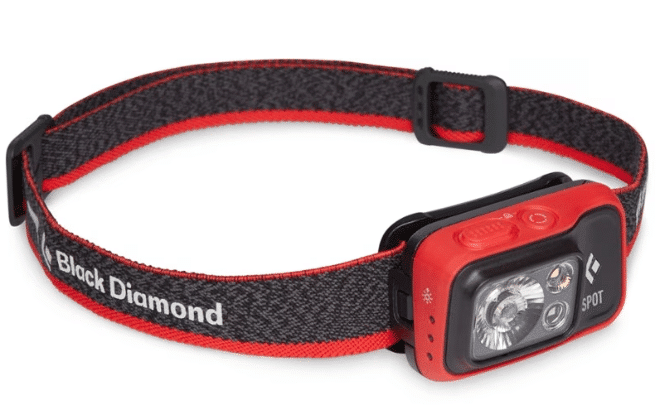 The Black Diamond 400 Spot is great for lighting your next camping adventure. The 400 Spot packs enough power for trails to medium-sized campgrounds or backyards, thanks to its lightweight and compact design. Its rechargeable headlamps lithium-ion battery power has up to 40 hours of runtime, meaning you don't have to worry about keeping it charged all the time.
You can also control it using their mobile app for easy access, making it excellent for keeping an eye on your tent, campsite or for night vision. With that said, one downside of the Black Diamond 400 is its lack of color options. While they offer customizable colors and lighting modes, they don't offer many pre-made colors, which might be limiting in terms of appealing aesthetics.
Additionally, the brightness isn't quite as intense as other flashlights in this price range which could be an issue in certain light settings. But despite these drawbacks, the Black Diamond 400 Spot is still a great choice for overnight campers and adventurers who want reliable and long-lasting lighting without breaking the bank.
Best Use: Backpacking / Camping
Batteries: 3 AAA batteries / 1500 mAh rechargeable
Beam Type: Flood / Spot
Output: High- 400; medium- 200; low- 6 lumens
Distance: 328 feet / 100 meters
Runtime: High- 2.5; medium- 5; low- 200 hours
Water Rating: IPX8
Weight: 2.7 oz.
MSRP: $49.95
Our Take
When it comes to LED headlamps, this one is hard to beat. We love ours for several reasons, multiple lighting options, red-light setting, and the fact we can use 3 AAA alkaline batteries as a backup to the Black Diamond rechargeable battery pack. It's light and versatile, and I can adjust the angle for direct lighting. With these features, it is no wonder it is our favorite of all the headlamps.
---
Best Overall High-Powered LED Headlamp
BioLite HeadLamp 750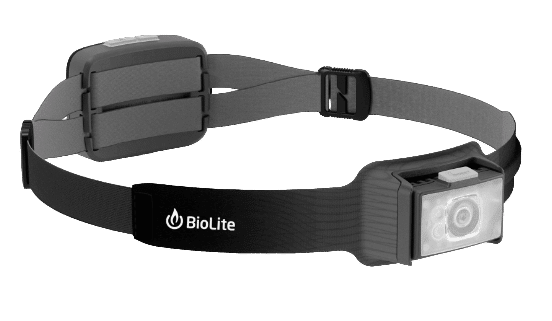 The BioLite HeadLamp 750 is a great choice for anyone looking for the brightest headlamp. It is extremely durable and has impressive battery life that stretches up to 40 hours. It features an innovative auto-dimming feature that adjusts light levels based on external conditions, meaning users get the most out of their energy.
Moreover, you can customize your experience with four unique light modes—turbo mode, high, low, and strobe—making it perfect for everything from running or walking outdoors to camping in the wilderness. And its lightweight design won't weigh you down when you enjoy outdoor activities.
On the downside, some have found it lacking in features compared to contemporary models. Still, for those looking for a basic model that offers reliable illumination at night, the HeadLamp 750 does just that. Ultimately, it's up to your specific needs, but this product is worth considering if you want the most reliable and sleek lighting solution with a max beam distance of 427 feet.
Best Use: Camping / Backpacking / Running / Biking
Batteries: 3000 mAh Rechargeable Lithium-ion battery / External Battery
Beam Type: Flood / Spot
Output: Burst- 750; High- 500; Medium- 250; Low- 5 lumens
Distance: 427 feet / 130 meters
Runtime: Burst- 30 sec; High- 2; Medium- 2; Low- 150 hours
Water Rating: IPX4
Weight: 5.3 oz.
MSRP: $99.95
Our Take
This little headlamp puts out some serious light, especially on its maximum brightness setting, or burst mode, as they call it. An external battery pack can also extend its use for a long time. For us, using this one long-term is not too desirable; it is the heaviest one on the list, and that is not factoring in the external battery pack if one is fitted.
---
Best Budget LED Headlamp
Petzl Tikkina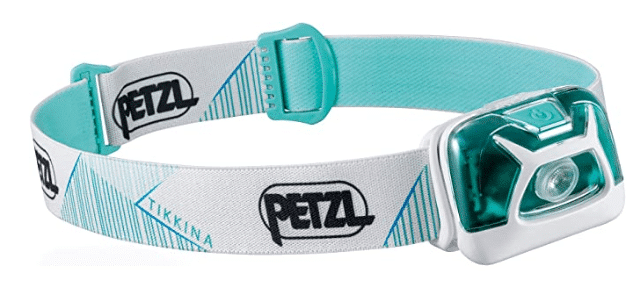 The Petzl Tikkina rechargeable headlamp is a well-known and good headlamp, anecdotally even regarded as the best budget headlamp available. While it packs great value for its cost, users should know this device's pros and cons.
On the plus side, its price point provides an accessible entryway into headlamps for those looking to get started in the hobby or trying to save money on outdoor gear. Its robust construction and efficient features – like being battery-powered with long recharge times – make it an efficient choice for camping trips or backpacking adventures.
However, some users have had concerns about decreased performance as batteries drain or dimmer light output more than more expensive headlamps. Before selecting this model as your best budget-led headlamp, ensure you know all the potential drawbacks to make an informed decision.
Best Use: Camping
Batteries: Three AAA batteries / Petzl CORE rechargeable batteries
Beam Type: Adjustable
Output: High- 250; Medium- 100; Low- 6 lumens
Distance: 197 feet / 60 meters
Runtime: High- 2; Medium- 9; Low- 120 hours
Water Rating: IPX4
Weight: 2.9 oz.
MSRP: $24.95
Our Take
A decent headlamp for the price, and at this price, it is no wonder it made our best budget headlamp. The fact it will take Alkaline batteries and the Petzl core battery is a plus in our book. If you are looking for a good-priced unit, do not bother with the other headlamps, this is your torch!
---
---
Best Ultralight Headlamp
Petzl Bindi Ultralight Headlamp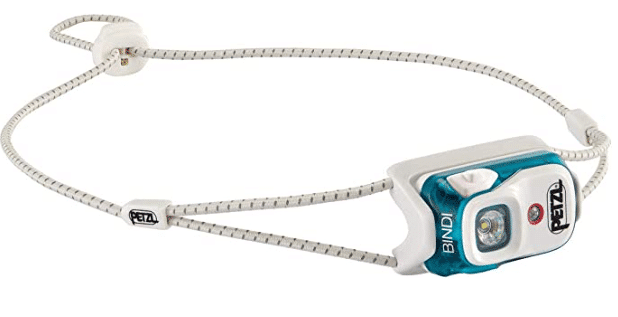 The Petzl Bindi Ultralight is an incredibly lightweight headlamp that offers solid illumination to keep you safe and secure as you explore in the dark. It is arguably one of the best ultralight-led headlamps on the market right now, but as with any product, there are pros and cons.
On the plus side, the Bindi is super light, weighing only 44g, so it won't become a burden if you need to wear it for extended periods. Additionally, thanks to its integrated USB cord, you can charge it easily and quickly. On the downside, its max lumens output of 200 cannot compare to other offerings with nearly 1000 lumens.
Furthermore, its battery life isn't anything to write home about, clocking in at around 5 hours on full power; however, if you use its power-saving mode, you can extend it up to 18 hours. The Petzl Bindi Ultralight is still a strong contender among other ultralight-led headlamps – just research before purchasing!
Best Use: Running
Batteries: Alkaline batteries, lithium, or rechargeable battery
Beam Type: Flood
Output: 200 lumens
Distance: 118 feet / 36 meters
Runtime: 50 hours
Water Rating: IPX4
Weight: 1.2 oz.
MSRP: $44.95
Our Take
This may have one of the shorter battery life spans; however, remember that 50 hours at 200 lumens, its maximum power, is pretty decent. Although, for the price, I'd prefer more lighting options. So if you need a compact headlamp, this is the best and lightest that'll meet your needs for running.
---
Best LED Headlamp for Running or Biking
BioLite HeadLamp 425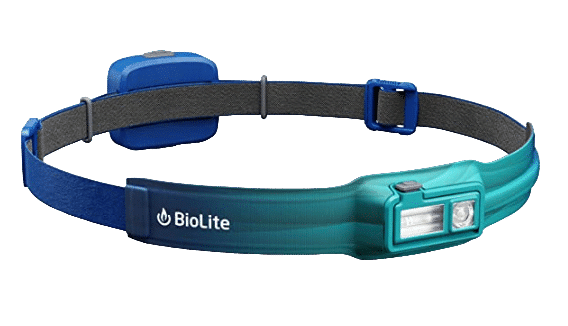 The BioLite HeadLamp 425 is one of the most versatile and robust headlamps available today. Its impressive features make it a popular choice for many people engaging in activities such as running or biking.
The primary pros include its low weight, long battery life, and rechargeability, so you never have to worry about replacing dead batteries during an excursion. Its custom-sizing options provide comfort without compromising security; the light is adjustable, so you can easily switch between different beams depending on your activity and location.
Additionally, multiple lighting brightness settings allow you to customize your experience to perfectly suit the conditions around you – from trail running in the woods to biking along roads at night. Ultimately, this headlamp provides unparalleled convenience and safety during outdoor activities.
Best Use: Running / Biking
Batteries: 1000 mAh Lithium-ion rechargeable
Beam Type: Flood / Spot
Output: 425 lumens
Distance: 279 feet / 85 meters
Runtime: High- 4; Low- 60 hours
Water Rating: IPX4
Weight: 2.75 oz.
MSRP: $59.95
Our Take
You need not much else at 425 lumens and a good maximum beam distance. But a few more lighting options would be nice. At this price point, 25 lumens additional over the Black Diamond above is not worth the extra investment.
---
Best LED Headlamp for Battery Life
Petzl Actik Core Headlamp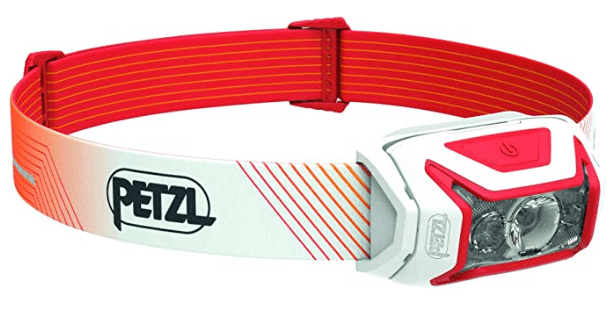 The Petzl Actik is an innovative LED headlamp with many features. It has three standard lighting modes of white, red, and strobe and 400 lumens of brightness while consuming very little power. In addition, the Petzl Actik contains reactive lighting technology, which measures ambient light sources to adjust the brightness accordingly.
While there are pros associated with the Petzl Actik, the main one is its extraordinary battery life. This allows hikers, campers, and adventure seekers to enjoy their favorite activities longer without worrying about running out of power too soon.
On the downside, depending on where one lives, some may find themselves searching for hard-to-find lithium batteries since it requires 3 AAA batteries for optimal performance. Despite this disadvantage, the Petzl Actik remains one of the most popular lighting solutions today due to its long battery life and robust design.
Best Use: Hiking, Mountaineering, Camping
Batteries: Alkaline, lithium-ion batteries, or rechargeable Ni-MH
Beam Type: Flood / Mixed
Output: 450 lumens
Distance: 295 feet / 90 meters
Runtime: 120 hours
Water Rating: IPX4
Weight: 3.1 oz.
MSRP: $79.95
Our Take
This is one of our mid-lightweight headlamps on this list. A runtime of 450 lumens for two hours of use is an outstanding feat. But at nearly $80, again, I'd like more options. I guess battery life comes at a cost; however, the USB rechargeable battery, like a few others on this list, is a plus.
---
Best LED Headlamp for Multi-Use
Princeton Tec Snap RGB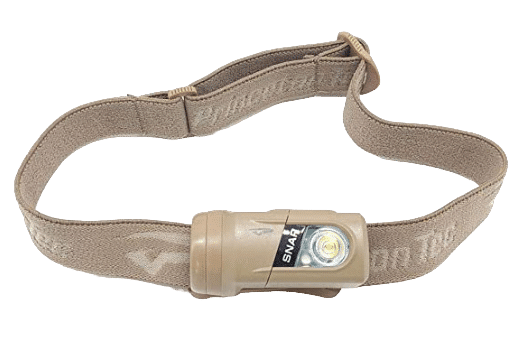 The Princeton Tec Snap RGB is a great versatile headlamp for those looking for something versatile. This flashlight features a variable intensity switch so that you can adjust its light alongside customizable red, green, and blue light LEDs. This makes it perfect for activities like hunting and night fishing that require different types of vision in low-light or red-light mode situations.
Its modularity sets this flashlight apart; accessories like back clips, helmet mounts, and remote switches can be adapted to various tasks. While this versatility makes the Princeton Tec Snap RGB an excellent choice, there are some downsides for anyone looking for the perfect lamp for their needs.
Its size is unsuitable for comforting wide-area illumination, and battery life isn't as efficient as other LED flashlights today. Nevertheless, in terms of offering versatility and customizability, Princeton Tec Snap RGB is hard to beat!
Best Use: Various activities
Batteries: 3 AAA batteries
Beam Type: Spot
Output: 300 lumens
Distance: 164 feet / 50 meters
Runtime: High- 110; Low- 162 hours
Water Rating: IPX4
Weight: 3.5 oz.
MSRP: $49.99
Our Take
Its only power comes from 3 AAA batteries, so you must keep spare batteries on hand. The versatility of this headlamp is extensive. Hiking, hunting, fishing, you name it, this torch will fit the bill. With its white, red, green, and blue lights, any of your activities are covered, not to mention the accessories it comes with at your disposal.
---
Benefits of an LED Headlamp
LED headlamps are popular due to their efficiency and long-lasting nature. Most headlamps offer a powerful, white light that allows for great illumination in all situations. Furthermore, many LED headlamps come with an adjustable beam to be used in specific ways.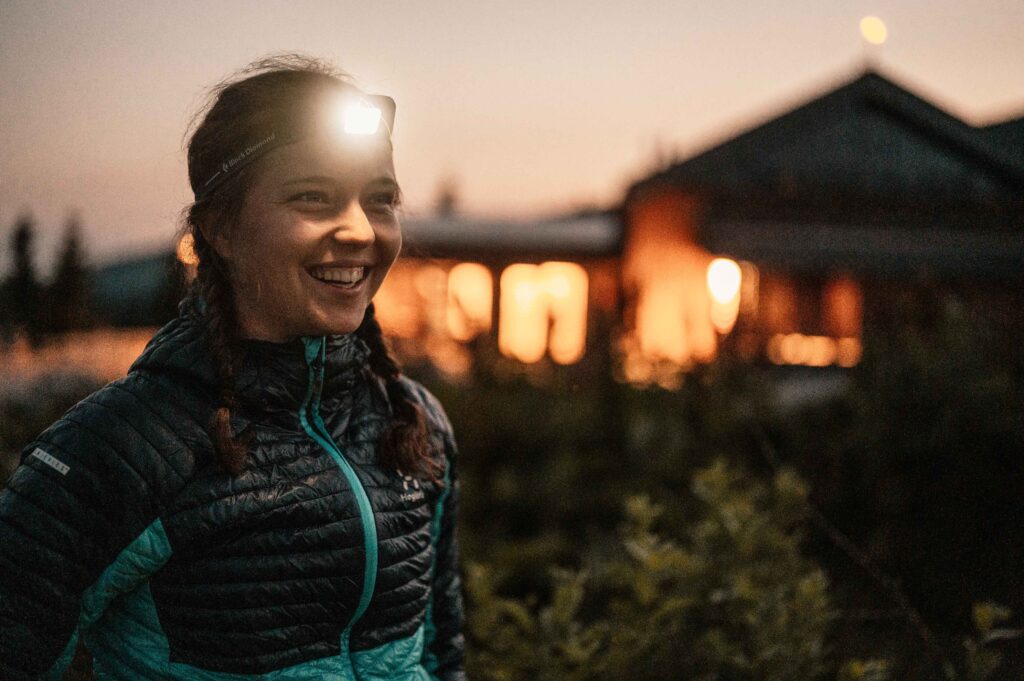 Additionally, they use considerably less energy than a traditional bulb, making them an eco-friendly option. Finally, their durability makes them ideal for outdoor activities like hiking and camping, as they can withstand any conditions you may encounter.
It's no wonder why LED headlamps are becoming the go-to choice for those who want a reliable and brilliant brighter light source!
Lumens, Battery Life, and Other Features
How many lumens does one need? This year, certain factors should be considered when selecting a top LED headlamp, such as lumens, battery life, and other features. Lumens measure the total amount of visible light emitted from a headlamp, ranging from 20 to 800 lumens or more on higher-end models.
Higher lumen counts may not always be necessary for certain applications, and too much power can diminish the quality of vision; this is why battery life is also essential in the decision-making process. You need a model with a long-lasting battery pack that can be easily swapped out for recharging.
Many headlamps offer additional features like adjustable light beam patterns to preserve battery life, weatherproofing against rain, snow, and dust particles, special modes for designated tasks such as strobe mode and SOS signals, Bluetooth integration with smartphones & many others. Keep all these factors when choosing your ideal LED headlamp for the best performance!
Stylish vs. Practical – Finding the Right Balance
When finding the right LED headlamp, striking a balance between style and practicality is key. Many models focus more on one factor – weight and battery usage over lumens or a stylish design – while others prioritize both equally. The best headlamps must be lightweight without sacrificing brightness, offering long battery usage without compromising looks.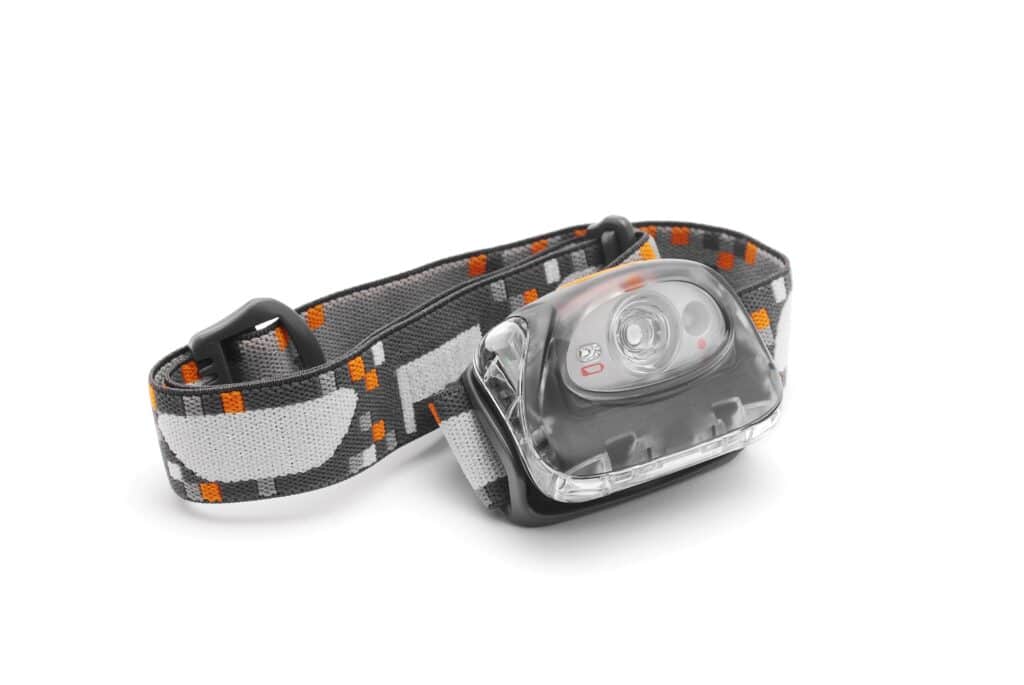 As you shop for the perfect model, look for those that combine attractive form with outstanding under-the-hood performance. Finding a balance between stylish and practical ensures you'll get an LED headlamp that lasts longer, fits better, and looks great during outdoor adventures!
Safety Considerations for Illuminating Your Path
Safety is an absolute priority when you're looking to light up your path. LED headlamps are one of the best options – they produce a bright, even light and don't generate heat.
Consider factors like water resistance, lumen strength, battery life, and weight before deciding; these features will help ensure you can safely navigate whatever path you're exploring. Finding the right headlamp for your needs can make all the difference on your journey.
You can also throw in disposable batteries and a reflective headband for additional safety options.
Tips for Choosing the Best Headlamp for Your Needs
There's much to consider when choosing the right headlamp for your needs. Depending on what you plan to use your headlamp for, features like brightness, battery life, beam distance, and even color can make all the difference.
While more powerful may seem attractive at first glance, always weigh each option's pros and cons before making a final decision. Consider what activities you plan to use your headlamp for and if you'll use it indoors or outdoors before committing.
Lastly, don't forget about the cost! Cost is often a large deciding factor when selecting an ideal headlamp that offers both quality and affordability should always be kept in mind.
What is the Best LED Headlamp in 2023?
The Black Diamond Spot 400 headlamp is a highly regarded and popular option among outdoor enthusiasts (us included!), making it our best headlamp in 2023.
Firstly, the Spot 400 provides an impressive 400 lumens of brightness, making it useful for various outdoor activities such as hiking, camping, climbing, and running. Additionally, it has a long battery life, with the rechargeable lithium-ion battery (not included) lasting up to 200 hours on low mode, which is beneficial for extended trips or adventures.
The headlamp is also designed to be lightweight and comfortable, which is important for extended use during activities such as overnight hikes or camping trips. Additionally, it is built to withstand rough outdoor conditions with a rugged, waterproof design that can handle harsh elements.
Furthermore, the Spot 400 has several useful features, such as a red night-vision mode, dimming function, and lock mode to prevent accidental battery drain. These features add to the headlamp's versatility and usefulness in various outdoor situations.
Overall, the Black Diamond Spot 400 is a well-designed and durable option providing a bright, long-lasting light source for outdoor enthusiasts.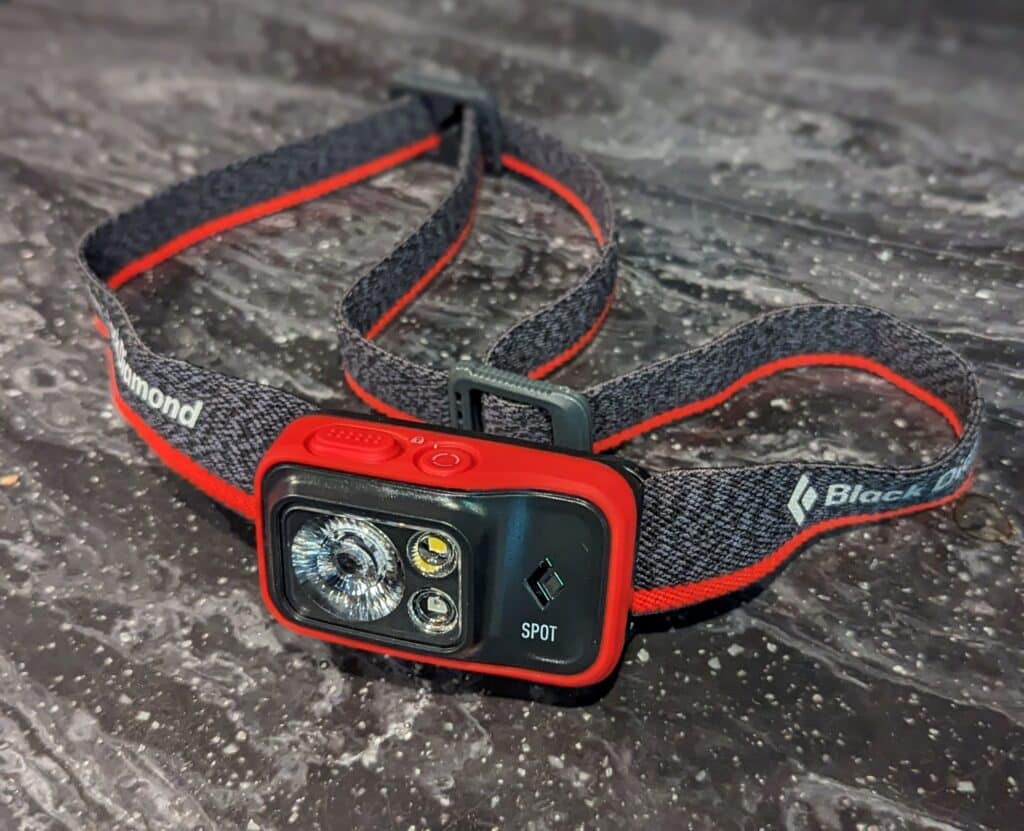 Final Thoughts
In summary, a quality headlamp is an essential tool for adventurers to consider when they set off into the unknown. With a wide range of options available in 2023, it's important to find a stylish and practical light based on your needs. When searching for the right headlamp, always prioritize safety and research models designed with multiple lighting modes and batteries that last.
These featured LED headlamps have all been thoroughly tested by outdoor enthusiasts and come highly recommended for their superior design features, battery life, and affordability. So if you're looking for a dependable headlamp to light up your path, or need a hands-free lighting solution during an outdoor activity, consider investing in one of these best headlamps of 2023!