The Best Backpacking Backpacks of 2023-2024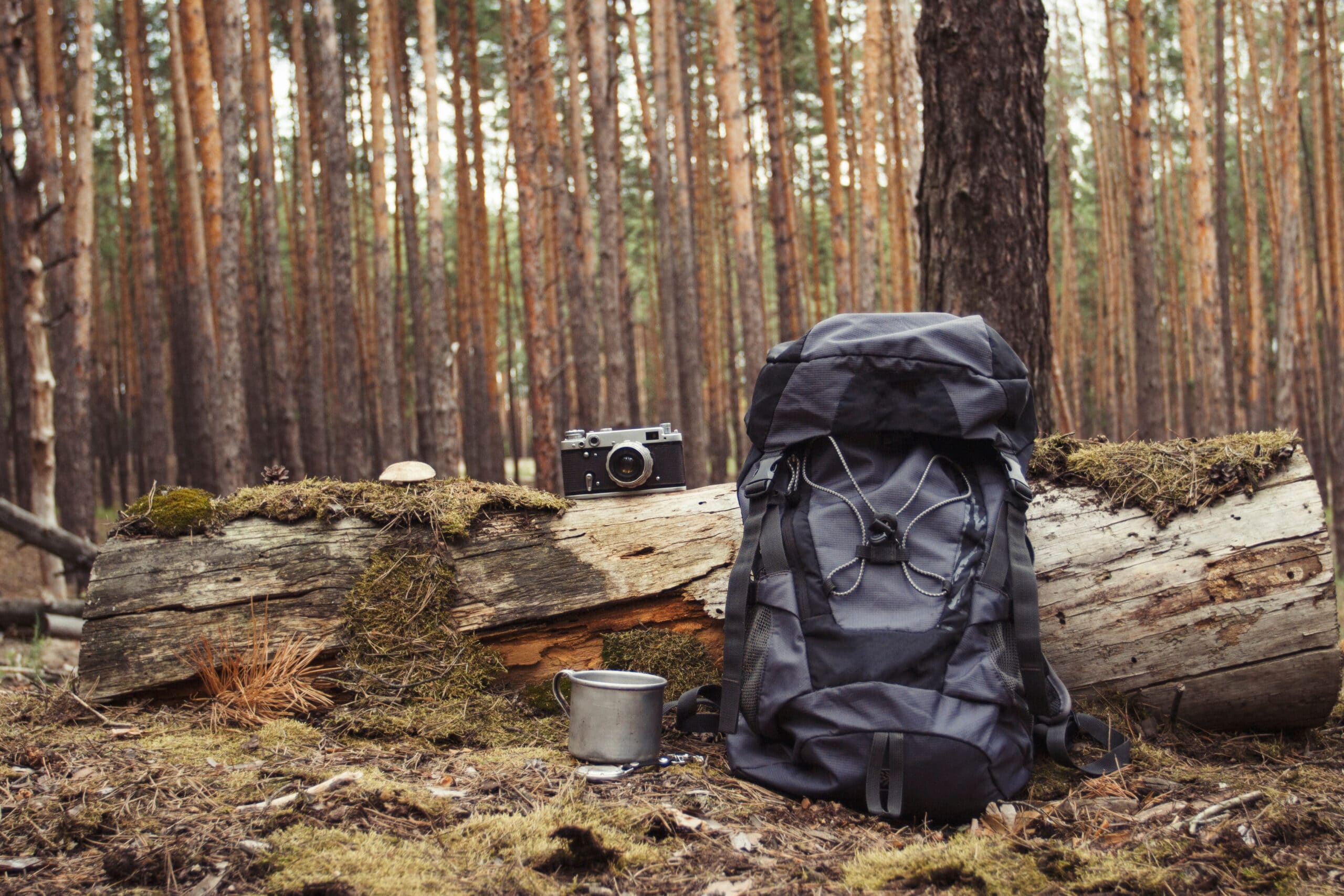 Ok, you're ready to embark on an adventure in the backcountry, trek in the Himalayas, or hostel hop across Spain. You've got your permits, boots, and time off – but what about your backpack? Choosing the best backpacking backpacks is essential for a comfortable and successful trip.
In this review, we'll share our picks for the best backpacking backpacks on the market. Whether you're looking for lightweight packs for long-distance hikes or a travel-friendly pack for a week of travel backpacking in Europe, we've got you covered. So strap on your pack, and let's hit the trail!
This website includes affiliate links to various products. By using these links to make a purchase, you may support us, as we may earn a commission without any additional cost to you. Your support through these links is highly valued and helps us maintain the website and its content. We genuinely appreciate your support and thank you for using our links to make your purchases.
---
Our Top Picks for Best Backpacking Backpacks:
---
Best Overall Backpacking Backpack
Osprey Atmos AG 65 and Women's Aura AG 65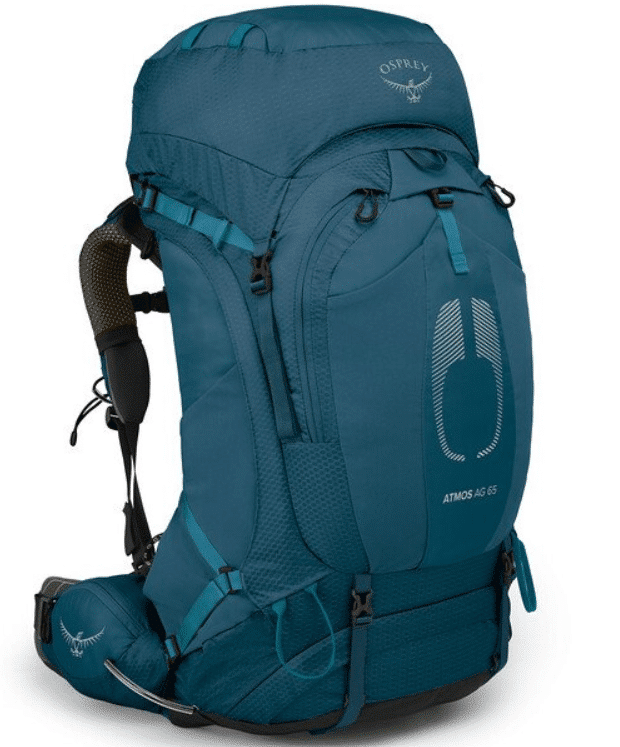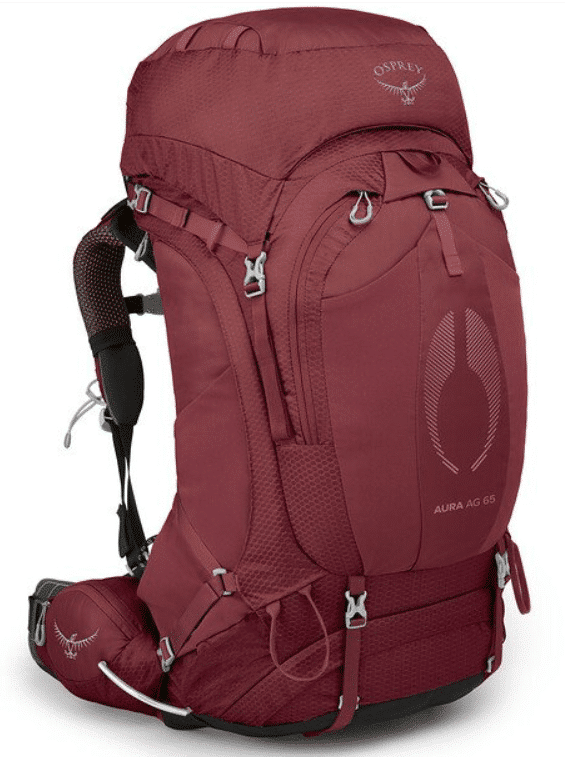 If you're looking for a backpacking pack that provides optimal comfort and ventilation, the Osprey Atmos AG 65 or Women's Aura AG65 is your ideal choice. Its innovative AntiGravity (AG) suspension system ensures an incredibly snug fit around your hips and back while stretch mesh side pockets make it easy to carry water bottles on the go.
This industry-leading contender has all bases covered with features like an internal reservoir sleeve for additional hydration capacity, a stow-on-the-go trekking pole attachment, and an integrated rain cover! Not only does it perform, but it also looks after our planet due to its construction from recycled materials!
Atmos Weight: 4.613-4.908 lbs
Aura Weight: 4.465 – 4.495 lbs
Volume: 62L-68L
Max Loaded Weight: 30-40 lbs
Notable Features: Fine-tuned fit with Antigravity (AG) suspension system
MSRP $340.00
Our Take:
Its revolutionary Anti-Gravity suspended mesh back panel is the key separator, making this our best backpack. It packs comfort and ventilation into one design – no more sweaty back foam! The backpack also features thoughtful pockets with plenty of organization options and a Fit-on-the-fly harness that adjusts to your body shape.
Plus, you know Osprey's reputation for durability will keep up in any terrain – perfect for overnight or extended trips through nature's roughness.
---
Best Ultralight Backpack
Hyperlite Mountain Gear 2400 Southwest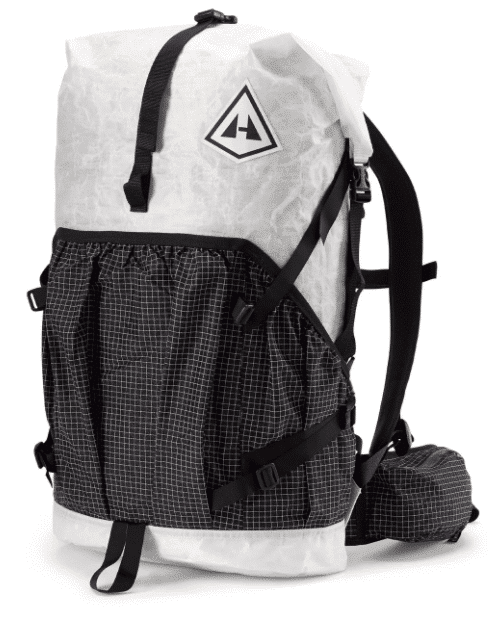 Tackle your most demanding backcountry ultralight expeditions with ease when you equip yourself with the 2400 Southwest – a trail pack designed to hold your gear securely and comfortably as you traverse challenging terrain.
Max out capacity without extra weight, keep essentials easily accessible during active adventures, and be assured that what you carry won't get ripped up by rough vegetation, rocks, or moving obstacles – no matter how tight the fit might become!
Weight: 1.9lbs
Volume: 40L, 55L and 70L
Max Loaded Weight: 40 lbs
Notable Features: Dyneema Construction
MSRP $349
Our Take:
The Hyperlite Mountain Gear Southwest pack collection is perfect for highly durable ultralight backpacking packs. We are so excited that it is entirely constructed from Dyneema fabric. We've known of Dyneema's unmatched tensile strength and quality reputation in sailing materials for years and are happy to see the cross over to other outdoor gear.
True to form, there are minimal organization options to keep the weight down, but the hip pockets and external gear pockets are valuable and worth the extra weight.
---
Best Travel Backpack
Osprey Farpoint 40 and Women's Fairview 40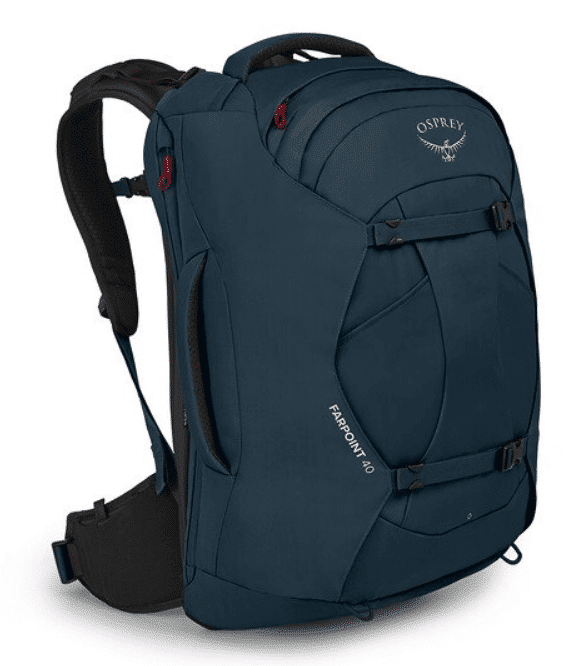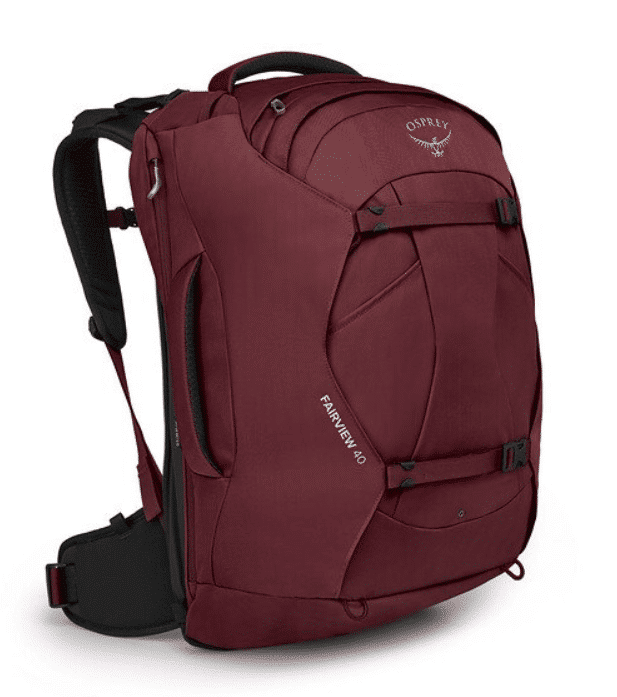 Embark on your next adventure with the Farpoint and Fairview Family of trekking backpacks—lightweight, full-featured packs that offer travelers flexibility and convenience. Utilizing a fine-tunable torso adjustment system combined with breathable harnesses/hip belts, you can feel comfortable carrying around all of your belongings wherever life takes you!
Not only is it capable of holding plenty of items, but its internal organization also keeps them secure in their proper place for easy access when needed. For those planning for shorter trips or minimal travel days–the compression straps allow you to slim down the carry, so no matter what excursion awaits, nothing will weigh you down from living out each moment freely!
Don't forget about protecting tech devices; The quick-access laptop sleeve has got them covered, keeping everything worry-free as journeys unfold one step at a time.
Weight: 3.486 LBS.
Volume: 40L, 55L and 70L
Notable Features: The 55L option has a detachable daypack
MSRP $185
Our Take:
Miimilasits travelers looking for a comfortable pack that is big enough for your essentials with a laptop sleeve and small enough for carry-on luggage – this is the pack for you. It's undeniably comfortable with lumbar support and customizable adjustments.
The Farpoint/Fairview 55L option has the added feature of a detachable daypack. The organization could be concerned with this as it is just an open cavity, so travel cubes are recommended if weight isn't a concern.
---
Best Budget Backpacking Backpack
REI Co-op Trailmade 60 Pack – Men's and Women's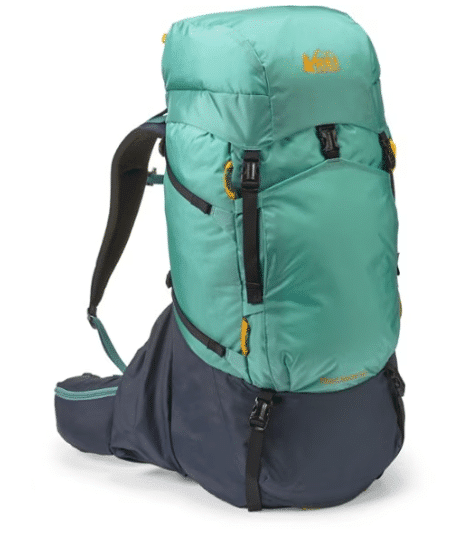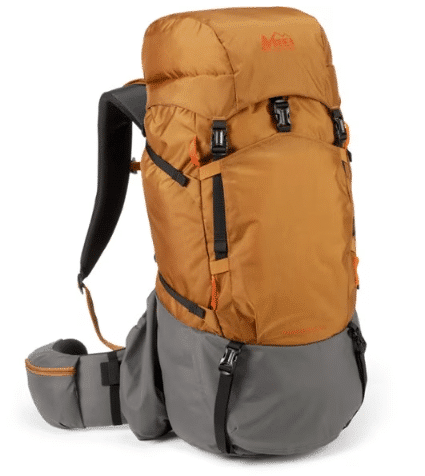 Make your next backpacking trip effortless with the REI Co-Op Trailmade 60 packs! This advanced design offers optimal organization, comfort for various users, and specific sizing so you can focus on enjoying every moment.
Weight: 3 lbs. 6 oz.
Volume: 60L
Notable Features: Separate Zippered Sleeping Bag Compartment
MSRP $149
Our Take:
The Trailmade 60 Pack is an undeniably great value for a feature-packed backpack. Inclusive sizing XS- 4X ensures you will get the perfect fit along with the adjustable torso length feature and allows you to share the pack.
The organization is a breeze with six exterior pockets, and a separate zippered sleeping bag compartment is great for easy access. Carrying heavy loads or on extended trips is not as comfortable as the Osprey Atmos AG 65 or Gregory Paragon.
---
Best Backpacking Pack Runner-Up
Gregory Paragon 58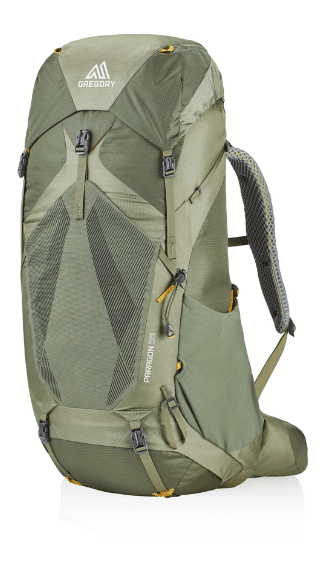 Feel the freedom to explore with the Paragon 58! This lightweight pack strides with you thanks to a hybrid suspension and FreeFloat dynamic comfort cradle. Every journey is tailored for your body, as its adjustable torso length accommodates any size while its customizable hip belt provides a superior fit.
Both upper and lower back panels feature breathable 3D foam padding, keeping you cool even on your adventure's hottest days.
Weight:3.47lbs
Volume: 55L
Max Loaded Weight: 50lbs
Notable Features: FreeFloat Hybrid Suspension
MSRP $259.95
Our Take:
The Gregory Paragon finds a nice balance between minimalistic and comfort-focused designs to compete with the Osprey Atmos. While it is significantly lighter and more budget-friendly, the Atmos surpasses its counterpart when considering overall comfort, storage capacity, and construction quality.
Though not as extensive on features like fabric durability or external pocketing options, one charm of this pack is the full side zip access, which allows for easier entry into your main compartment!
---
Osprey Porter Travel Pack 46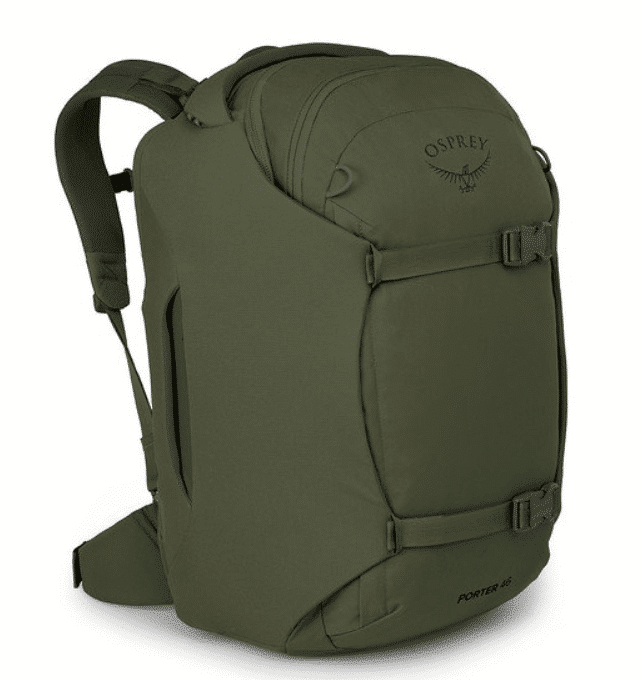 With maximum interior space and optimal portability, the Porter 46 is your ideal weekend sidekick for any adventure. This versatile carry-on bag offers a simple duffel bag design with convenient organizational features to keep you organized on the go.
An adjustable stowaway harness also gives it backpack capabilities when needed – perfect for traversing through airports or busy cities! Osprey's commitment to quality ensures that sustainable materials—including recycled fabrics, bluesign® certified components, and PFC-free DWR coating—don't sacrifice durability in their construction.
Weight: 3.263 LBS
Volume: 46L
Notable Features: Convertible from backpack to duffel carry
MSRP $185
Our Take:
With its adjustable and comfortable straps and hip belt, this multi-functional backpack is the perfect companion for long treks or overnight trips. It quickly converts into a duffle bag with just a few simple steps to stow away your gear securely as you make your way through busy train stations or cityscapes.
The single large internal compartment offers plenty of space for all your belongings, but packing cubes could improve organization. The outer pocket conveniently stores items you need easy access to, such as chargers or a wallet.
Constructed from quality materials and sturdy zippers, it's clear that every detail was carefully thought out when designing this pack – making sure travelers can trust their adventure buddy!
---
Osprey Kyte 38 and Men's Kestrel 38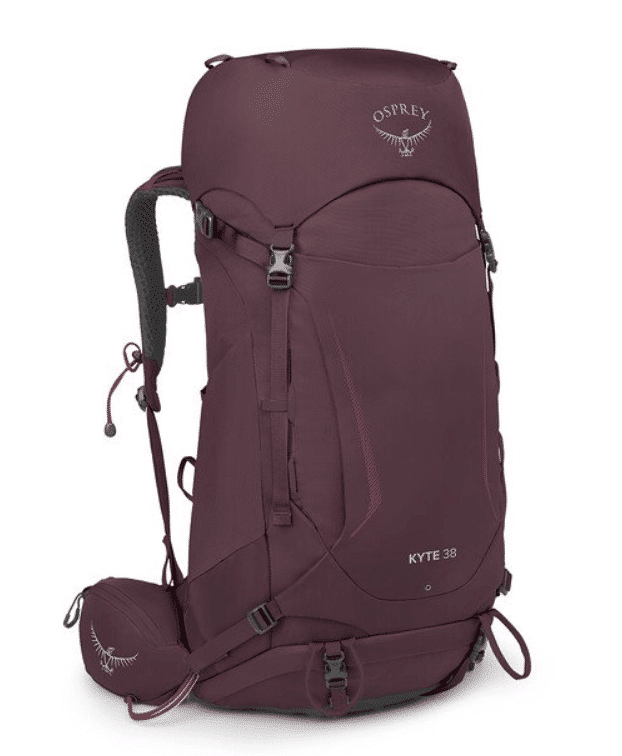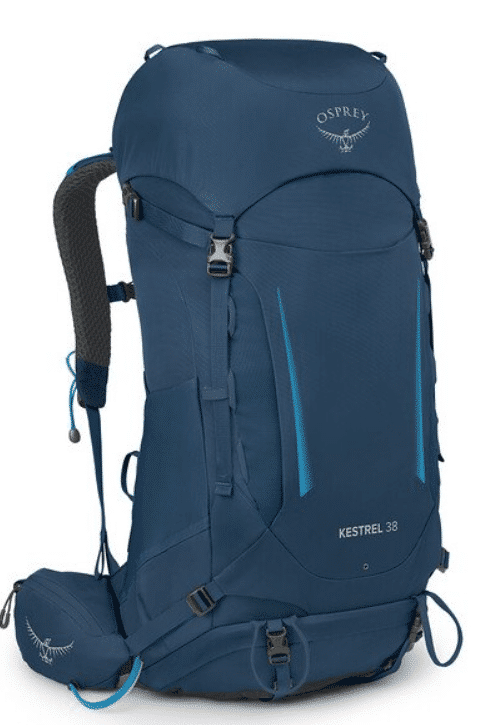 Adventure with confidence – the women's Osprey's Kyte and the men's Kestrel packs are designed for outdoor professionals or serious adventurers.
A 38-liter capacity, made from sustainable workhorse fabrics that offer maximum durability in a minimal package – this rucksack will make those hardscrabble days of trail work and hiking more enjoyable!
Experience challenges like never before, knowing you are outfitted to tackle any environment your journey takes you through.
Weight: 3.865lbs
Volume: 38L, 48L, 58L and 68L
Notable Features: AIRSCAPE™ BACKPANEL
MSRP $200
Our Take:
This pack offers a multisport approach with comfort, durability, and feature-packed options. The included rain cover, quick-connect trekking pole attachments, reservoir sleeve, and ice axe loops give you endless options, whether trekking the Camino de Santiago or summiting a 14er.
The AIRSCAPE™ BACKPANEL makes this pack incredibly comfortable on hot days on the hottest days.
---
Gossamer Gear Mariposa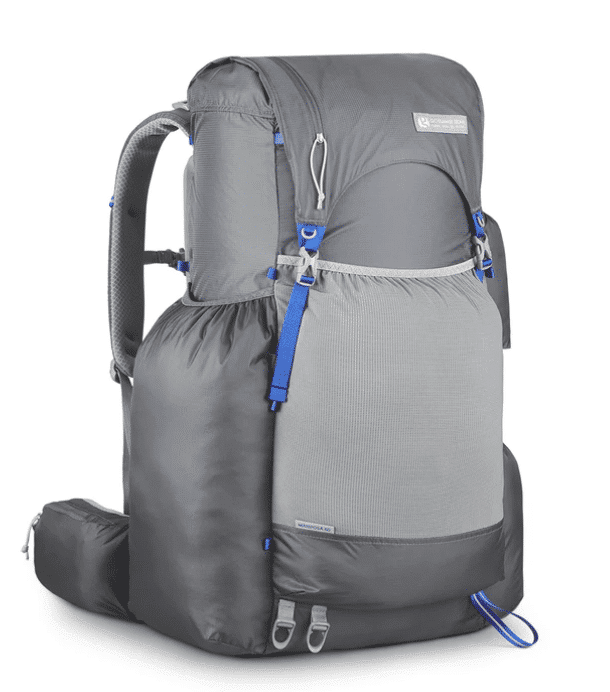 This award-winning pack provides spacious storage, with seven additional pockets – including a mesh pocket that holds wet items and two easily accessible compartments for snacks. Crafted from durable Robic custom 100 and 200 denier nylon fabric, it's tough enough to hold up against 35 pounds of gear while providing an incredibly comfortable carry experience.
Weight: 33.8oz
Volume: 60L
Max Loaded Weight: 35lbs
Notable Features: Removable Internal Frame
MSRP $285
Our Take:
This is the pack for ultra-lighters who crave organization and occasionally carry massive loads. With Gossamer Gear's Mariposa backpack, hikers can customize their pack to achieve perfect fit and comfort with an option for ordering hip belt sizes separately.
The maximum weight capacity is 35 pounds with seven external gear pockets, all while weighing just over 2 lbs.! If your gear needs include carrying bear canisters or bulky items – you'll appreciate this unique design of having an extra wide bottom while keeping a trim shape on top for great balance in motion.
Outshine others with ultralight backpacks from Gossamer Gear- they're giving competitors a run for their money!
---
Gregory Baltoro 65 and Gregory Deva 60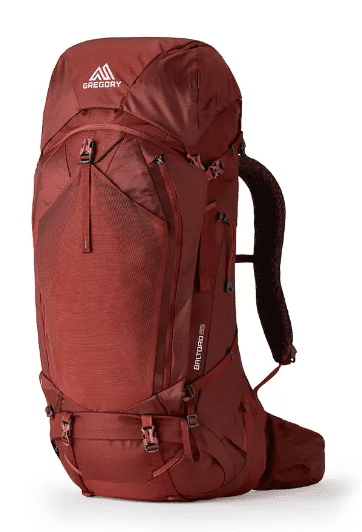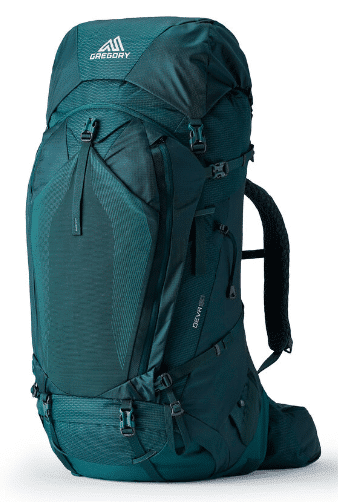 The Gregory Baltoro 65 and the FreeFloat A3 suspension are designed to provide unparalleled comfort and unparalleled performance. With an adjustable torso, hip belt, shoulder strap, and back panel- all working with your body's unique shape – you can experience a fit tailored just for you.
Enjoy never before seen levels of mobility with the rotating harnesses and maximum breathability thanks to AirCushion technology made from propriety mesh featuring 90% open-air construction! These features keep you cool even during strenuous activities by wicking away moisture.
Weight: 4.72 lbs.
Volume:65L, 75L and 100L
Max Loaded Weight: 50lbs
Notable Features: FreeFloat A3 suspension system
MSRP: $329.95
Our Take:
Anyone who carries heavy loads and appreciates unmatched comfort will love the Gregory Baltoro 65 and the women's Deva backpacking packs. An extended backpacking trip with the Gregory Baltoro 65 was a comfortable and feature-rich experience.
This ultimate storage solution boasts nine external pockets, improved U-shaped front access to its main compartment, and larger hipbelt pockets that can easily fit even the biggest smartphones with plenty of room for other items. The only downside is the weight, but with the ability to carry 50 lbs load weight, the pack's extra weight may not be an issue.
---
Zpacks Arc Blast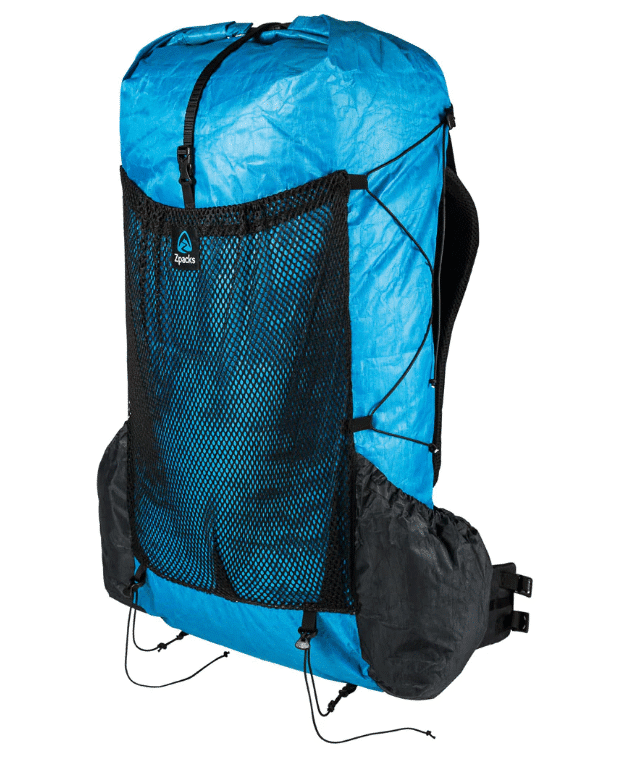 Take your outdoor adventures to the next level with the award-winning Arc Blast – an ultralight backpack perfectly suited for long-distance hiking. Its patented 'Arc Frame' system comfortably transfers weight from shoulders onto hips, enabling you to scale mountains and weather rainstorms like never before.
It also provides breathable airflow through a gap between your back and the pack, creating ideal comfort on those hours-long treks! External mesh pockets are perfect for wet gear.
Adjustable shoulder straps, interchangeable belt options, and modular add-ons like shoulder strap pockets, and water bottle pockets are available too – customize it however you want; make sure this versatile tool is part of your journey!
Weight: 19.9oz
Volume: 55L
Max Loaded Weight: 35lbs
Notable Features: lightest weight ultralight packs reviewed
MSRP $375
Our Take:
We are impressed with the feather-light weight and cutting-edge construction; the Zpacks Arc Blast entire pack is an impressive 1 pound 8 ounce. This is the lightest pack we reviewed and half a pound less than its closest contender on this list!
This 55-liter pack is constructed with Dyneema fabric, known for superior water resistance without sacrificing strength. For those looking for airflow across your back, the unique tensioning system pulls away from your back and keeps you cool.
---
Deuter Aircontact Core 50 + 10 Pack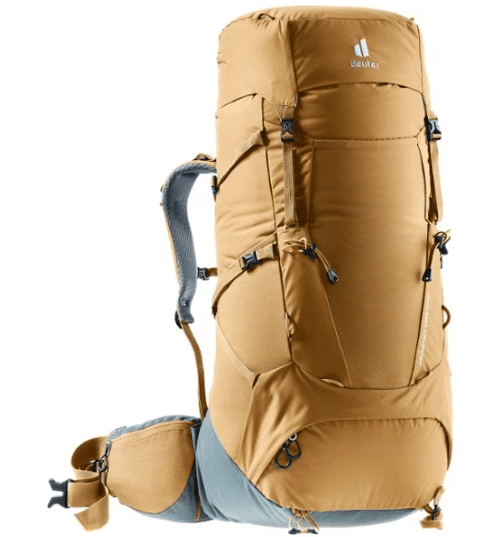 This dependable Deuter Aircontact Core 50 trekking pack offers incredible versatility and comfort, with adjustable gear straps to take whatever supplies your undertaking needs. Its breathability allows for a comfortable fit.
The back system AirSpacer mesh and its large ventilation channel help keep air circulating while providing proper weight distribution through an ergonomic trapezoid-shaped lumbar pad and mobile hip fins that wrap around the hips. Don't worry about load stability either: it's got all angles covered!
Weight: 4.76lbs
Volume: 60L (50L + 10L expandable collar)
Max Loaded Weight: 44lbs
Notable Features: Expandable collar for 10L of extra volume
MSRP $230
Our Take:
The Deuter Aircontact Core back system uses breathable mesh, and open-cell foam padding to provide superior load transfer and weight control. An ergonomic lumbar pad is shaped specifically for your pelvis, while the Y-frame design ensures maximum direct force when you need it most.
The Pull Forward construction helps ensure heavier loads are secured snugly in place on the hips without fail to stay in place on the longest treks – all enabled by Flex Fins, which move flexibly like an extension of your body as soon as you hit a stride!
---
What are Backpacking Packs?
Backpacking packs are specialized backpacks designed for carrying gear and supplies during extended outdoor trips, such as backpacking, trekking, hiking, or mountaineering. These backpacks are larger and more durable than standard daypacks and are designed to withstand the demands of rugged terrain and heavy loads.
Backpacking backpacks are used to transport all of the necessary equipment and supplies for a trip, including food, water, shelter, clothing, and other personal items. They are designed with various compartments and pockets to help organize and distribute the weight evenly across the body, allowing the backpacker to carry the weight comfortably for extended periods.
One of the most important aspects of backpacking backpacks is their ability to distribute weight evenly and effectively. They are designed with padded shoulder straps and hip belts to transfer the weight of the pack to the hips and legs, which are stronger and more capable of supporting heavy loads than the shoulders and back.
This helps to reduce fatigue and prevent injury, allowing backpackers to cover more ground and enjoy their outdoor adventures to the fullest.
Backpacking packs also offer several other important features for outdoor enthusiasts, such as water-resistant or waterproof materials, ventilation systems to prevent overheating, and attachment points for gear such as trekking poles, ice axes, or climbing ropes.
They are designed to help distribute weight effectively, prevent injury, and offer a variety of features that make outdoor adventuring more enjoyable and efficient. With the right backpacking backpack, backpackers can carry all the necessary gear and supplies for their trip comfortably and focus on the beauty and adventure of the great outdoors.
What Capacity is Recommended for Your Needs?
When backpacking, selecting a backpack is one of the most important decisions you can make. With too small a capacity, your gear and supplies may be left behind; but an overly large pack can quickly become cumbersome with unnecessary weight.
The capacity of a backpack is measured in liters and refers to the total volume of the backpack's compartments, pockets, and compartments. You want everything to fit securely – without extra strain from overstuffing!
Here are some factors to consider when selecting the capacity of your backpacking backpack:
Trip Length:
The length of your trip is one of the most important factors to consider when selecting the capacity of your backpack. For shorter trips of 1-3 days, a backpack with a 30-50 liter capacity may be sufficient. For longer trips of 4-7 days, a backpack with a 50-70 liter capacity may be necessary. A backpack with 70 liters or more capacity is recommended for trips lasting more than a week.
Gear Needs:
The amount and type of gear you need to carry will also affect the capacity of your backpack. For example, if you carry bulky items like a tent, sleeping bags, sleeping pad, or stove, you may need a larger backpack to accommodate them. Conversely, a smaller backpack may be sufficient if you travel light and don't need much gear.
Personal Preferences:
Your personal preferences and comfort level will also play a role in selecting the capacity of your backpack. Some people prefer to carry a lighter load and opt for a smaller-capacity backpack (day hiking packs are typically too small). In contrast, others may feel more comfortable with a larger backpack to accommodate all their gear and supplies.
Time of year:
The season and weather conditions will also affect the gear you need to carry. In colder weather, you may need to carry more warm clothing and gear, requiring a larger backpack. In warmer weather, you may be able to carry a lighter load and opt for a smaller-capacity backpack.
Other Considerations:
Other factors to consider when selecting the capacity of your backpack include your body size and weight, your level of fitness, and the type of terrain you will be traveling on.
By considering the length of your trip, gear needs, personal preferences, season and weather conditions, and other factors, you can choose a backpack with the right capacity to accommodate all your gear and supplies while ensuring that you are comfortable and safe on your trip.
What is the Intended Use of the Backpack?
Backpacking packs are designed for various outdoor activities, including backcountry backpacking or mountaineering, ultralight backpacking, and travel backpacking. Each type of backpacking has unique requirements and demands, and selecting the right backpack is essential for a safe and enjoyable experience.
Backcountry Backpacking:
Backcountry backpacking involves hiking and camping in remote wilderness areas for multiple days, including mountaineering. This type of backpacking requires a backpacking backpack with a larger capacity, typically between 50-80 liters, to accommodate all the necessary gear and supplies, including a tent, sleeping bag, stove, food, and water.
The backpack must also be durable and sturdy enough to withstand rugged terrain and harsh weather conditions.
Ultralight Backpacking:
Ultralight backpacking is a minimalist approach to wilderness backpacking that focuses on carrying the lightest and only the most essential gear possible. Ultralight backpacking requires a smaller and lighter backpacking backpack, typically between 30-50 liters, to accommodate the minimal gear required for the trip.
The backpack must also be lightweight, with a minimalist design that eliminates unnecessary pockets, straps, and features.
Travel Backpacking:
Travel backpacking involves traveling to different destinations with a backpacking backpack as the primary luggage. This type of backpacking requires a pack with a capacity between 30-70 liters, depending on the length and nature of the trip.
The backpack must be versatile and comfortable, with features like padded straps and hip belts, multiple compartments, and durable materials that can withstand the wear and tear of travel.
What Features Should You Consider?
Backpacking backpacks are designed with various features to make them comfortable, functional, and durable for outdoor activities. Here are some common features of backpacking backpacks:
Suspension System:
A backpacking backpack's suspension system comprises the frame, hip belt, and shoulder straps. The frame can be internal or external, providing support and structure to the backpack. The hip belt helps transfer the backpack's weight from the shoulders to the hips, reducing the strain on the back. The shoulder straps are padded and adjustable to provide comfort and support for the shoulders.
Compartments and Pockets:
A backpacking backpack typically includes multiple compartments and pockets to organize gear and supplies. The main compartment is usually the largest and can be divided into smaller compartments for better organization. Side pockets can hold water bottles or other small items, while hip belt pockets provide easy access to snacks or a phone.
Packs featuring mesh pockets are great for drying wet gear. Travel backpacking packs like separate liquids or laptop sleeve compartments may have unique features.
Material:
The material of a backpacking backpack should be durable, lightweight, and water-resistant. Common materials include nylon, polyester, Dyneema, and ripstop fabrics. These materials are tough enough to withstand rugged terrain and harsh weather conditions.
Ventilation:
A backpacking backpack's ventilation system is important for reducing the build-up of heat and sweat on the back. Many backpacks feature a suspended mesh back panel that circulates air between the backpack and the back, keeping the wearer cool and dry.
Compression Straps:
Compression straps are used to compress the backpack's contents and keep them secure. These straps can be adjusted to fit the size of the load and prevent items from shifting inside the backpack.
Rain Cover:
Many backpacking backpacks come with a rain cover to protect the backpack and its contents from rain and moisture. The rain cover can be stored in a pocket when not in use and quickly deployed when needed.
Hydration System Compatibility:
Backpacking backpacks may be compatible with hydration systems, allowing the wearer to stay hydrated on the go. These systems consist of a hydration bladder and a tube that runs from the bladder to the shoulder straps, providing easy access to water without stopping and removing the backpack.
Final Thoughts
Backpacking packs include features that enhance comfort, functionality, and durability for outdoor activities and travel. These features include a suspension system, compartments and pockets, durable materials, ventilation, compression straps, rain cover, and hydration system compatibility.
Selecting a backpacking backpack with the appropriate features is essential for a safe, comfortable, and enjoyable outdoor adventure.
Now it's time to pack up and head out!