Trek To Tranquility: 3-Day Backpacking At Eightmile Lake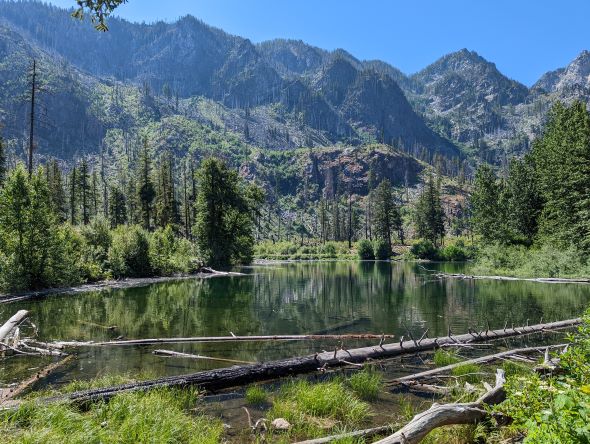 Who Wants to go Backpacking?
Regarding backpacking in Washington State, it does not get any better than backpacking in The Enchantments. Between May 15th and October 31st, The Enchantments works on a lottery system. Starting February 15th at 7 am (pt) through March 1st, you can apply for the lottery.
If you are lucky enough to get an overnight permit, planning begins.
Depending on which zone you are successful in, you are allowed up to 8 people on your permit and a max of 14 days. You can apply for the Core Enchantment Zone, Snow Lake Zone, Colchuck Lake Zone, Stuart Lake Zone, and the Eightmile/Caroline Lake Zone. You will be notified by email if you have successfully obtained a permit.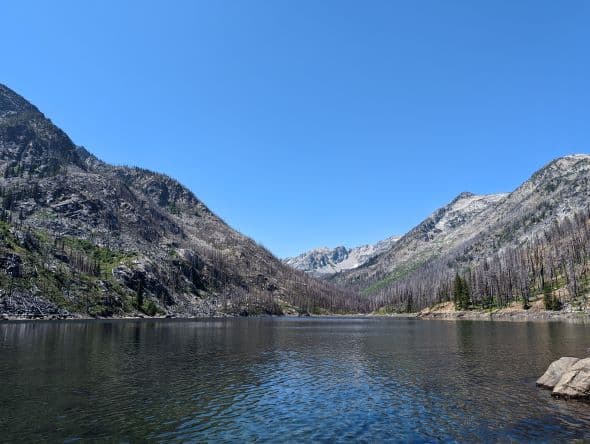 With this permit, you are only able to camp overnight in that particular zone, you can day hike in any of the zones, but you must camp within the zone you hold a permit for. Unless you have the Core Zone, then you can camp in any of the other zones, making this permit the most popular.
How to Get There?
Three trailheads will get you into The Enchantments. Once you are in Leavenworth, you'll want to take Icicle Creek Road to the west of town, Snow Lake Trailhead is the first you'll come to, it is about 4.2 miles.
Eightmile/Caroline Lake Trailhead (11 miles from town) is about 8.4 miles, and then you'll take a left on Eight Mile Forest Service 7601 Rd, then 3 miles up, a parking lot on the left, and the trailhead is on the right.
The third one, Colchuck Lake Trailhead and Stuart Lake Trailhead (these two start in the same place), are about 1 mile past the Eightmile and Caroline trailhead (12 miles from town). All three of these trailheads have a parking lot, but they can get very busy since this area is popular for day hiking as well.
There are signs installed a couple of years ago that state overnight permit holders parking only, but some people are oblivious to them and park there anyway.
There have been more Park Rangers in the area to help with parking, questions, and checking permits. If you are awarded an Enchantments Permit, you must print it and keep a copy with you at all times, along with a valid photo ID.
Another very important note: NO DOGS ARE ALLOWED. Not even for day hikers. And remember your Northwest Forest Pass for parking.
Annual Permit Lottery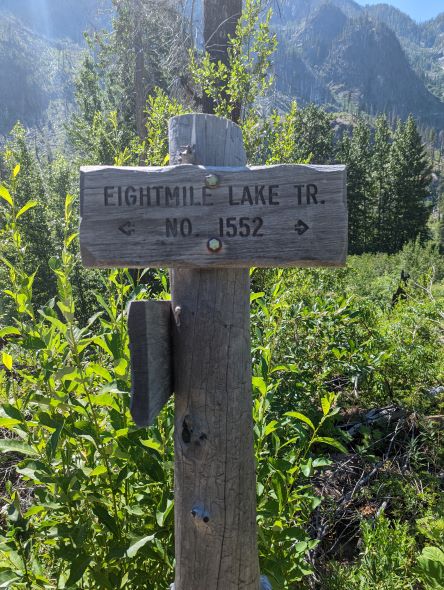 We apply every year for access to The Core, the most coveted of zones; then you are allowed to make two other choices. This year, again we did not get The Core. No one in our party did, but we did get Eightmile and Caroline Zone, an area we had not explored yet.
We now had a zone, our group, and an entry date. Time to plan our hikes. The Eightmile and Caroline Zone has a handful of lakes to visit. We decided to set up our base camp at Eightmile Lake, about 3.6 miles in.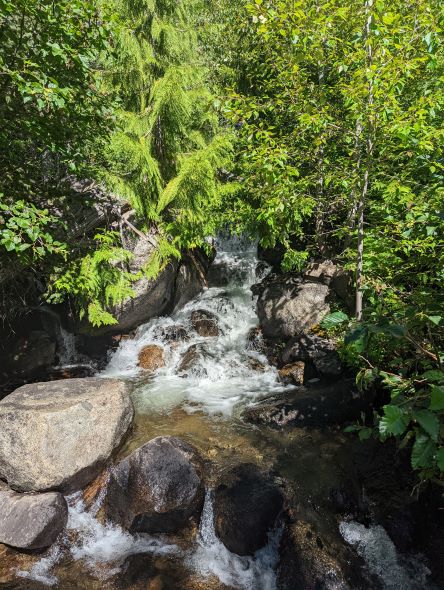 From the moment you start the trail from the parking area, you will complete about half your elevation gain in the first 0.8 miles. Once you cross the large log crossing the creek, the elevation gains are stretched out a little more.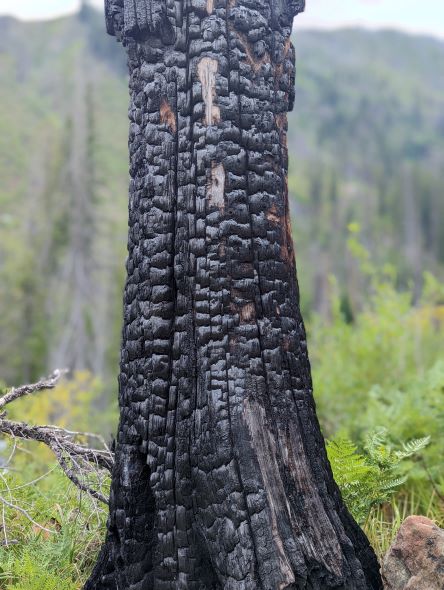 In 2017, the Jack Creek Wildfire ripped through here with devastating results. It is making a comeback, and there is a lot of vegetation coming back in the area, with Fireweed in abundance.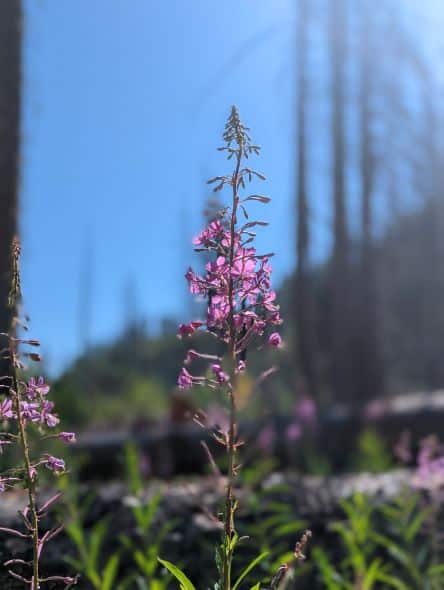 The first lake we came to was Little Eightmile Lake (2.6 miles). This is a pretty small lake and very serene. There may be camping spots around here, but nothing jumped out at us, and we were not looking for either.
We could hear the creek roaring down the valley as we continued along the trail meandering through meadows. After a last little push up a hill, you crest and get our first glimpse of Eightmile Lake. Total elevation gain of 1,417.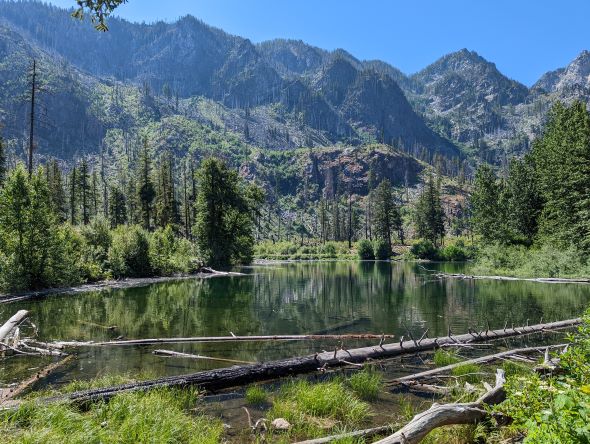 Eightmile Lake lies in the valley of two large ridges with a few snowfields scattered about. Eightmile Creek feeds one end of the lake. The other end is dammed, or at least used to be. The dam seems to have been severely damaged after the wildfire. Apparently, monitoring is being done to repair and restore the dam.
We found an established campsite area with enough spots for our group and claimed our spots. Another requirement of the permit is everyone in the party must camp together. After camp was set up, it was time to relax a bit since it was a very warm hike in. Fortunately, this nice cool, clean lake was only steps away for us to enjoy.
Laying out on the rocks, dipping into the water occasionally to cool off, was the only way to spend the rest of the day. Before hiking, we monitor trail reports to see what others are saying. A recurring theme was bugs, and a lot of them.
So, we planned on arriving prepared. A couple in our party found a large bug tent/canopy. Everyone in the party carried parts to the tent to spread the weight since everyone would use it.
Very, very short day hike
From our campsite, the trail continues along the edge of the lake to the incoming creek, a round-trip of 1.4 miles and a staggering 79 feet of elevation gain. A nice little stroll along the shore, seeing different perspectives of the mountains. Many patches of fireweed and Indian Paintbrush flowers along the hillsides.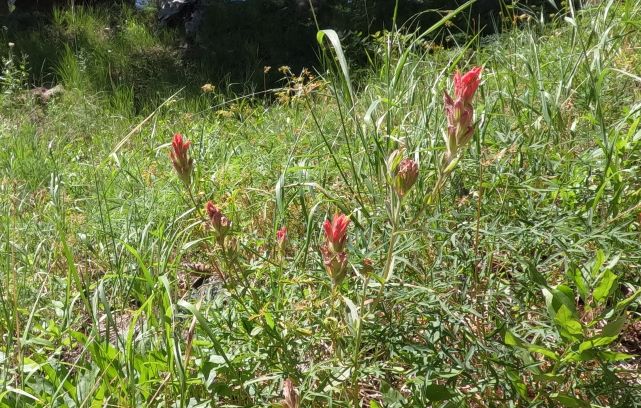 We did not quite reach the trail's end before coming upon a buck getting ready to lay down. So, instead of disturbing the buck, we chose to turn around and leave him be.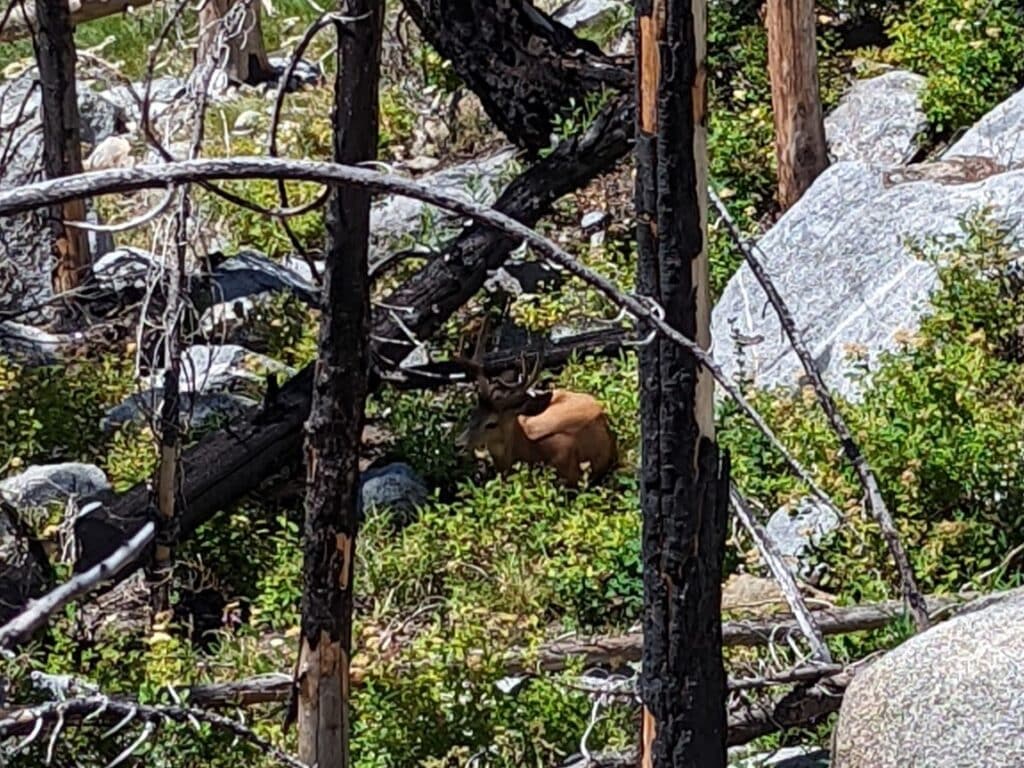 All the while keeping our eye out for an elusive black bear. We never did see him though. Apparently, one was hanging out toward the beginning of the trail, but we never saw that one either. Two people in our party saw one while driving up the forest service road, but that does not count. Or at least that is what we all told them.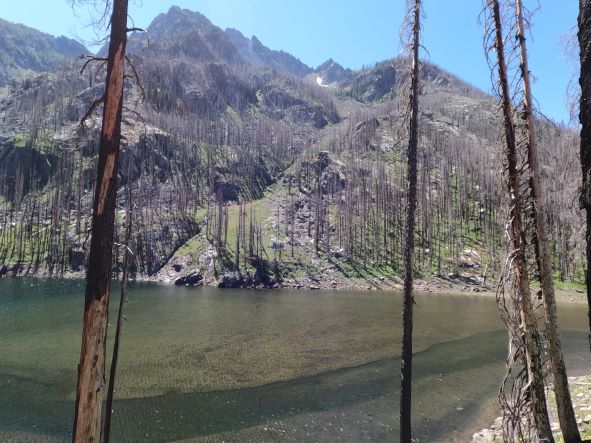 We ended up passing our campsite and headed the other way around the lake, there is no trail, and it is pretty much a shoreline of boulders. So a lot of scrambling would need to be done to make it around the entire lake, possible, just not something we wanted to do on this trip.
There is the old dam I mentioned earlier, and as unreal as it may sound, we saw a helicopter land on a makeshift landing pad. The guy was only there for a handful of minutes before getting back in and taking off. He never left the helicopter's side, so we are not sure what he was doing.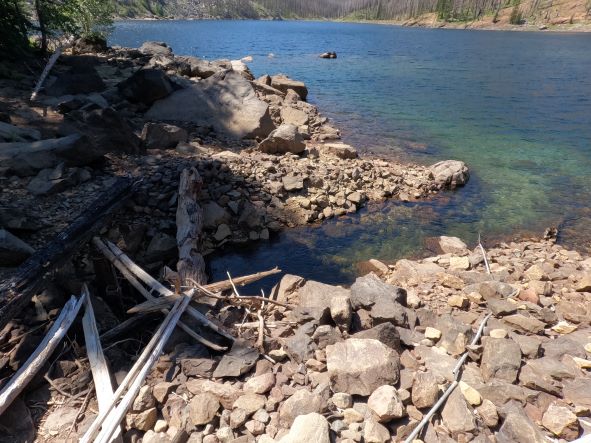 There are some monitoring stations located around the dam area. The only thing we could think of is he was transmitting data from the monitors to equipment in the helicopter.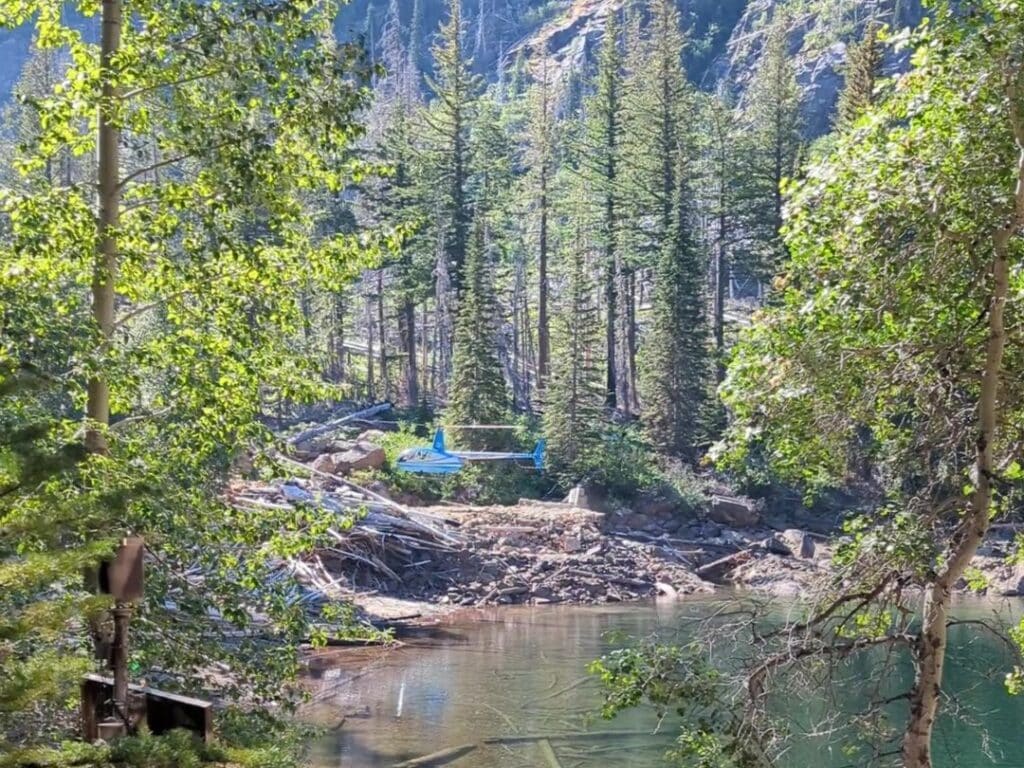 Conclusion
Many lakes, forests, and tundra exist to explore throughout the enchantment permit area. Many more than you can see in one trip unless you get a Core Zone permit and spend two weeks exploring.
More than what I have listed here. Do yourself a favor and check out the Enchantments for a day hike or two, then apply for an overnight permit in one of the zones.
We have always gone in some part of August, and we've seen all kinds of weather. So be sure to check the weather conditions. Even this trip called for hot and sunny every day of our trip.
We woke up to a thunderstorm in the middle of the night. Lightning and rain were not far behind, and several people had to scramble and get their rainfly up. So weather can change quickly, and there is no cell service up there, so be prepared. There is a shuttle service if you plan on doing a thru-hike (approx. 21 miles).
This is the first year we did not see any mountain goats, but there were three bucks, many birds, squirrels, chipmunks, and even a family of marmots.
Now, it has been a tradition of ours for several years. Once everyone is off the trail, we meet in town at the Leavenworth Sausage Garten for brats and an adult beverage for some. We personally also reserve a room for the night. Getting a hot shower and a comfy bed to enjoy is nice.
Every year we book a room at the Der Ritterhof Inn. They have decent prices, clean rooms, nice showers, and only a 2 min walk to the little downtown area.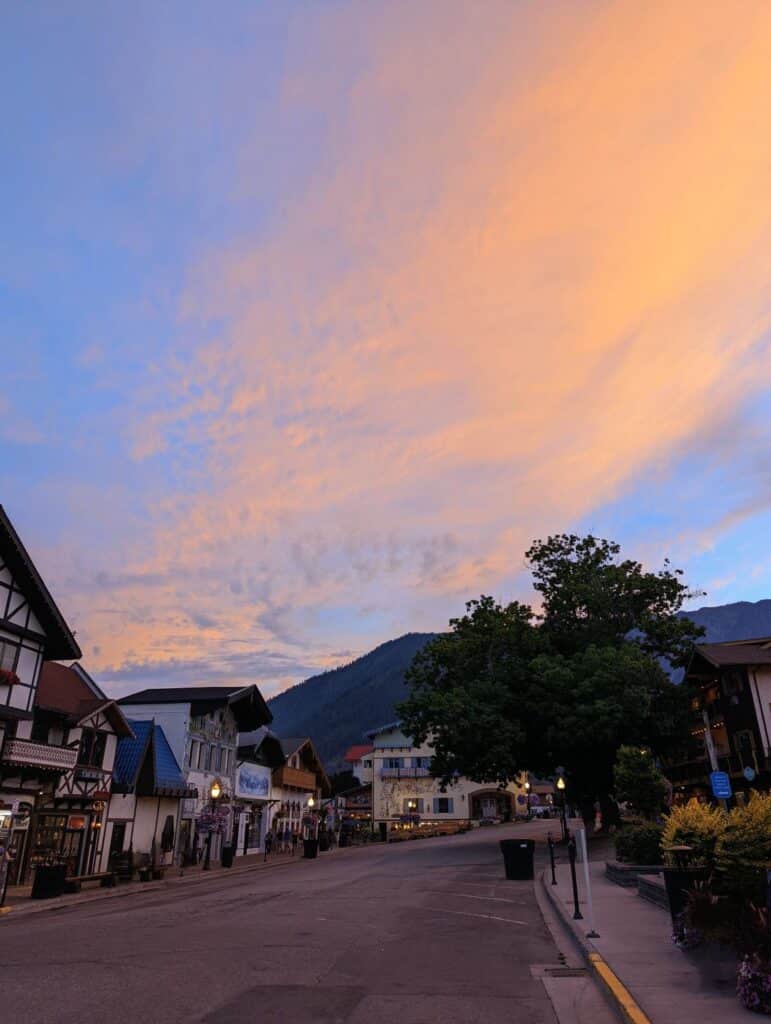 Additional Links
A Beginners Guide to Backpacking
Essential Guide to First Aid Kits