A Weekend Sailing Trip | Portland to Hood River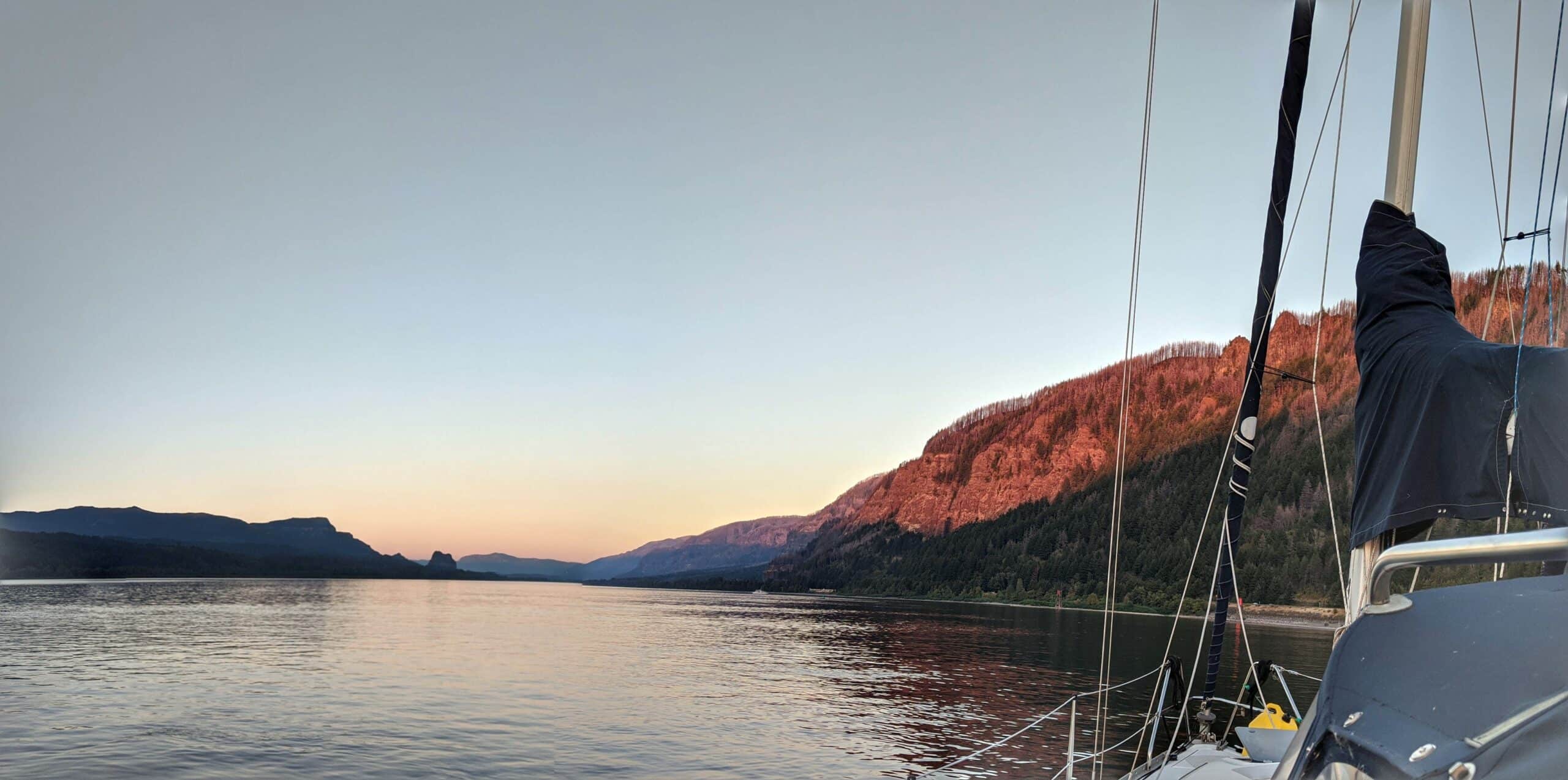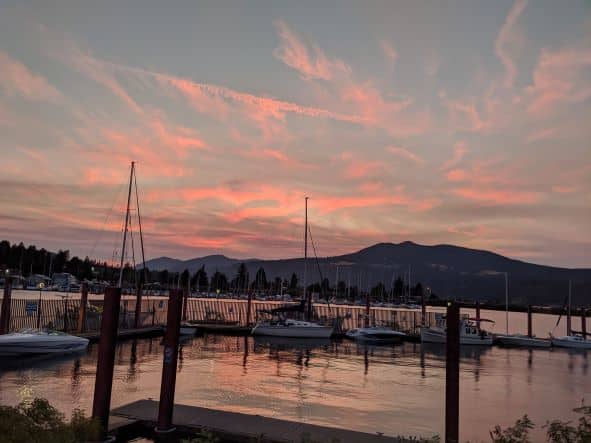 For a while, we had wanted to sail from Portland to Hood River through the Columbia River Gorge. A three-day weekend holiday was coming up, and we thought we'd extend it to a four-day weekend sailing trip. So, we started planning out what our itinerary would be.
Hood River is about 65 miles east of Portland and involves some calm waters, turbulent waters, and a dam lock to go through.
We were going to disembark from Hayden Island in the north Portland area. This trip would start in the lower Columbia River and take us past Government Island, past many wing dams, various types of river traffic, and of course, through the beautiful Columbia River Gorge.
We knew we wanted to stop at Beacon Rock. Not to climb it this time but to stay overnight at the dock. It is a great place to overnight, but not a ton of room at the docks.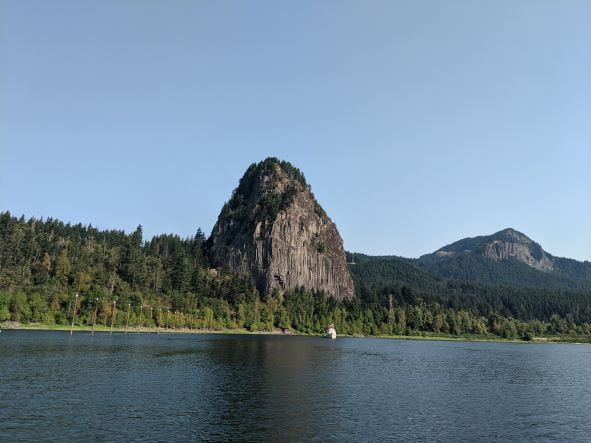 They have restrooms up top in the parking area and some green space to let your dogs do their business. The hike up to Beacon Rock, if that is something you want to do, is about a 1.3-mile hike to the trailhead, and you do have to walk along Hwy 14. Word is there used to be a shortcut from the boat launch parking area up to the trailhead, but it seems awfully overgrown.
Beacon Rock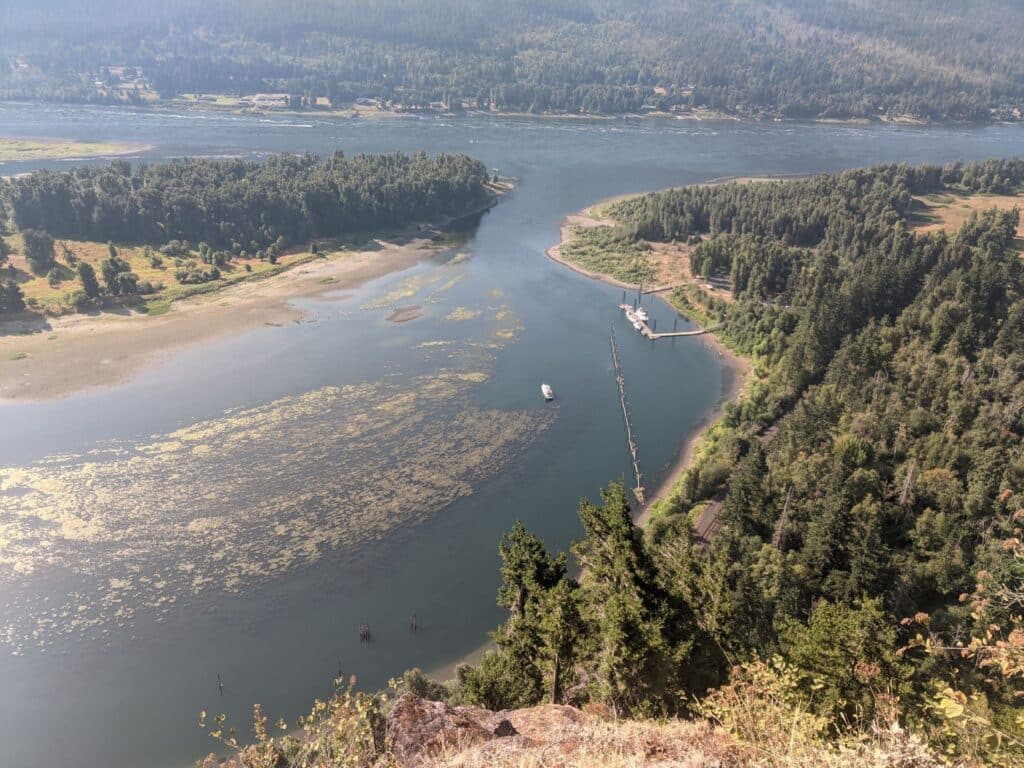 As it turned out, we did not get an early enough start from our slip, so we had an evening arrival. A dark evening arrival. Fortunately, we had family waiting for us at the dock, and they assisted in bringing us in since the dock was fairly full with a local yacht club function going on.
In a sailboat, you must depend on the wind to assist in an upriver voyage. Well, we did not have much wind to help us, so we did a lot of motoring up to Beacon Rock. With the current, we were doing a steady 3 knots, not moving very fast at all. Anyway, we arrived well after dark.
After letting the girls do their things, it was time to turn in for the night. Bright and early the next morning, after a coffee or two, it was time to shove off and head for the Bonneville Dam.
This part of the river gets fairly narrow, and there is a lot of water moving west, so it increases the river current in a big way. We did not have any issues getting up through here, which we were warned might be the case with a sailboat.
Bonneville Dam Lock
Once we were about half an hour out from the Bonneville Lock, we called the lock operator and informed him of our anticipated arrival time. He stated they would be opening it soon as they were on schedule and said we could tie up to the dock there just outside the lock.
The lock system caters to commercial barge traffic, but recreational boaters are able to use the lock as well, free of charge. However, commercial traffic takes precedence to lock space. We were lucky and were not going to be competing for space in the lock, just us and another boat.
We could not get to the dock easily, so we tied off to one of the large pilings and held on until we were told to enter the lock. Once the lock doors open, the lock guy will give you instructions on what to do and when to do it. The entire time, he remains in radio contact.
After successfully tying off to the provided cleats, it was time to move on up to the upper level of the lake. It is not a quick process, but I did not think it would be. There is a lot of water that is needed to fill the lock. But, slowly, we made it up. We were then able to untie our dock line and continue exiting the lock.
tip: Sundance Yachts have a great write-up on the Bonneville lock and what to do from hailing the lock operator, approaching, and tying up to a bit. Link Here.
The Bonneville Dam does have a visitor center that we have tried to stop at when driving through the area, but for covid, they were not open to the public yet. This is an area where you can drive down to, though, park, and walk around a bit.
Bridge of the Gods & Cascade Locks
It feels like a completely different river up above the dam; the water seems slower, and a lot more trees along the shore. After exiting the lock and sailing up a mile, you get your first glimpse of the Bridge of the Gods in Cascade Locks. This is a pretty cool-looking bridge and, of course, a completely different perspective from underneath.
This bridge is a toll bridge and connects Oregon to Washington. On the Washington side, you have quick access to Stevenson and the Skamania Lodge (read about it in this post here). We did not plan on stopping in Cascade Locks on our upriver journey, so we kept on sailing past.
We sailed for as long as we could, about to Dog Creek Falls on the Washington side, and that is when it all changed. The east wind had really picked up through here, so between the wind and the current, it made for some fairly large waves.
It got to the point where it was harder to sail, tacking back and forth than to just motor the rest of the way to Hood River. So we took a beating for this last stretch, which seemed to take forever. Now that we were approaching Wells Island, another aspect came into play here.
Kiteboarders and windsurfers were everywhere and from the Oregon side to the Washington side. The river was thick with them due to the high winds currently blowing through the area.
I swear some think it is a game to try and race in front of you just to see how close they can get. In any case, we made it through the crowded area and got a fix on where we needed to go next.
Some good advice, when going by Hood River, there is a large sand bar between the Hood River Event Site and the Marina. This sand bar can be very large or barely visible depending on water levels.
So, in this area, due to possible shallow water, I'd recommend staying in the channel until you are well clear of the area.
Hood River – The Heart of the Columbia River Gorge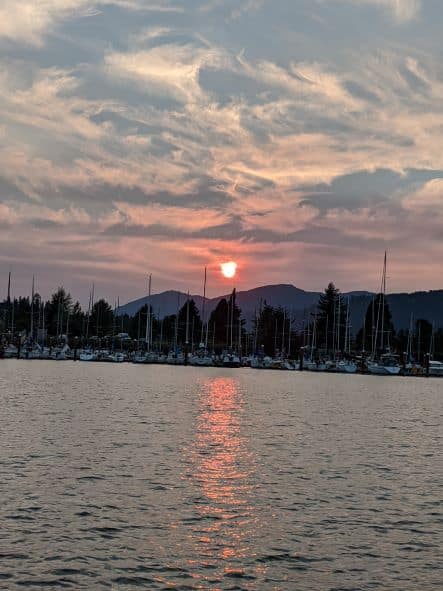 We would stay a few days at the Port of Hood River transient docks or guest dock, whatever name you use. There is a windbreak on the dock, so docking on the upriver side, we were able to get some relief from the strong winds.
It was another tight squeeze, but we had a spot. It was time to relax, unwind, and have cold sparkling water. Oh, and let the girls do their thing on shore, which they were totally thrilled to be on land again after the bumpy ride we had.
After swapping stories with fellow boaters, it was time to go out and explore a little bit. The Hood River waterfront offers many amenities, although you may have to walk a bit to get to some of them.
We decided to walk down to the Hood River Event Site, there are many water sports enthusiasts hanging out and launching from here, and the Spit is a dog park. The girls could run crazy for a bit.
Within a fairly short walking distance, there are several attractions to visit, like the Port Marina Park, The History Museum of Hood River County, The Spit, the Hood River Event Site, Hood River Waterfront Park, and The Hook.
Walking the overpass to the other side of the freeway gets you into the touristy downtown area of Hood River, with many stores, restaurants, coffee shops, and several renowned Breweries.
There is something for everyone here in this part of Hood River. During the summer and fall, this is an extremely popular spot for kiteboarding, windsurfing, and all the water sports.
We spent the next few days exploring around town, walking about with the dogs, just relaxing and taking in the sun and sites. It was a very relaxing time. We highly recommend it to boaters and road-trippers alike. There are plenty of hotel options for those cruising on a road trip.
As our time here began to wind down, it was time to start thinking about a departure time. We planned to head downriver to Cascade Locks, tie up to the transient dock and walk up to Eastwind Drive-in for a popular ice cream cone. Then make a stopover at Government Island, stay the night there, and finish the trip the following morning.
After researching the weather for the following day and some light provisioning, it was time to turn in for the night. The next morning arrived, and we were ready to depart Hood River, the heart of the Columbia River Gorge. Thankfully, the easterly winds were light as scheduled.
It was smooth sailing downriver back through the Columbia Gorge with multiple sightings of bald eagles.
Cascade Locks | Round Two
We arrived at Cascade Locks. Saying the entrance to the marina is narrow is a huge understatement. It is very narrow, not deep either, but we tied up to the dock without incident.
The marina is at the far east end of the waterfront next to the Locks Waterfront Grill. This is also the spot to cruise on the Columbia Gorge Sternwheeler cruises, another recommended activity, especially the brunch cruise.
This is also a good spot to get out and stretch the legs. There is the Cascade Locks Historical Museum, Thunder Island, and if it is lunchtime or anytime really, you have to walk up to Brigham Fish Market for some smoke salmon.
So after eating too much again, it was time to load up and get back on the river. Once again, we get another picture-perfect sight of the Bridge of the Gods.
This is also about when we needed to call the lock to let them know we were coming down and needed to use the lock. There is the lock schedule, and we were aware of our timing. We were on time for the next scheduled opening, but the lock operator was acting very put out that we needed him to do this for us.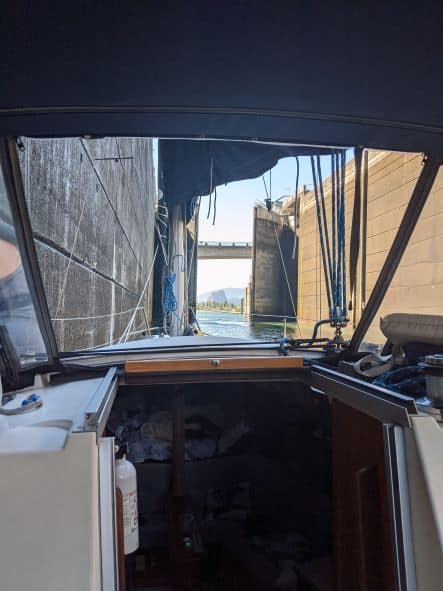 Once inside the lock and tied up, it was time to ride down. It was a very weird feeling seeing the wall we were next to getting taller. Once at the bottom and watching these very large gates start to open was pretty cool to watch, like a grand entrance to a new part of the river. After being given the go-ahead to untie ourselves, we gently slipped out and continued cruising down the mighty Columbia River.
This is where the river narrows, and the current ramps up a lot, plus the plethora of fishing boats through this area, so there is no relaxing during this part, and then it opens up, widens, and life slows back down again. We were making good time with the current scooting us right along, but we were able to enjoy the scenery, the sun, and good conversation.
Rooster Rock
We slowed down a bit as we approached Rooster Rock State Park, a popular park for swimming and sunbathing. The sandy beaches are quite long here and can accommodate many people, both by car and boat. We found a nice spot off the shore and threw out the anchor to take a dip to cool off.
The area through here is a nice sandy bottom, so anchoring is a breeze. A small note here; Sandy Island is a clothing-optional area of the beach, the eastern end of the park.
Distress Call
By now, it was getting to be late afternoon, and we were still planning on a stopover at Government Island, so back on the boat for us. The closer we got to Reed Island State Park, the more and more boats were zooming around.
There were jet skis, wave runners, power boats, barges, kayakers, and even the U.S. Coast Guard boat, with the lights flashing and moving at a very high rate of speed. We had our radio on, so we knew the Coast Guard would be in the area as reports were coming over the radio of a fishing boat in distress.
As every good boater does or should! we were keeping an eye out for the boat in question. Since it was in distress, it was not under power, so the current was moving this boat down the river at a pretty good speed, and it just kept getting worse.
The boat had sunk and was not visible. Fortunately, the passengers were saved and were safe on another boat, but they lost sight of their sunken boat.
Now, the river is very busy at this point, and many of these boaters do not have radios on board, so they have no idea what is going on and do not know there is a sunken boat moving down the river just under the water.
We were getting close to Government Island, and they had narrowed down the location of this boat and the island's eastern point, but we could still not see anything, so we veered as far to the north as possible to avoid the area.
Government Island
This also gave us a good sight of the island, and there were more boats and people than I have ever seen on Government Island. With our current sailboat, we cannot beach the boat, so we would need to anchor or tie up to one of two docks on the island.
Using the binoculars now, I could easily see Bartlett Landing was packed and had absolutely no room for us, so we checked that one off our list. Cruising a little further west, I got a good look at the Schwitter Landing dock. Again, no room.
I should have known, really, since it was a holiday weekend, it would be busy.
At this point, we had to make a decision, either anchor for the night or continue on to our slip on Hayden Island. Looking at our two girls, the answer was easy. We needed to head back to our slip.
We made it back with a little bit of daylight left, cleaned up the boat some, and let the girls run around on land; then, it was time to relax and think about dinner.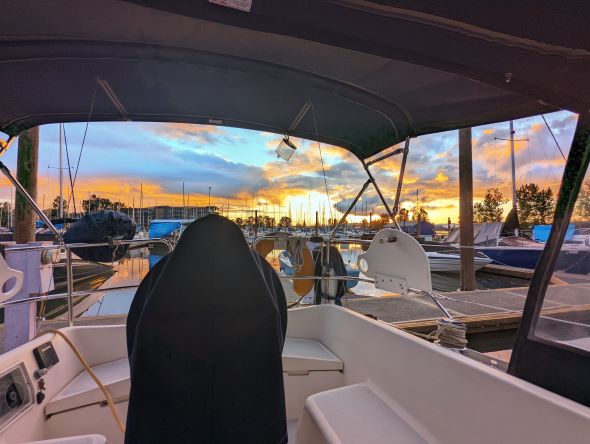 Conclusion
In recent years boating has become a more popular activity, which is great in the grand scheme of things. Still, the downside is a lot of people get into the activity without any knowledge of boating, the river, and all things boat safety.
It does not take a ton of skill level to enjoy the river, but getting your Oregon Boaters Safety Card is a good idea and a step in the right direction.
I highly recommend this trip to anyone with the skills and comfort level of navigating the Columbia River. Many other stops are available to boaters through the Columbia River Gorge, and if you have a smaller trailerable boat, there are many boat launches along the river.
Going through the locks was an amazing experience as a boater. It helped me realize how these dams facilitate the movement of commercial industries while providing the United States with a large portion of hydroelectric power.