Sailing the San Juan Islands: Life At A Slower Pace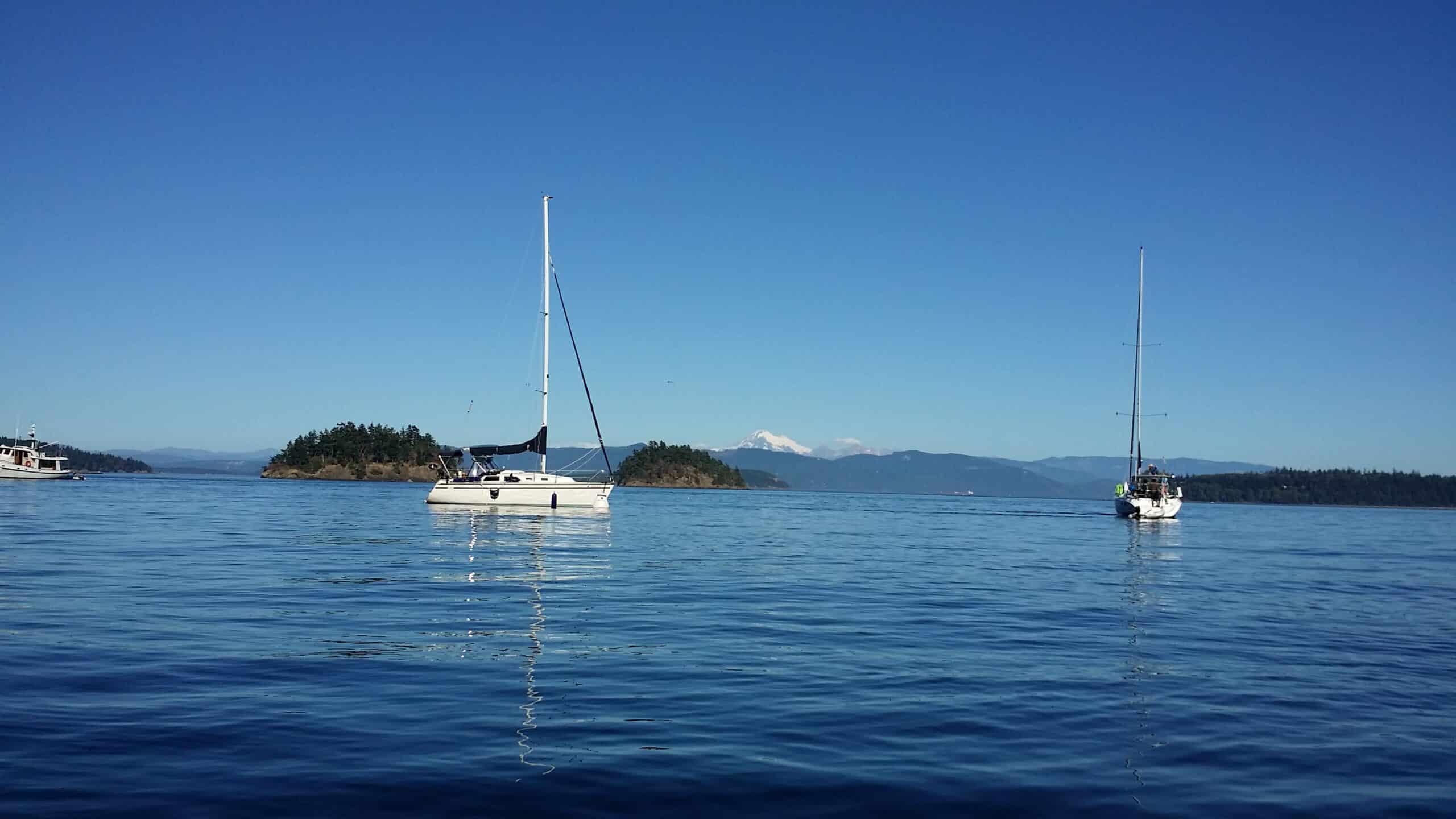 We've been fortunate enough to go sailing up in the San Juan Islands a handful of times and on a couple of different boats. We've been up there in a powerboat as well, but sailing is always better.
We could spend an entire summer up there and maybe see everything it has to offer, there are a plethora of islands and inlets to explore, and not to mention hopping over to Vancouver Island, British Columbia.
I'm not going to fully detail everything to do there but I'll cover as much as I have experience with. So, sit back and enjoy the read. Now the San Juan Islands are located in the North end of the Puget Sound in the Salish Sea, sandwiched between Haro Strait in the West and Rosario Strait in the East. Many of these islands are home to
State Parks, Marine Parks, Historical Parks, National Monuments. Some islands offer hidden coves or protected coves and you might even be lucky enough to secure a mooring buoy. Whether you are on your own boat or do not have a boat there are private charters Private sailboat charters for some of the most beautiful scenery to be seen here.
For us, our transportation of choice is a sailboat, and sailing up there is so special. Nothing beats the sites of water, forests, mountains, birds, sea life, and no noise but the sound of the hull cruising through the water.
I get goosebumps just thinking about it. In my opinion, the best weather is during the summer and early fall, some days can get warm, but if you're on the water it is pretty comfortable. Many of these islands make for a great day trip, no busy schedule here, you are now on island time.
When it comes to boating amongst the islands you'll want to keep in mind high tide, low tide, and slack water when it comes to moving around. If possible, use the tides to assist in your movements, especially in a sailboat fi you are being forced to motor some.
The water can get rough up here when it comes to tides and winds, but you may round a corner and you'll have nothing but calm waters as the eyes can see.
Most of the time it is a short distance to nearby islands so rarely would you have a full day of boating. One very important note, if you are boating and a dock or mooring buoy is not available, dropping anchor in some areas is not allowed. Be sure to know the rules prior to dropping your anchor and help preserve this special place.
I do have to mention that there are many ways to experience the San Juan Islands, there is an extensive ferry system between the islands and mainland Washington State. these ferries are popular for cars, walking, and bicycling. Check out this great site for bicycling the San Juans.
The first time we experienced the San Juans was for the 4th of July holiday in Roche Harbor on San Juan Island in a powerboat, after that we were hooked.
Fast forward a couple of years and we started trailering our Catalina 22 up there, most often launching from Washington Park (Map). Another good launching point further to the North is Bellingham (Map).
Depending on where you plan on spending the majority of your time may dictate where you launch from. There is a lot to see up there, so if time is limited it is best to break it up between the North and South portion and these two launches accommodate this.
Our must-see spots up there are Friday Harbor, Lopez Island, Jones Island, Cypress Island, and an ice cream stop Blakely Island. These are all easily possible if launching from Washington Park, Other notable island stops are James Island, and Shaw Island these both have campgrounds to enjoy.
We've overnighted at James Island but only due to timing, the winds can get higher here on both sides of the island making for rougher waters. From the South end of San Juan Island and Lopez Island, you will be treated to fabulous views of the Olympic Mountains.
In this post I'll be discussing launching for the Southern Islands and the Northern Islands, however, another great spot is from La Conner, it's just a long haul to get out into the more open waters. La Conner has a lot to offer on land as well. Many great eating spots and shopping. And yes, you guessed it, some good ice cream stops.
Sailing the Southern Islands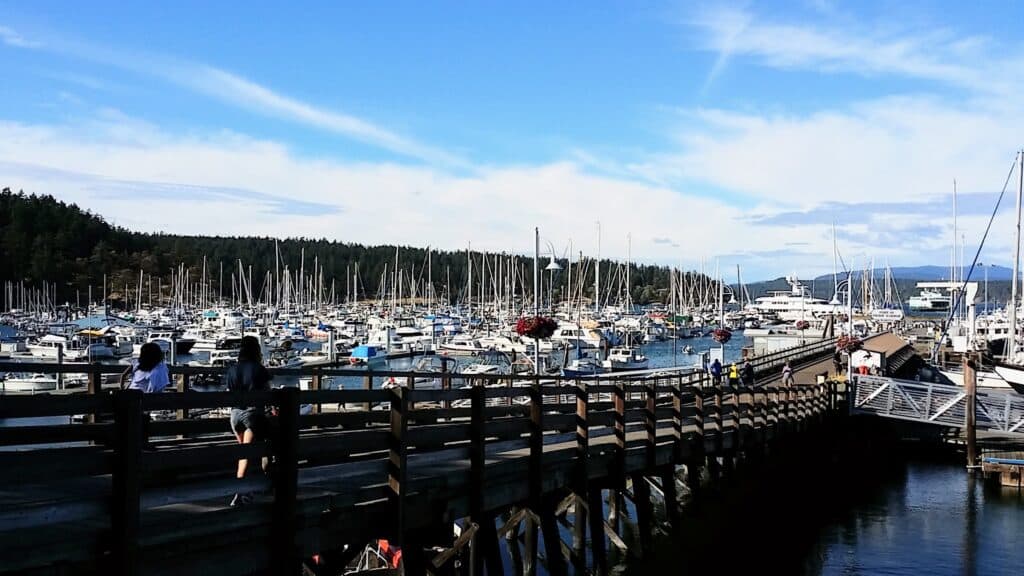 Friday Harbor is on San Juan Island and I believe is the busiest port throughout the islands. They have a large marina that'll accommodate all sizes of boats, a ferry port, and an airport (seaplane and fixed-wheel airports).
Friday Harbor is a good stop for groceries, tools/supplies, restaurants, and ice cream and there is a nice large dog park, however, the Eddie & Friends Dog Park (Map) is a little longer walk to get to, but worth it.
Other must-see spots here are San Juan National Historical Park, Lime Kiln Point State Park, English Camp, and American Camp. Bit of a history lesson here on the island. There is a handful of camping spots on the island, so it makes a good cycling island.
Lopez Island, just East of San Juan Island, is a great spot for bicycling or getting around with a car. We enjoy docking at Odin County Park and riding our bikes south to Shark Reef Sanctuary, it is a little longer bike ride so make sure you start it earlier in the day and allow time to make many stops along the way.
A must-stop is in the village (map) to check out the San Juan Islands National Monument, be sure to grab an espresso, fudge, or some ice cream. Then make your way further south to walk the trail along Shark Reef, you may get a chance to see some sea lions or a seal or two.
Cypress Island has a great inlet, Cypress Island Aquatic Reserve, for overnight stays, and most times we've been there it's been out of the wind as well. Not to mention spectacular sunrise and sunset views of Mt. Baker and the rest of the Cascade Mountain Range.
An awesome hiking trail on Cypress, Eagle Cliff. Keep in mind this trail is closed from February 1st through July 15th for protecting the sensitive habitat and nesting for Bald Eagles. Great views of Washington State from here. There is no lodging here so prepare to bring all your own supplies and be prepared to pack it out, no garbage service either.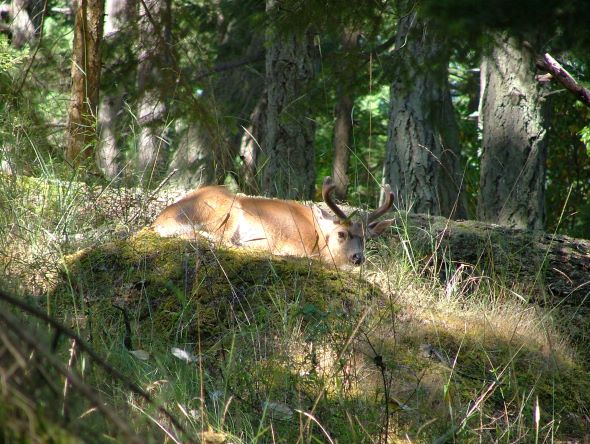 Jones Island, located off the Northeast end of San Juan Island, is a small island with a hiking trail pretty much around the whole island. Views abound from this island of the surrounding area, there is camping on this island and a small inlet for mooring and docking overnight on the North side.
Lots of wildlife to see here, and deer too. There are a couple of campgrounds here with toilets and fire pits. Be sure to keep your food locked up during the day and especially during the evening, raccoons are curious and devious little buggers.
Blakely Island is a residents-only island so no driving or bicycling around here. But they have a wonderful little store for provisioning and fuel too. Another great stop for ice cream. It is a nice large dock so plenty of room for several boats. The store has a nice patio and yard space out front for enjoying your meal or ice cream.
Sailing the Northern Islands
If we are launching from Bellingham, we like to check out Orcas Island, Clark Island, Matia Island, Sucia Island aka Crown Jewel of the San Juan Islands, and Stuart Island.
Orcas Island, one of the largest islands in the archipelago is horseshoe-shaped with Deer Harbor, Eastsound, and Rosario being the more popular stops. All three have easy access by boat and there is a lot to do on the island. There are several campgrounds, lodging, and re-provisioning that can be done.
There is Moran State Park boasting Mt. Constitution and its impressive observation tower, and great hiking trails. You also have Turtle Mountain Preserve on the Westside of the island.
If you find yourself close to Rosario, you must stop at the Rosario Resort & Spa and walk through the self-guided museum and immerse yourself in some history. Or treat your loved one to a wonderful spa day!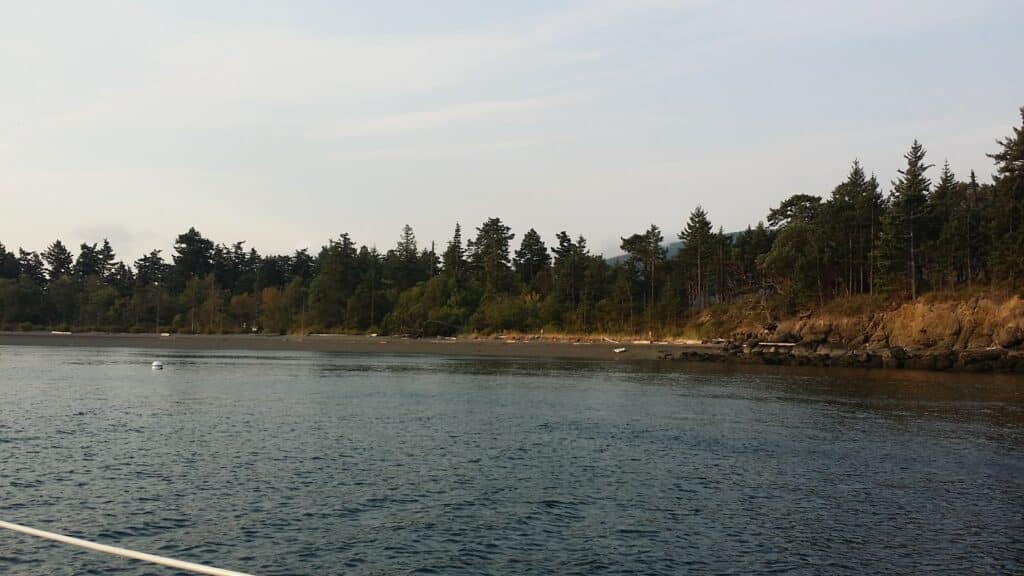 Clark Island is a smaller island and not a lot to do there but they do have mooring buoys on the Eastside of the island. The island is a Marine State Park and there is a campground on the Southern end. This island makes for a great stopover headed further out west or on your way back to the mainland.
Matia Island is home to the San Juan Islands National Wildlife Refuge and a nice hiking trail. Another great place to moor with at least four inlets that depending on where the weather is coming from is going to be protected.
Sucia Island is another horseshoe-shaped island with lots of finger islands (my term). If you are into kayaking, this is a great island to explore the ins and outs of all these little finger islands. Tons of wildlife to check out here and at some times, crystal clear waters.
The entire Sucia Island State Park is also a Marine State Park and there is one campground. There are a few protected bays and a couple of nice docks in Fossil Bay. Some good hiking here too.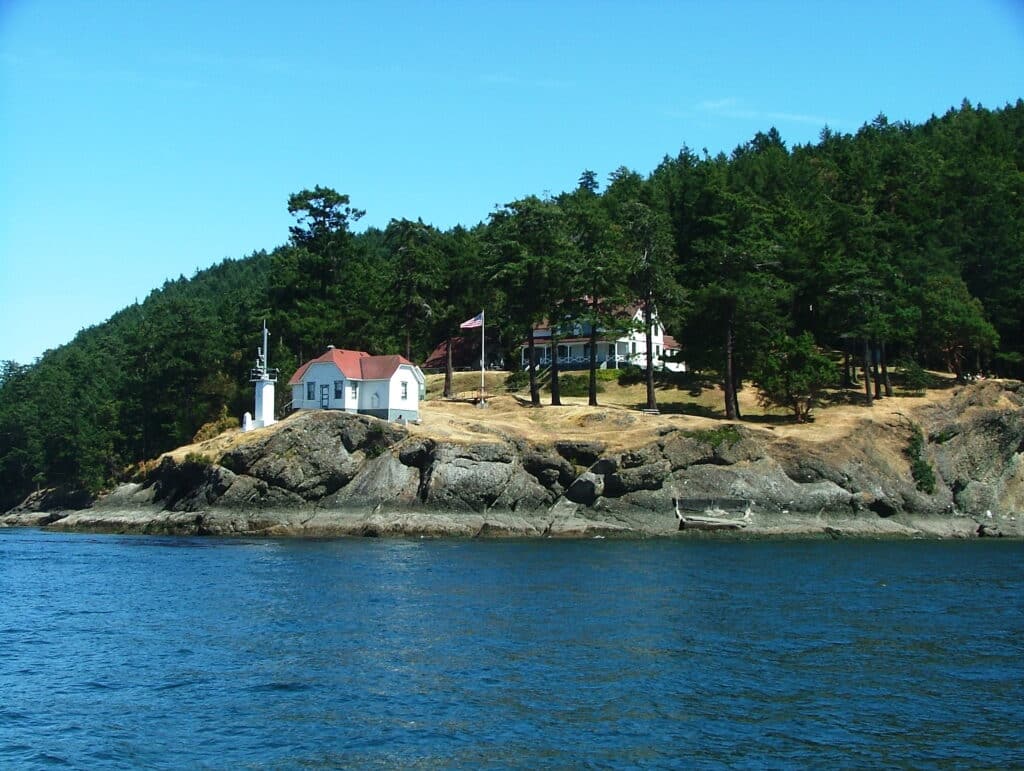 Stuart Island is one of our favorites, it is a bit out there, but well worth the stop. The main attraction here is the Turn Point Lighthouse, a very cool historical spot. Getting there is easiest by bicycle but walking is doable. Portions of the island are also a Marine State Park.
A few other islands on the Northern end that we have not been to, but want to mention are Patos Island and the Patos Island Lighthouse and active cove for mooring. Lummi Island is a decent size, ling skinny island. There's a campground and a marina or two.
There is lodging on the island and other services. Another island in the Southern part is Decatur Island, we have not stepped foot here and I'm not sure non-locals can, it might be like Blakely and residents only.
Last but Not Least… The Orcas
The San Juan Islands are home to the famous J pod of Orcas aka Killer Whales. These whales can be seen around the islands year-round and are always a show stopper, everybody loves seeing these magnificent creatures.
However, the San Juan Islands are also popular for Minke whales, Humpback, and Gray whales. As well as some Stellar Sea Lions and tons of other wildlife. There are a lot of whale-watching tour boats available that are just a Google search away.
Conclusion
The San Juans are calling and you must go. In my humble opinion, it is much better done by boat, but if that is not in the cards, you can take a ferry and drive around several of these islands, take the ferry and stay and walk around some of the port towns, or grab your bike and a tent and explore these islands.
Not all of the islands are on the major ferry routes, but there are smaller boat ferries/shuttles that pick up and deliver to some of these smaller islands.
Years of experience in boating is not required, but a strong knowledge of seamanship is a must. Make sure your boat's safety is up to date, and your radio is in good working order. If you see and or hear a boat in distress, do your part and help.
Keep your radio on when out on the water and be aware of your surroundings. Enough from Safety Steve, now get out there.
If you are going to drive to the San Juan Islands, be sure to check out our blog Packing Your Car for Safe Travel
Side Note:
You may have noticed I've mentioned ice cream several times in this post. I like ice cream and I really like Lopez Island Creamery Ice Cream. It is available throughout the San Juan Islands.