Don't Set Sail Without Them: The Top 5 Must-Have Safety Items for Your Boat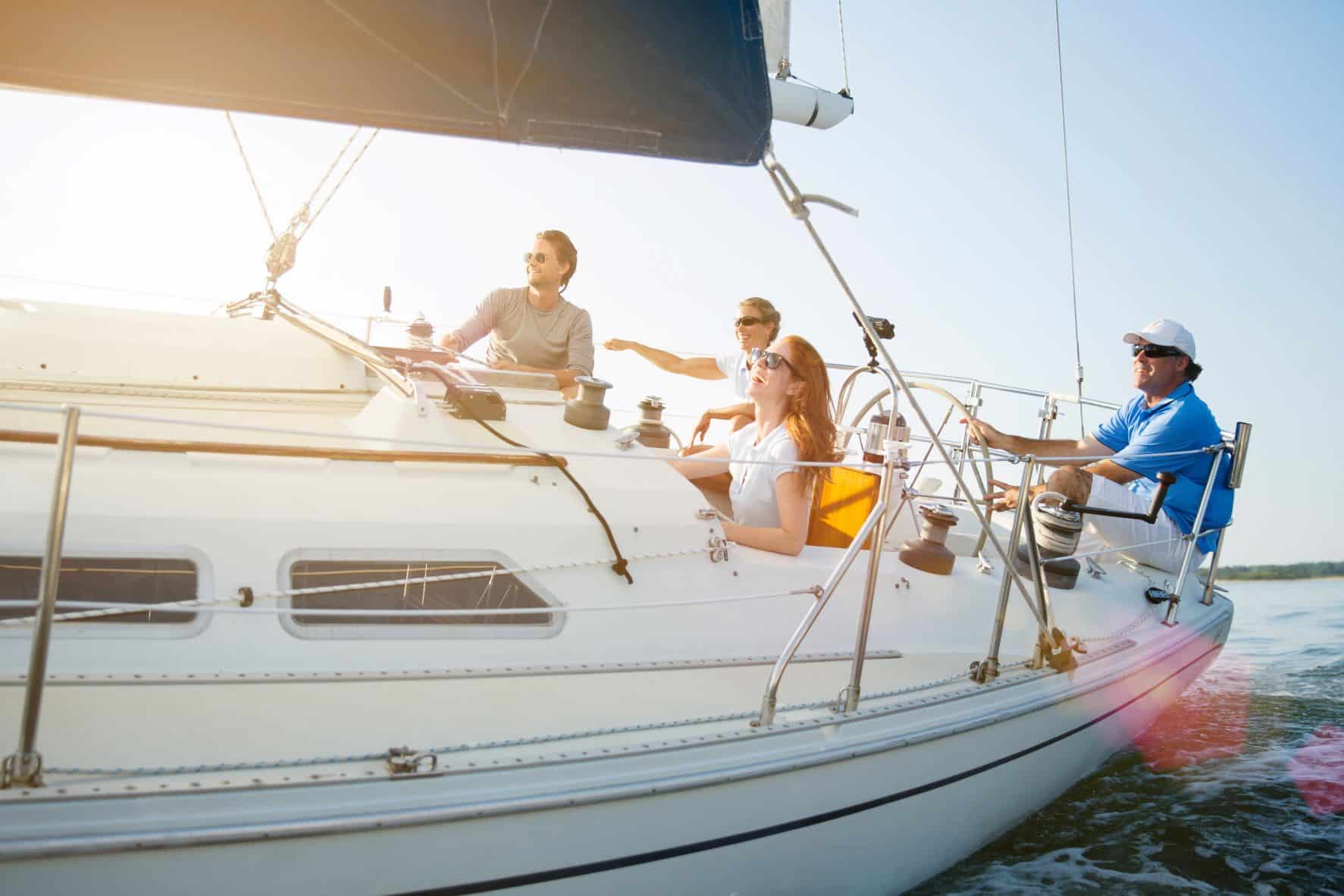 Meta Description: Keep your boating adventures safe and enjoyable with these essential safety items. Our experts at Life in Utopia have compiled the top 5 must-have items that are required by law and can help prevent accidents on the water. From life jackets and fire extinguishers to distress signals and navigation lights, we've got you covered. Don't leave the dock without reading our guide to boat safety essentials.
If you're a boater, then you know how important it is to always be aware of safety while on the water. Whether you're sailing, fishing, or just cruising around, there are certain items that you should always have on board to keep yourself and your passengers safe. In this blog post, we'll go over five of the best safety items for your boat.
What We Look For
When looking for quality, dependable items for your boat, it is important to consider what is readily available. There are many different types of items that can be used on a boat, but not all of them are created equal.
Some items are more durable than others, and some are more likely to break down over time. It is important to find items that are quality made and will last a long time, so you can enjoy your boat for years to come.
There are many different places to find quality items for your boat. One option is to shop at a local marine store. These stores typically carry a wide variety of items, and they can help you find what you need. Another option is to shop online.
There are many different websites that sell boat parts and accessories, and you can often find great deals on quality items.
When shopping for quality items for your boat, it is important to compare prices and read reviews. This will help you find the best deals on quality items. It is also important to make sure you are buying from a reputable source. This will ensure that you are getting quality items that will last a long time.
What Are the Must Haves?
Life Jackets
Flares
First-aid kit
Sound-Signaling Device
Fire Extinguisher
Life Jackets
It's always a good idea to have life jackets on board, even if you're a strong swimmer. If something happens and you end up in the water, a life jacket will help keep you afloat until help arrives.
There are several different types of life jackets, each designed for a specific purpose. Here is a quick overview of the most common types:
Inflatable life jackets – usually worn by boaters and fishermen as they allow for a greater range of motion and are more comfortable to wear for long periods of time. They can be manually or automatically inflated, and will provide enough buoyancy to keep the wearer afloat even in rough waters.
Throwable life jackets – designed to be thrown to someone who is in the water and struggling to stay afloat. They are usually brightly colored and easy to spot, and can be used by anyone regardless of size or strength.
Child-sized life jackets are specifically designed to fit children of all sizes, from infants to teenagers. They usually have bright colors and patterns to make them more visible in the water, and often have extra flotation around the head and neck to keep young children safe.
Coast Guard-approved life jackets are required by law on all boats in the United States. They come in a variety of sizes and styles to fit all body types, and must be properly fitted to the wearer in order to work correctly.
No matter what type of life jacket you choose, it is important to make sure that it is properly fitted and comfortable to wear.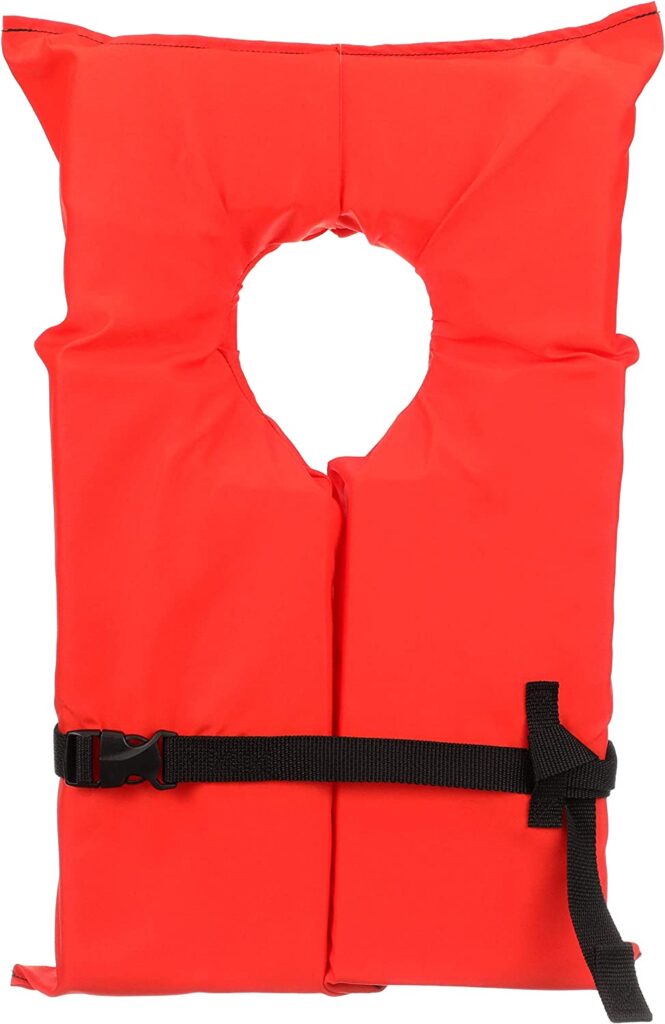 Details:
U.S. Coast Guard Type II PFD.
Fits adults 90 pounds and up, with 30 to 52 inch chest.
Bright orange color provides enhanced visibility.
Final thoughts
This type is always the ones that get laughed at. However, if you are in need, these ones work well. They are cheap enough to be the style to buy extras of and stash them under a seat for that just in case moment. Plus, if you have passengers that did not bring their own, these fit the bill if you get checked by law enforcement.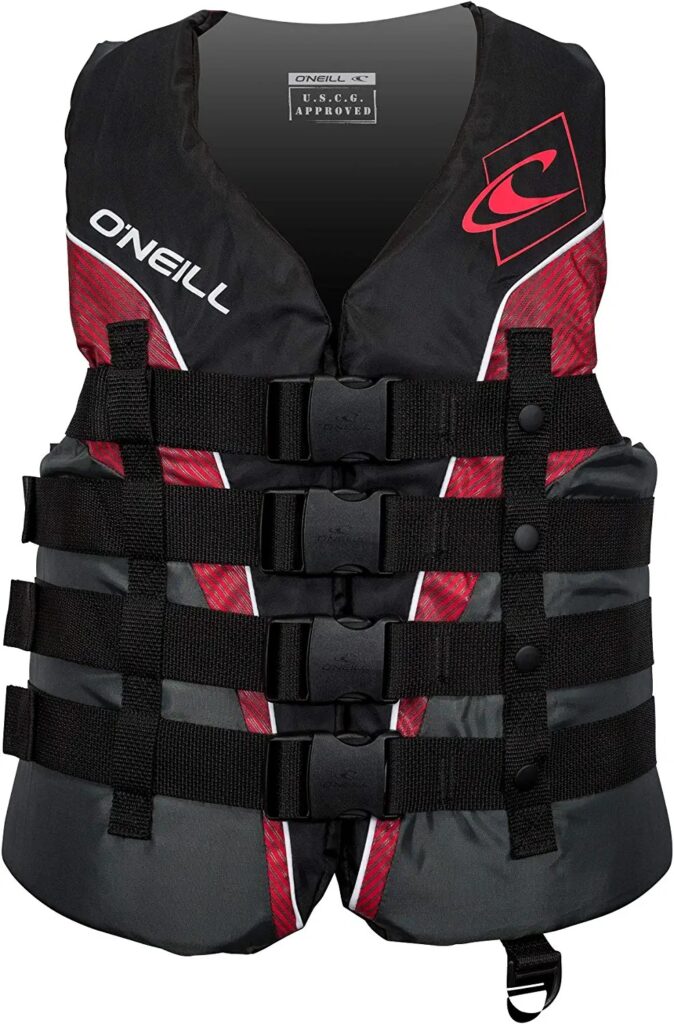 Details:
USCG Approved Personal Flotation Device (Type III); Perfect For Wake Sports, Water skiing, Tubing, And Swimming.
Designed to fit snug for your safety. Minimal bulk design allows full mobility and easy on and off. Anatomically cut lightweight polyethylene foam flotation with durable coated polyester outer shell makes the vest strong yet soft and comfortable.
Heavy-duty 1.5 inch wide webbing belts with quick release buckles allow for an adjustable fit and easy fastening.
Size Up. When choosing a size, try one size larger for a more relaxed fit.
Final thoughts
Type III vests fit well if you are wearing the correct size. Great for water sports, allows you to lay back and keeps you afloat. Much more fashionable than the bright orange vests.
Throwable Life Jacket ($14.99)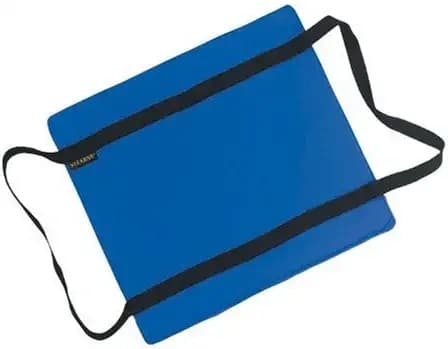 Details:
Utility cushion doubles as a comfortable place to sit and as a flotation cushion.
US Coast Guard-approved Type IV flotation device.
Soft polyester shell and durable Crosstech flotation foam.
Strong 1-inch webbed straps make it easy to hold onto and aid in rescue.
Final thoughts:
Our Pick and most comfortable life jacket
Mustang Survival Auto Inflate Life Vest, Type III ($256.52)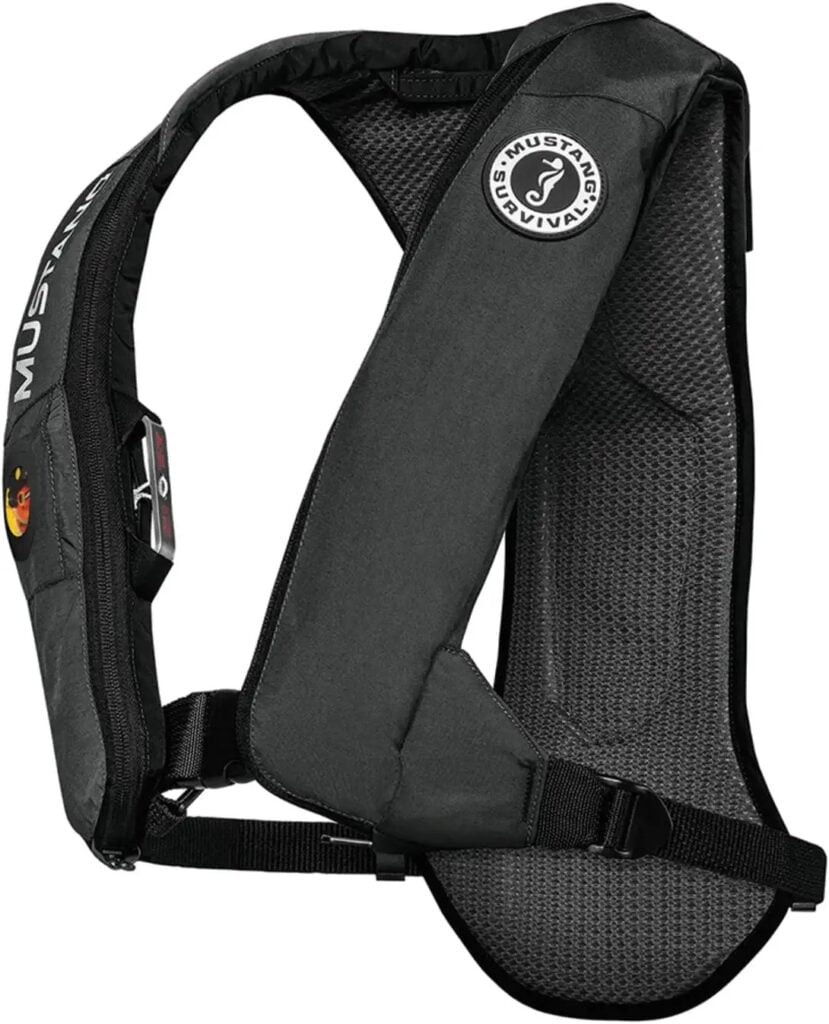 Details:
The Elite 28 was built with bass fishermen in mind. The PFD is lightweight and once activated by water pressure, immediately deploys the high visibility flotation device. The Elite 28 can also be manually inflated at any time.
Mustang Survival's Hydrostatic Inflator Technology (HIT) is industry-leading, and automatically inflates under water pressure. Do not worry about the vest deploying if you get wet or rained on, the HIT technology only deploys once you are in the water.
The Elite 28 is trusted by professional anglers & sailors in competition due to offering a full range of mobility, lightweight build, and stylish design.
The Elite 28 has a Type III USCG rating.
The revolutionary construction of the Elite 28 is lightweight and mobility-enhancing. Wide shoulders eliminate neck fatigue, and the wicking mesh liner creates all-day comfort. The intuitive dual-side adjusters allow you to customize your fit and accommodate outerwear.
Final thoughts:
As sailors, this style is our preferred. they are light weight, and you can easily move around the boat without issues.
Flares
Flares are a vital safety item, as they can be used to signal for help if you're in trouble out on the water. Marine flares are best used when you are in a life-threatening situation and need to signal for help.
They can be used day or night, in any weather conditions, and can be seen up to 20 miles away. There are three main types of marine flares: handheld, distress marker Buoys (DMBs), and parachute flares.
Coastal Alert Launcher KIT ($89.60)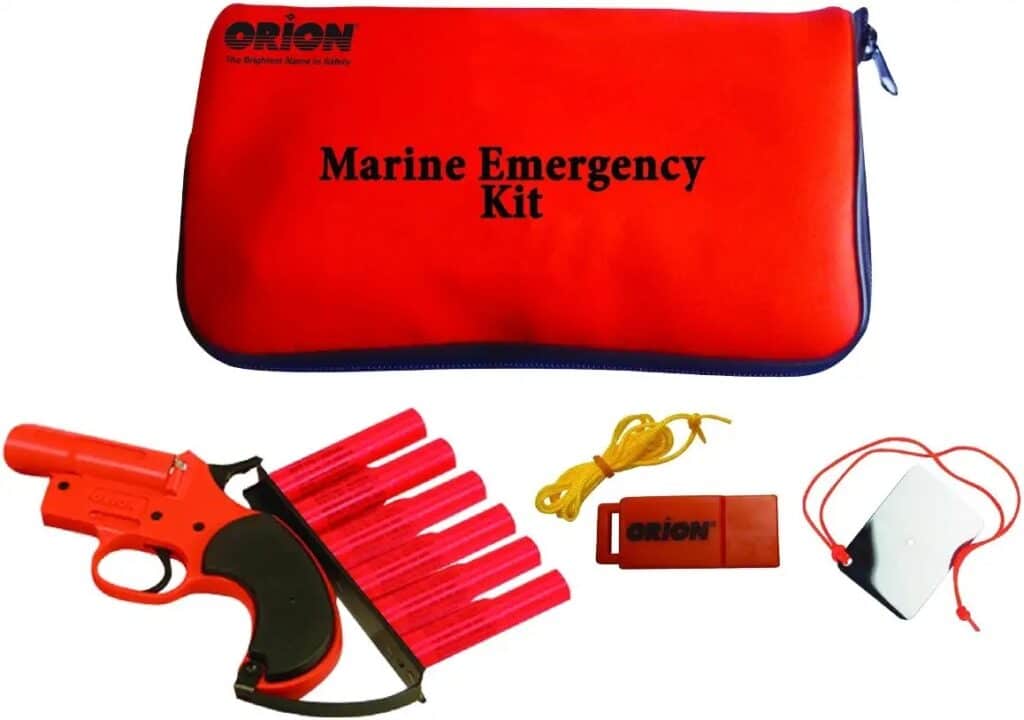 Details:
USCG approved for day and nighttime signaling.
Expanded signal coverage for inland and coastal boaters plus the addition of first aid modules.
Includes 12 gauge safety launcher with bandolier, (4) 12 gauge HP red aerials, (4) hand-held red flares, (2) hand-held orange smoke flares.
General first aid module and medication, stored in an international orange volare foam zippered storage bag.
Final thoughts:
A good compact pack to store in the boat. Fortunately, we never had to use ours. Little tip to fellow boaters. When you purchase your flares, put a reminder in your calendar phone app to remind you of their expiration date. Expired ones do not meet code.
First-Aid Kit
A first-aid kit is essential for any boat in case someone gets injured while onboard. -A first aid kit for boats should include items such as bandages, antiseptic wipes, and pain relievers.
-Be sure to pack extra supplies in case of an emergency.-It is also a good idea to have a list of emergency phone numbers on hand.
Waterproof First Aid Kit, 228pcs ($29.65)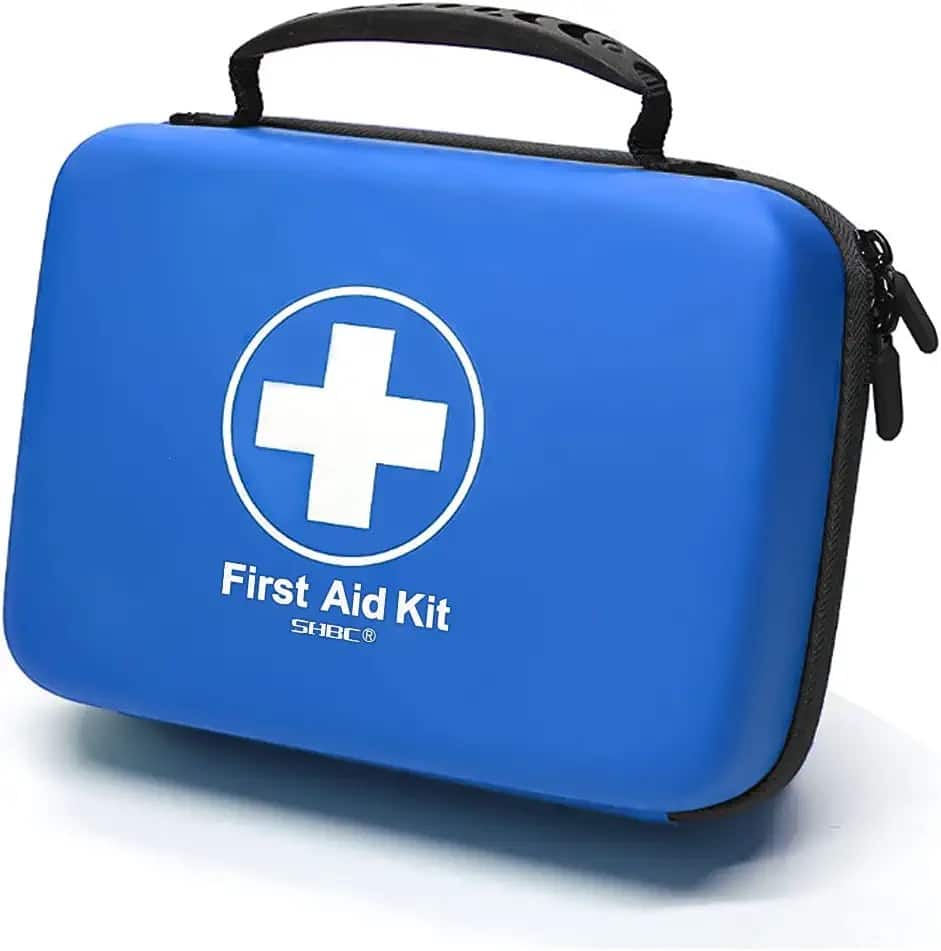 Details:
The 228 pieces of comprehensive first aid treatment products is manufactured from the Modern aseptic facility, exceeding safety standards for emergency first aid for adults and kids.
Compact High-end first aid kit (8.3"×6.3"×3.2"). Using EVA mold case that is Lightweight, shockproof and not easily deformed. The PU surface is smooth, waterproof and easy to clean with Waterproof Laminate Bags to Protect Your Supplies.
Make sure you keep your kit close to hand when professional medical care may be some distance away.
Final thoughts:
Nice size container for these. If you have allergies, I'd suggest throwing in some allergy pills and some Benadryl. Hopefully, many of the items in here you will never need, but just in case, you'll be ready.
Sound-Signaling Device
A sound-signaling device, such as a horn or whistle, is important for getting attention if you need help. A sound-signaling device, such as a horn or whistle, can also be used to signal for help if you're in trouble.
There are different types of sound-signaling devices that can be used on boats, and each has its own specific purpose. For example, horns and whistles are typically used to signal other boats or vessels in the vicinity, while bells are usually used to warn of potential hazards.
It's important to know when to use each type of device, as well as the proper signals to use, in order to avoid accidents or collisions. Horns and whistles are usually used to signal other boats or vessels in the vicinity. For example, if you're approaching another boat from behind, you would give several short blasts on your horn to let them know you're there.
If you're approaching a blind corner, you would give one long blast on your horn to warn of potential hazards. Bells are typically used to warn of potential hazards. For example, if you're approaching a shallow area or a place where there might be submerged obstacles, you would ring the bell to caution other boats.
It's important to know when to use each type of device, as well as the proper signals to use. By doing so, you can help avoid accidents or collisions.
Air Horn Can for Boating & Safety ($14.99)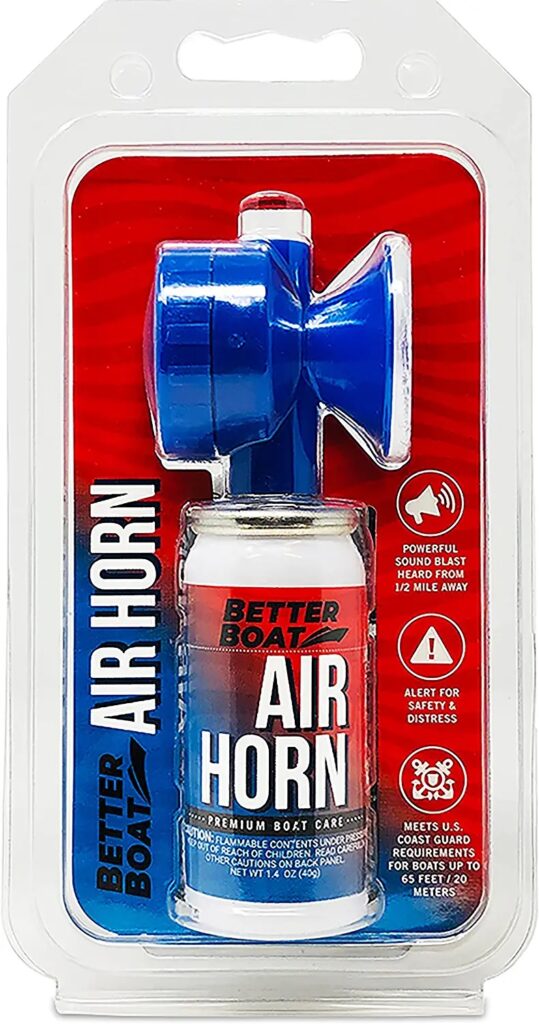 Details:
Airhorn emits an attention-grabbing loud blast of sound. Its small size makes it the perfect fog horn alarm for boating.
This premium hand held small air horn can is small enough to carry in your mini pocket when walking to use for safety or at graduation and is also easily stored on a boat, jet-ski, dinghy, kayak, or canoe.
Meets U.S. COAST GUARD REQUIREMENTS, HEARD FROM 1/2 MILE AWAY! Our Marine Air Horn for Boats meets requirements for boats up to 65 feet/20 meters. Don't let the small size fool you! The very loud air horns blast blow travels a half a mile away!
Our boat air horn can is made here in the USA to tested, trade-secret standards. Don't risk your or the safety of others by buying other loud noise makers for safety or portable air horns for sale from overseas!
Final thoughts:
We get a lot of use out of ours, every time we leave the marina. This is a cheap must have item for your boat. Tip: buy a few and stash them around the boat.
Emergency Whistle with Lanyard ($7.99)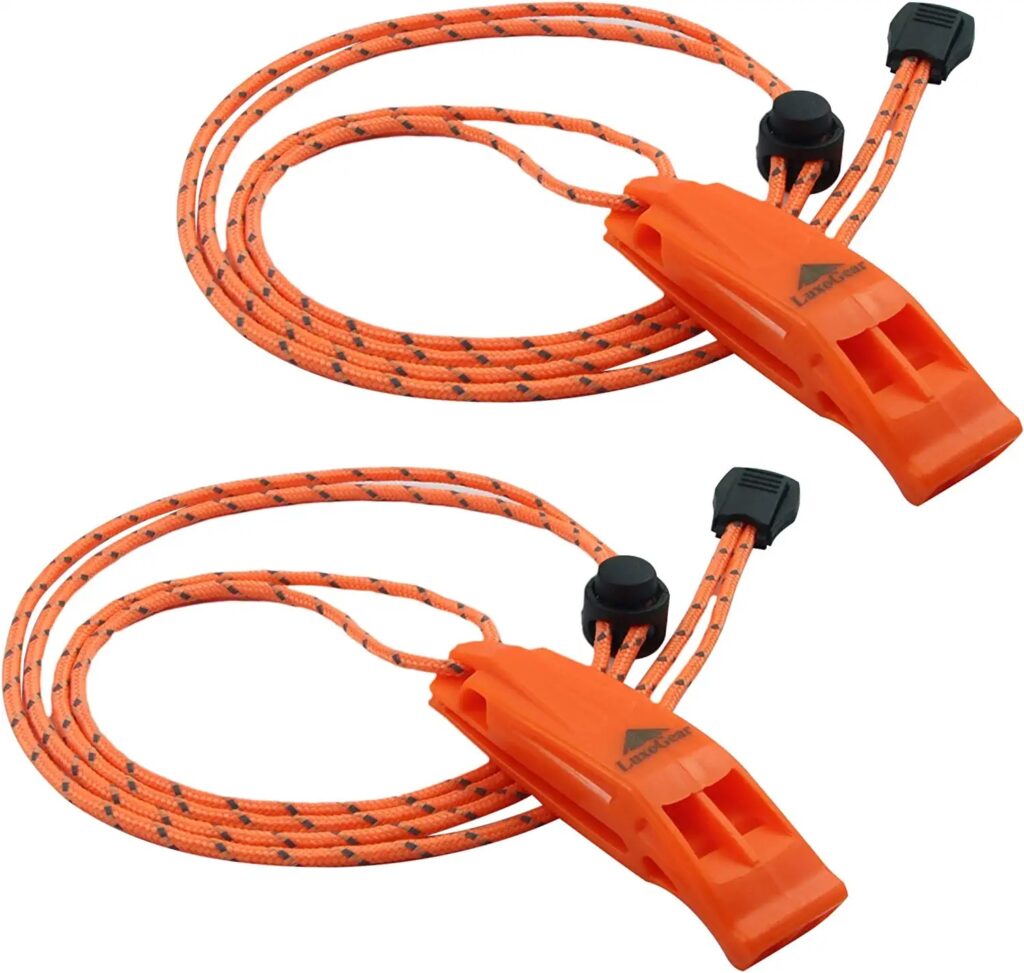 Details:
SUPER LOUD survival whistle: double tubes emergency whistle, high pitched powerful noise maker with dual sound chambers, can provide up to 120 decibel dB sound power, enough to be heard over a mile away. Cannot be overblown, works great as signal whistle.
No moving parts, nothing to obstruct sound, and nothing to jam, break or freeze. Lightweight and fail safe nice whistle works well in any conditions with excellent airflow design. Comfortable mouth grip, won't stick to lips like METAL ones in cold environments.
Durable high impact ABS plastic construction ensures strong durability and complete waterproof moisture resistance.
Final thoughts:
Its a whistle. Enough said.
Fire Extinguisher
A fire onboard can be dangerous, so it's important to have a fire extinguisher on hand in case of an emergency. If a fire were to start, you would want to be able to put it out as quickly as possible.
Marine-type fire extinguishers are specially designed for use on boats and other watercraft. They are typically made of stainless steel or aluminum and are filled with a special fire suppressant agent that is effective against both oil and electrical fires.
Marine-type fire extinguishers are an important part of any boater's safety gear and can help prevent serious damage to a vessel in the event of a fire.
See here for updated regulations effective April 20, 2022.
First Alert Fire Extinguisher, Marine Fire Extinguisher, White ($41.96)

Details:
UL rated. It features durable all-metal construction with a commercial-grade metal valve and trigger.
Corrosion-resistant, black powder coated steel.
Designed and approved for wall mount.
Marine and vehicle use.
Final thoughts:
This is another item I can say, thankfully we have not used ours. However, it is where we need it and it gets checked every time before leaving the dock.
Conclusion
These are just a few of the many safety items that you should have on board your boat. By being prepared and having these items on hand, you can help to keep yourself and your passengers safe in the event of an emergency.