Our Expert Picks for the Best Men's Ski Pants of 2023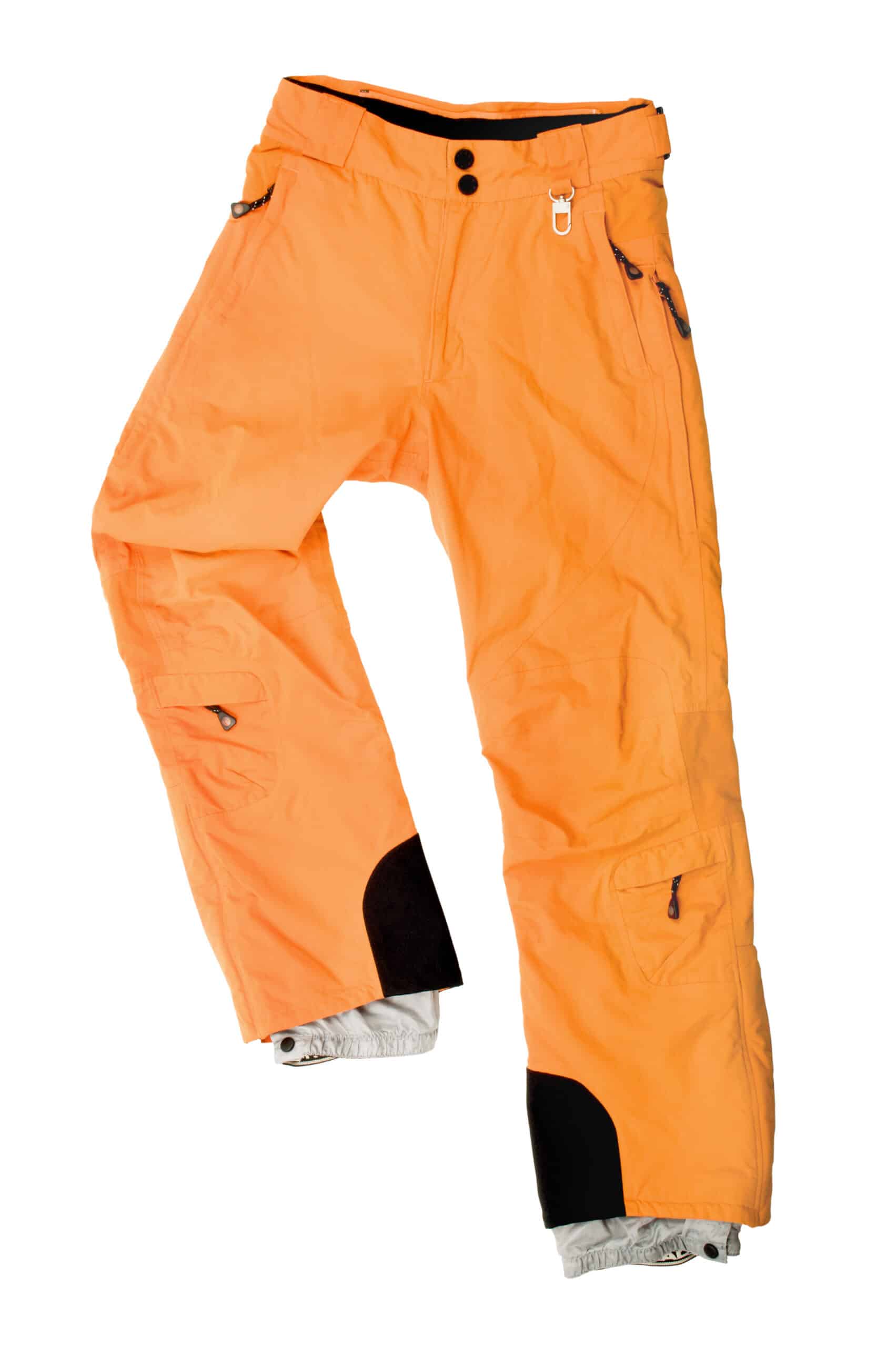 The days of shivering when hitting the slopes are over. Technology and innovation in mens ski pants have made it easier to manage our body temperature while skiing without sacrificing comfort or flexibility.
Owning a high-quality pair of ski pants is essential for keeping your legs dry and warm on even the coldest days with frigid conditions.
To help guide your search, we've rounded up some of the best mens ski pants for 2022/2023 with features like waterproof breathable fabric, insulation & more that will keep you comfortable no matter what type of mountain adventure you choose!
What Are the Best Men's Ski Pants?
It's important to make sure you buy pants that are waterproof, windproof, breathable, and able to move with your body as you turn, jump or slide down the slopes.
The most important thing to consider when looking for a proper pair of ski pants is the fit.
A great pair of ski pants will also come with features such as internal boot gaiters at the ankle, waterproof zippers, reinforced knees and seat area, side zips to vent for climate control, articulated knee for increased mobility, and pockets specifically designed for items like phones or wallets.
Then there is the look. Any proper pair of pants will go well with your ski jackets unless you are like me and leave the house without asking your spouse's opinion.
This site contains affiliate links to products. We may receive a commission for purchases made through these links at no cost to you. If you do make a purchase, we cannot thank you enough. It keeps our fridge stocked with caviar and champagne. Just kidding, of course, but seriously we genuinely appreciate it when you use our links to make your purchases.
---
Flylow Chemical Pant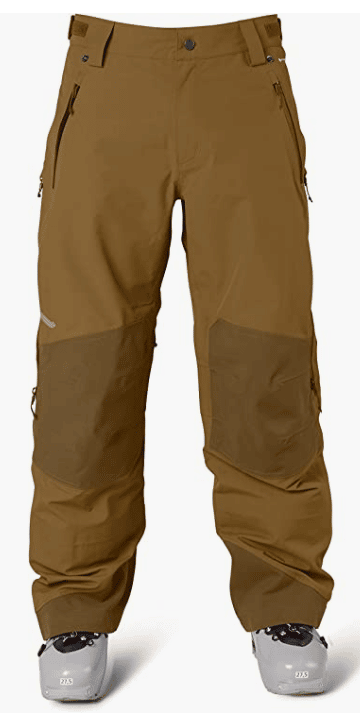 Overview
The perfect blend of classic styling with modern functionality. Constructed using Surface 3-layer fabric to protect you from the elements and its Durable Water Repellent coating helps you stay dry in stormy weather. The pants also feature articulated knees for added mobility and comfort, fully waterproof zippers, ample thigh venting, and reinforced knees and scuff guards for additional durability.
Features
Type: Hardshell
Material: 100% polyester
Waterproof Technology: DWR
Cut: Relaxed or baggy fit
Insulation: No
Vents: Inner and Outer Thigh
Recco: No
MSRP $365
Our Take
I really like the inner and outer thigh zippered vents on these. I can cool down really quickly. They are relaxed enough to allow for full movement when snowboarding but a little too relaxed fit for me when skiing. No cargo pockets either. You typically cannot go wrong with Flylow gear.
---
Helly Hansen Elevation Infinity Shell Pants 2.0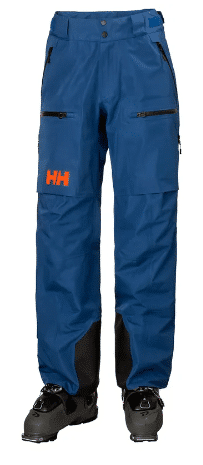 Overview
The Elevation Infinity Shell ski pants were created for outdoor adventurers. They come with a range of essential ski features while incorporating LIFA® Infinity Pro™ technology: an innovative fabric with everlasting waterproof and breathable abilities. The shell was further enhanced by design changes based on pro skier feedback. This resulted in adjustable waists, hip pocket D-rings for transceivers, and reinforced hems for added durability.
Features
Type: Hardshell
Material: 100% Polypropylene
Waterproof Technology: LIFA® Infinity Pro™
Cut: Relaxed
Insulation: No
Vents: Outer thigh
RECCO®: Yes
MSRP $550
Our Take
Expensive! But awesome. I love the waterproofness of these pants and the outer vents. The thigh pockets are well positioned. One bonus for these is with respect to the environment. Their waterproofing is achieved without the use of chemicals.
---
Helly Hansen Legendary Pant
Best Insulated for Resort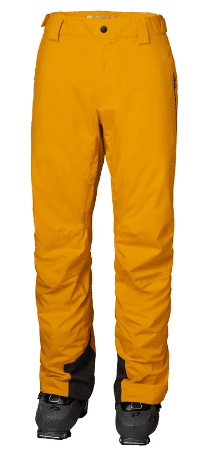 Overview
Get ready for whatever Mother Nature throws your way with these best-selling resort ski pants. Made with our unique HELLY TECH® Performance construction, they make sure you stay dry and comfortable while not compromising on mobility due to the two-way stretch fabric. On top of that, we included PrimaLoft® insulation and thigh vents which will help you keep your body at the right temperature no matter what the conditions outside may be. The durable water repellency treatment seals moisture out, while the articulated knee and reinforced bottoms protect against wear and tear.
Features
Type: Insulated
Material: 100% Polyester
Waterproof Technology: Durable Water Repellency (DWR)
Cut: Relaxed/Straight leg
Insulation: PrimaLoft®
Vents: Outer vents
Recco: No
MSRP $200
Our Take
Great resort pants with many features at a lower cost, missing the RECCO®, but not really necessary if staying within the resort. They fit nicely, and the vents are great, but no thigh pockets. They keep you warm and dry. If you are a beginner downhill skier, these are a great start and an affordable choice.
---
The North Face Insulated Freedom Pants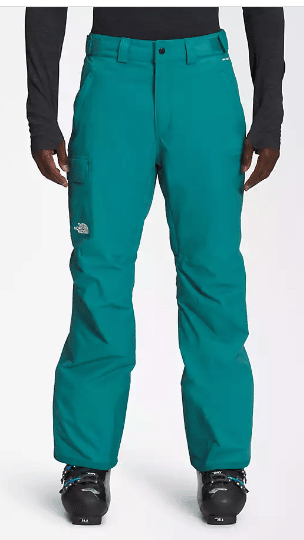 Overview
This advanced version of The North Face Freedom includes a waterproof and breathable DryVent™ 2L shell with a non-PFC DWR finish, providing maximum protection from the elements. Its Heatseeker™ Eco insulation offers efficient warmth, even when wet. For added convenience and versatility, there are zip-fly with a snap closure waistband with adjustable tabs, belt loops, secure-zip hand pockets, a cargo pocket on the thigh with hook-and-loop closure, and articulated knees. These pants have Chimney Venting™ system, StretchVent™ gaiters with gripper elastic and reinforced kick patches and hem.
Features
Type: Insulated
Material: 100% recycled nylon
Waterproof Technology: DryVent™ 2L with non-PFC DWR
Cut: Relaxed
Insulation: Heatseeker™
Vents: Inner thigh with Chimney Venting™ at the gaiters
Recco: No
MSRP $169
Our Take
I really like the fit of these North Face pants for skiing, but not a fan of the single cargo pocket off to the side. The North Face venting system they've designed works great when you want to cool down quickly. I also like the fact they use recycled nylon and polyester products in the construction, which North Face is one of the few who do.
---
Outdoor Research Skyward II
Best Bargain for hardshell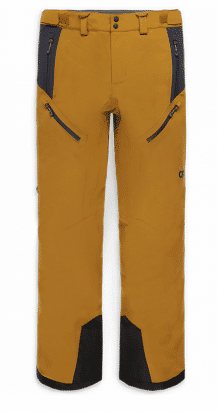 Overview
The Outdoor Research Skyward II pants are revolutionary for alpine-sport athletes. These men's snow pants feature premium AscentShell™ technology, a three-layered electrospun membrane with impressive breathability and wind resistance that securely keeps the dampness away. This top-of-the-line technology guarantees ultimate waterproofing, shielding you from even the most substantial downpours – perfect for those unexpected mountain weather changes. Beyond their wonderful performance capabilities, these pants have one more invaluable feature: an avalanche beacon pocket.
Features
Type: Hardshell
Material: 88% nylon, 12% spandex
Waterproof Technology: AscentShell™
Cut: Straight leg
Insulation: No
Vents: Outer thigh
Recco: No
MSRP $329
Our Take
Another great pant for skiing and reasonably priced too for what you get. The beacon pocket is a nice added bonus—excellent placement of the pockets. This is your go-to pant if you are looking for great-priced pants for the backcountry. It might be priced a little too high for a beginner alpine touring, and they do have other more budget options, but these pants are built to last.
---
Black Diamond Dawn Patrol
Best Backcountry Softshell

Overview
These pants are designed for comfort and durability. The pants are made with four-way stretch double weave softshell fabric with a DWR finish to provide superior breathability and mobility with extra protection from the elements. Mesh-backed vents along the legs cool you down during long uphill treks, and full separating side zips with integrated snow gaiters make it easy to access your boots while keeping snow out of your pants. For added protection, reinforced instep patches protect against sharp ski edges and crampon points.
Features
Type: Softshell
Material: 63% nylon, 26% polyester, 11% elastane
Waterproof Technology: DWR
Cut: Regular/Straight leg
Insulation: No
Vents: Outer leg
Recco: No
MSRP $215
Our Take
I love the price. I'm not a big fan of a soft shell pant, but these are comfy with their four-way stretch. I build up heat in these quickly, and the extended outer side zips are great at dumping heat! Another excellent pant for the beginner looking to get in the backcountry.
---
Patagonia Stormstride Pants
Best Backcountry Hardshell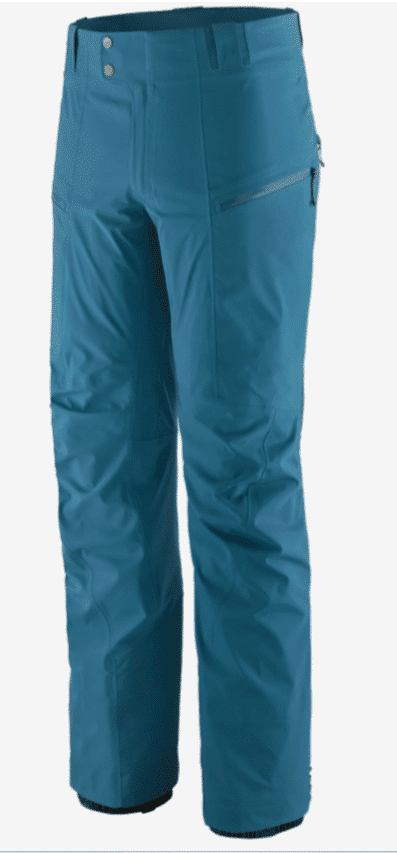 Overview
The Stormstride Pants offer absolute weather protection to perform confidently in any setting. Uncompromisingly designed with a lightweight, stretch 3-layer 100% nylon plain weave and H2No® Performance Standard technology, they provide reliable waterproof protection while allowing full mobility and range of motion when you need it the most during your high-output pursuits. They are Fair Trade Certified™ sewn to ensure maximum durability every step of the way.
Features
Type: Hardshell
Material: 100% nylon
Waterproof Technology: H2No®
Cut: Slim, Athletic Fit
Insulation: No
Vents: Outer thigh
Recco: Yes
MSRP $449
Our Take
They are expensive and pretty darn awesome pants for backcountry skiers. It has two thigh cargo pockets, which I like, but for the most part, these pants are not for me. They are too expensive and have a slim cut.
---
What Do I Look for in Ski Pants?
When it comes to buying ski pants or snowboard pants for myself, there are a handful of little things that go above and beyond waterproofness, warmth, and a relaxed fit. Those are going to be the main three concerns, but there are many other aspects of a good pair of pants I'm looking for.
Pockets, four pockets in total. Everyone needs or wants pockets. I look for cargo pockets with waterproof zippers on each leg in the front. Preferably two thigh pockets situated about mid-thigh. This is an excellent spot for my phone and a trail map.
The pocket height ensures that when I'm sitting on the chairlift, whatever is in the pocket is not creeping over my knees. A couple of hand pockets at the waist are nice if they are not too deep. These are good for lip balm.
I prefer belt loops over velcro tabs for cinching down the waist, and some pants come with removable suspenders. I like to wear merino wool layers underneath my outer coat, and the velcro will scuff up the merino fabric.
Another must is zippered vents or hip vents to let out excess hot air. Some pants offer inner leg vents as well. These are very nice to have. Remember to zip them back up before you start to get cold again. Most pants will have the powder cuffs already, but it is something to look for as well as scuff guards at the lower legs to help prevent tears from ski edges or your boot buckles.
Insulated, Softshell, or Hardshell Pants?
The easy answer is both. If you are just a couple times a year skier, then you could probably get by with just the insulated pants for your ski gear needs. But, if you are an avid skier, ski bum, ski coach, or instructor, one of each is a must. Or more.
With insulated pants, you can cover the extremely cold days by wearing a base layer and your ski pants. For a day that is cold but not bone-chilling cold, the insulated pants by themselves are enough to keep you warm.
With soft shell pants or hardshell pants, you can easily wear your base layers underneath or, for those warmer bluebird days, just the shells themselves. Another aspect to think about is what type of skier you are. Are you resort skiing like most skiers, hanging out on the groomed runs all day, casually skiing or boarding? Or, are you like many skiers charging the slopes off and on piste, deep powder, and the groomed runs?
Then the hardshell pant may be the one for you. In contrast, the insulated pants are for the casual type. Backcountry skiers and boarders tend to wear hardshell, and you work up a lot of excess heat touring the backcountry. Spring skiing is another time when either softshell pants or hardshell ones are enough.
What is an Insulated Pant?
Insulated pants are designed for those who love to partake in cold-weather activities. They offer a layer of warmth that other pants cannot match. These pants are designed to keep you warm even in the frigid temperatures found on the ski slopes or while outside in the winter months.
As an added bonus, insulated ski pants also provide windproofing, protection from snow and ice, and enhanced waterproofing properties, along with taped seams, ensuring you stay comfortable no matter the conditions.
What is a Softshell Pant?
Softshell fabric ski pants provide an optimal combination of comfort and mobility while providing excellent weather resistance and breathability, making them ideal for activities such as skiing and snowboarding.
These lightweight performance garments are crafted with various materials designed to ensure free movement while protecting you from wind, cold temperatures, and dampness. This style of ski pants offers the perfect blend of form, function, and style, allowing you to hit the slopes in confidence without sacrificing performance.
This is going to be most popular with backcountry skiing. They allow for easy movement and breathability, a must when ski touring.
What is a Hardshell Pant?
Hardshell ski pants provide insulation and keep moisture out, which is essential for staying warm and comfortable when skiing. Made from a hard outer shell fabric material, such as nylon and polyester, these pants are designed to protect against winter weather and tough terrain.
For the skier who wants strong protection while they shred the slopes, investing in quality hardshell ski pants is an excellent way to ensure optimal comfort and weather protection during your adventures this winter.
What are the Popular Types of Waterproofing Fabrics?
GORE-TEX – Arguably the most widely used material. It was created in 1969 by Wilbert and Robert Gore and has since been utilized not only for its ability to keep out external moisture but also to allow perspiration produced by the body to escape.
This breakthrough technology is used in a variety of products, including winter apparel, camping gear, and even footwear! Due to its smart design, the Gore-tex membrane continues to be a staple in the outdoor industry as it provides protection from all sorts of elements while still giving you a comfortable experience.
H₂No – The H₂No Performance Standard is meticulous in inspecting waterproof materials and products. It does not rely on any single material or technology but instead tests quality over a prolonged period of time. The goal is to guarantee long-term waterproof performance and breathability, which can only be confirmed through rigorous lab and field tests.
By investigating four key components—waterproofness, breathability, surface repellency, and durability—we can set a high bar for our H₂No fabrics. Despite the apparent challenge of recreating Mother Nature's conditions in the laboratory, these tests still provide us with an invaluable baseline for gauging quality. This rigorous testing is paramount for ensuring outstanding waterproof performance across all products bearing the H₂No label.
DryVent – DryVent™ by North Face are fabrics engineered to provide the highest level of protection, performance, and comfort for users engaging in various activities and adventures. The waterproof, windproof, breathable multi-layered textiles are treated with a durable water repellant that helps form droplets and repel water from the surface.
In addition, each DryVent™ product is designed with performance features that are tailored to the activity needs of the user in specific conditions. Moreover, all pieces are fully seam-sealed and tapeless to ensure complete waterproofing. All these characteristics make DryVent™ an ideal choice for individuals looking for clothing and accessories that will keep them dry and comfortable throughout their adventures with North Face products.
AscentShell™ – AscentShell from Outdoor Research offers a completely unique and revolutionary fabric. This waterproof, breathable three-layer fabric lets you move freely without worrying about the elements. The fabrication process is quite advanced, using a combination of electrospinning with charged polymers affixed to a grounded surface.
Therefore, AscentShell equips you with the ideal apparel for tackling outdoor adventures in any weather. Broadening your comfort zone during aerobic effort, it's an optimal choice no matter where your journey takes you.
DWR – DWR is a game-changing coating used in the winter sports outerwear market. It enables apparel makers to manufacture snowboard and ski pants that use softer, more breathable materials that still repel water – something never possible before.
This means high-performance technical wear can now also feel comfortable as they no longer need to be stiff and crunchy like a nylon shell. Wearers of such performance outdoor gear can stay warm and dry while not sacrificing comfort or mobility – making winter sports more enjoyable than ever!
What Are the Best Men's Ski Pants?
It is simple. The best ski pants and snowboard pants will not only keep you dry and warm but also fit comfortably and allow for a full range of movement while skiing or snowboarding. And Flylow gear hits the mark with their Chemical Pants.
The best ski pants will provide warmth all day, keeping wet weather at bay while simultaneously allowing you to move freely so that you can confidently tackle all terrain easily.
And because ski pants should be able to do more than one thing well – warmth, dryness, and comfortable range of motion – choosing the right pair is essential for a successful ski excursion.
Conclusion
When it comes to the best ski pants or snowboard pants, finding the right pair is essential. If you are the sort of person that needs to try pants on first in a store, I'd recommend your local REI Co Op.
There are many different features and styles available, so make sure you find a pair that fits you well and provides all the necessary features for a successful day on the slopes.
With the right pair of mens ski pants, you can stay comfortable and dry no matter what type of mountain adventure you choose! So what will your next pair of ski pants be? Now you might be telling yourself. Pants are not for me. I've got to have a chest pocket. Well, to that, I say check out Flylow's Baker Bib.
Now go hit that ski hill. Happy skiing!