Oregon to South Dakota: Pacific Horizons to The Prairie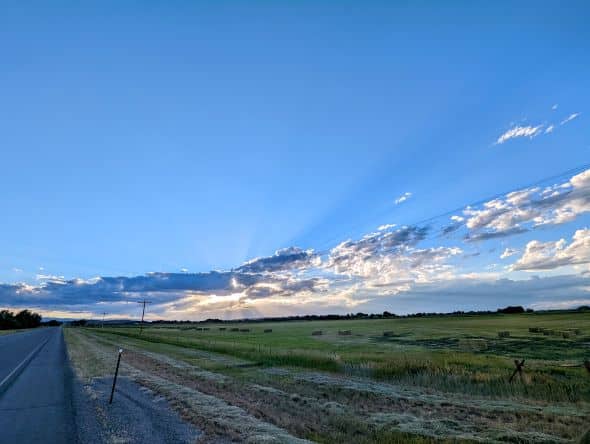 The Road Trip Begins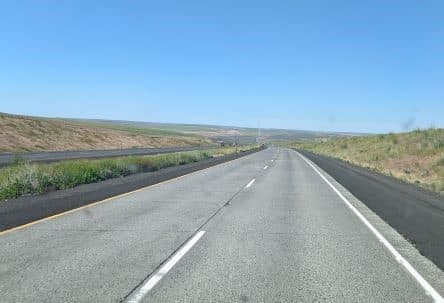 It is Tuesday morning, and we are headed out of town. Today's weather is nice, and the winds are light (in high winds, the high-roof van likes to move around a bit, which is not fun). And what should come across my phone is a travel alert for Interstate 84. About 30+ miles or so outside of Portland, a crane truck has overturned and shut down all eastbound traffic. Great, just great.
So, I quickly pivot to head east on Hwy 14 out of Vancouver. While this highway is a nice scenic drive through the Columbia River Gorge as well, it is a much slower one. Painfully slower. The traffic was not moving along too badly until just north of North Bonneville, and it came to a very abrupt slowdown.
Upon getting closer to the Bridge of the Gods, it was easy to figure out the traffic was due to the accident across the river. The County Sheriffs were only letting locals across the bridge, so not too many vehicles were allowed to turn off the highway to cross over into Oregon.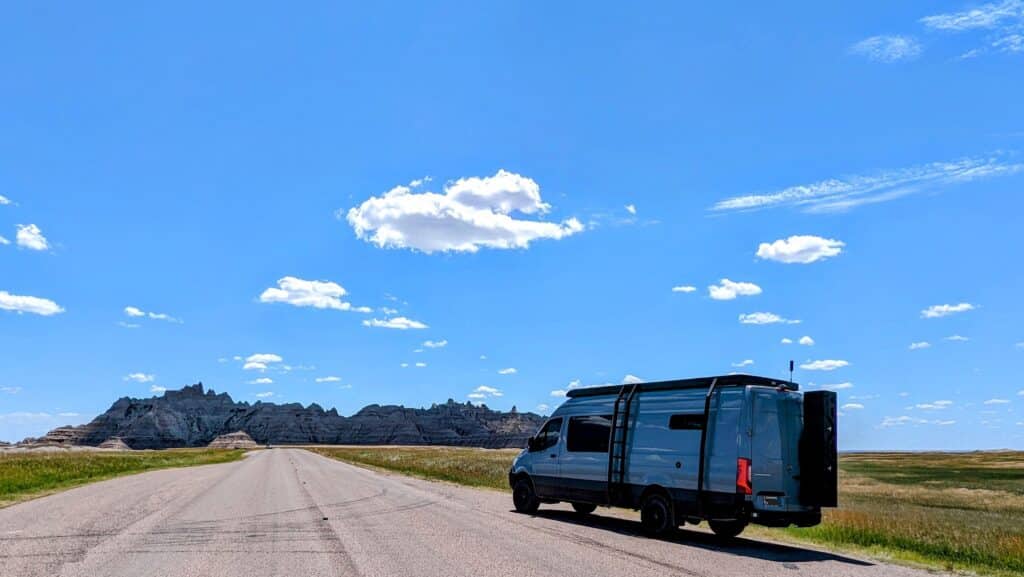 Well, it was pretty slow from here until White Salmon, where it got really slow again. It was the same scenario across from The Dalles, slowing traffic for people wanting to cross the river. Fortunately, most folks headed over the river at this point to get back onto I84. I chose to keep driving east on Hwy 14 until Maryhill/Biggs Junction (no toll bridge either).
By now, it is mid-afternoon, and I should have been a lot further down that road than I am. So I know I'm going to be driving later into the night since we had reservations for the following night in Spearfish.
Rewind…
Our plan about a year and a half ago was to sell our primary home in Oregon and move into the van for a couple of years while traveling around. For the most part, we've stayed with that plan.
At some point, we knew we would have to change our domicile, but figured that'd be down the road. Well, fast forward 9 months, and we receive a letter in the mail from our lovely Governor stating we had 45 days until our driver's licenses would be revoked or something to that effect.
Basically, kicking us out of Oregon because it was determined we did not have a primary residence or another acceptable domicile in the state. So we were being kicked out. That is how we looked at it.
We had already investigated where we would be moving to. It was just not in the plans yet to make it official. Well, now it was.
We had a trip scheduled over the 4th of July Holiday that would take us to Jackson, Wyoming. We were going to do a few things around there, head up to the Grand Teton National Park and on to Yellowstone National Park.
So we figured, no problem, we'll just pop over to South Dakota and get everything taken care of.
When it comes to full-time traveling, there are a few things that you'll need an address for, okay, maybe more than a few but whatever. Taxes, insurance, and mail are our big three. When it comes to taxes, South Dakota does not have a state income tax (bonus).
Insurance, well, we receive docs for various policies quite often, and for some reason, they cannot do paperless when it comes to policies (so annoying!). Mail, and just various other pieces of mail a person gets in life.
So, for these three items, we needed to obtain residency in the State of South Dakota. It was super simple! South Dakota is very accommodating when it comes to full-time travelers, and by full-time, I mean they do not have a primary residence to go back to or a domicile they reside in for more than 6-months out of the year.
We are constantly on the move; sure, we stay in some places several times a year, but never for very long, certainly not long enough to consider it a domicile.
For South Dakota, you have to show you have stayed in the state for at least one night to become a resident. This can be a hotel, motel, RV Resort, campground, or Hostel as long as they supply you with a receipt with your name and an address within South Dakota, i.e. a mailbox.
In our case, we went with South Dakota Residency Center in Spearfish for our mailbox needs. So our mail is now sent there, and they notify us when something has arrived. They'll hold for pick, open and scan, or shred upon your instructions. They'll even forward your mail somewhere else if need be. This is all for a charge, of course.
Once we have obtained these two items, we can head to a DMV and apply for a South Dakota driver's license. Of which, we are officially South Dakotans with South Dakota driver's licensees.
Now, this has only happened fairly recently, so we do not have a very long track record with the state yet or the mailbox center, but so far, it's been pretty easy.
A small note: I'm not sure what state you live in, but the Oregon DMV is like a root canal with no numbing. It is horrible. Getting a simple task can easily take a couple of hours. South Dakota, I was in and out of there in ten minutes with a new license in hand, no temporary license, and then waiting for the real one in the mail. Now I can only speak to the expediency of the DMV in Spearfish and Rapid City.
Back to the Road Trip
Back to the road trip at hand. As it happens the activities in Jackson, Wy fell through which were to take place at the beginning of our trip, so we had to change things up a bit but was not a big deal. Since we did not need to be in Jackson first, I chose the route through northeast Washington and across Montana, dropping into Wyoming and then cruising into South Dakota.
During this trip through Montana, we only made one must-do stop. And this is at St. Regis Travel Center, not for fuel, not for a bathroom stop, but for the best huckleberry milkshake I've ever had. They are famous for a reason. They are just that good! They also have the St. Regis Dog Park right across the street to let the dogs run around.
There are a couple of RV parks and campgrounds in the area, but they need to be booked ahead of time. The day of does not work too well for this area.
Now that I am driving later into the night in order to make it to Spearfish on time to check into the RV park. I made it a little east of Missoula, Montana, however, I was not planning to stop just yet, but I needed fuel and then realized I was getting pretty tired.
So, this particular stop had a large parking lot in the back, and in the name of safety, I decided it was time to sleep.
Spearfish, South Dakota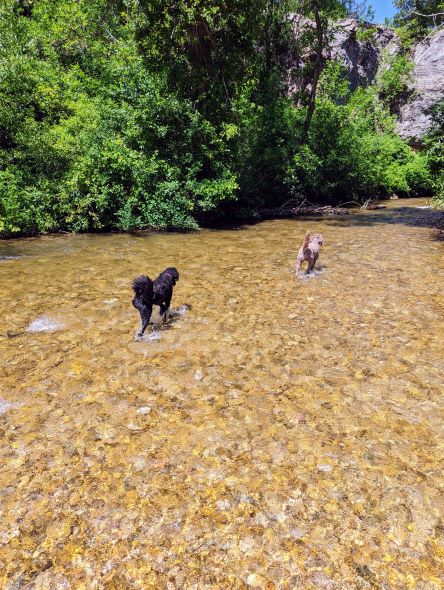 The following morning, bright and early for me, it was time to get back on the road with a fresh cup of coffee and a full tank of fuel. This was another full day of driving, but we made it into Spearfish prior to the office closing. I have to say. It has been a long time since staying at a KOA. I mean a long time, maybe 30+ years. The KOA in Spearfish is pretty dang nice.
Stocked convenience store, a small cafe with ice cream socials, many clean bathrooms, and individual shower rooms. I would highly recommend this KOA to anyone passing through.
This first night in South Dakota qualified as our one night of stay in the state. The second item is now checked off our list before the DMV. After a good night's sleep, it was time to pick up mail from our new mailing address. We stopped in at the South Dakota Residency Center, which is our new mailing address, to pick up our mail.
Now that we have mail that is addressed to us with our South Dakota address, our third and last item needed, we were able to go to DMV. The DMV in Spearfish is in the City Hall Meeting room. I'm not sure if this is a temporary thing or not, but it is not open full-time, so if you do plan on stopping there, be sure to check their hours, as it is not five days a week operation.
Due to timing and pre-scheduled online meetings I was the only one able to utilize the Spearfish DMV. Everyone that visits the DMV is required to fill out a form prior to talking to a state employee. This form is simple and quick to fill out.
I am not understating the time it took to get my new license, it was about ten minutes. That included the person looking at my documents, taking payment, doing an eye test, and getting my picture done and out the door.
I was thoroughly amazed at how efficient they were. Now the only documents they wanted to see were the receipt from our overnight stay with my name on it, verified the mailing address on the receipt, and the piece of mail had the same address.
They also checked my current state driver's license was active (if your license is suspended, you cannot apply for a driver's license in South Dakota or any other state, I imagine). I also needed to fill out and sign a Residency Affidavit attesting to my new residency. When not traveling, I would be returning to South Dakota, and I do not maintain residency in any other state.
With my new South Dakota license in hand, it was time to go see our new downtown area of Spearfish as well as a few local sites. PHOTO It was still fairly early in the day and I needed (wanted) another coffee. Upon a recommendation from the SD Residency Center, I stopped in at Blackbird Espresso and walked out with two large americanos and an acai bowl.
Looking at our navigation in the van, we saw a good size park close by with a river running through it. We drove over to City Park, there was a lot of parking, but it was a busy park this particular morning.
Whenever the dogs see a large patch of green grass, they assume they are going to get to play, so they get all excited. Along the backside of this park runs Spearfish Creek, a shallow, rock pebble bottom and refreshing cold water.
We all walked up through the creek enjoying the cool water. Once we had our fill it was time to head east toward Rapid City for the next few days of our trip. It is not a very long drive to Rapid City and you do pass through the infamous town of Sturgis.
Rapid City, South Dakota, and Mount Rushmore National Memorial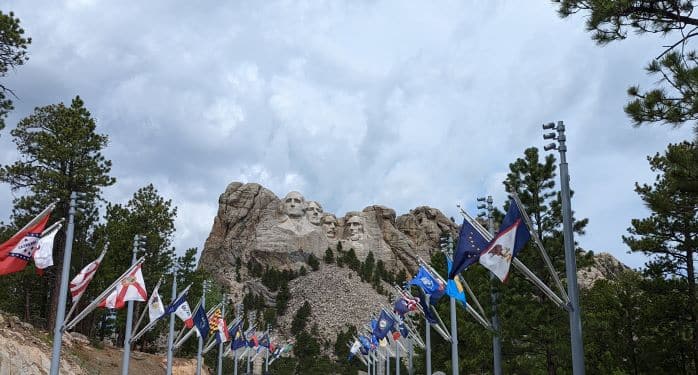 Once in Rapid City, we needed to run some errands to get some items for the van and check in to another KOA, this KOA was nice as well. Friendly and super helpful staff. We spent the rest of the day at the RV park planning out what to see and in what order. We wanted to see Mount Rushmore National Memorial, Badlands, and Crazy Horse Memorial.
The following day we chose Mount Rushmore as our first stop and then onto Crazy Horse, so after breakfast and a coffee or two, we got on the road. The drive out there is quick and easy from Rapid City. I'm not sure if it was the time of day, day of the week, or what, but there was not a lot of traffic during any of our drives out there.
Once we headed down into Keystone, cars started to bunch up a little but only to take in the sites of the buildings and activities abound through the town. You now head up towards Mount Rushmore, and we were the third vehicle in line for the entrance. Parking was easy, and the spots for RVs or vans are a good size.
It was only a short walk up to the memorial, and we spent a little bit of time taking in all the information and reading the various memorials installed around the grounds. We did not walk the Presidential Trail or go to the Sculptors Studio but chose to take it all in from the Lincoln Borglum Patio overlooking the amphitheater.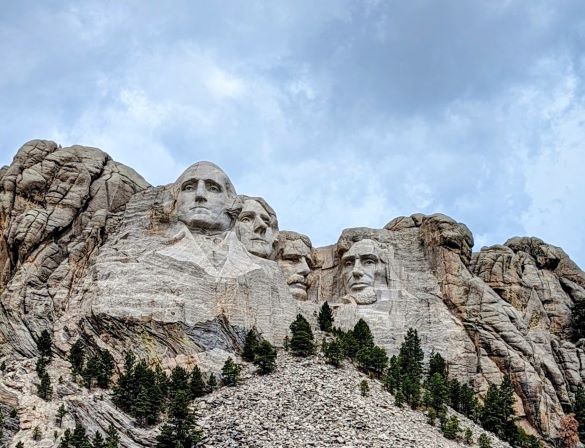 It is quite a site to see, and amazing how large they are and the detail you can see from where we were standing. After walking around the grounds a bit, we decided to check out the gift shop. We have a thing where we buy a patch, taken, or sticker from each National Park, Monument, or Landmark we visit and mount it on a wall in the van.
So we had to do a walk-through of the gift shop. This is where all the people were, this place was packed. and there was a long line to pay for our trinkets.
We noticed there were quite a few people walking around with ice cream cones (if you've read any of my previous posts, you know I'm a sucker for ice cream), so obviously, I was getting a desire for some ice cream.
My arteries were thankful the line for ice cream was a little too long for my liking, so we decided to get back on the road to Crazy Horse. One really cool stop after leaving the memorial is just around the corner at the Mt Rushmore Profile View, just a completely different perspective of the faces.
Small Side Note
Some of you may be wondering what we did with our two girls (Goldendoodles I refer to as our two girls) while we were walking around Mount Rushmore. Well, our van does have an AC unit installed for the interior living areas of our van.
So if I mention the weather is warm, be rest assured our two girls are quite comfortable with an AC blowing nice cool air on them while they sleep lying on their backs without a care in the world.
Crazy Horse Memorial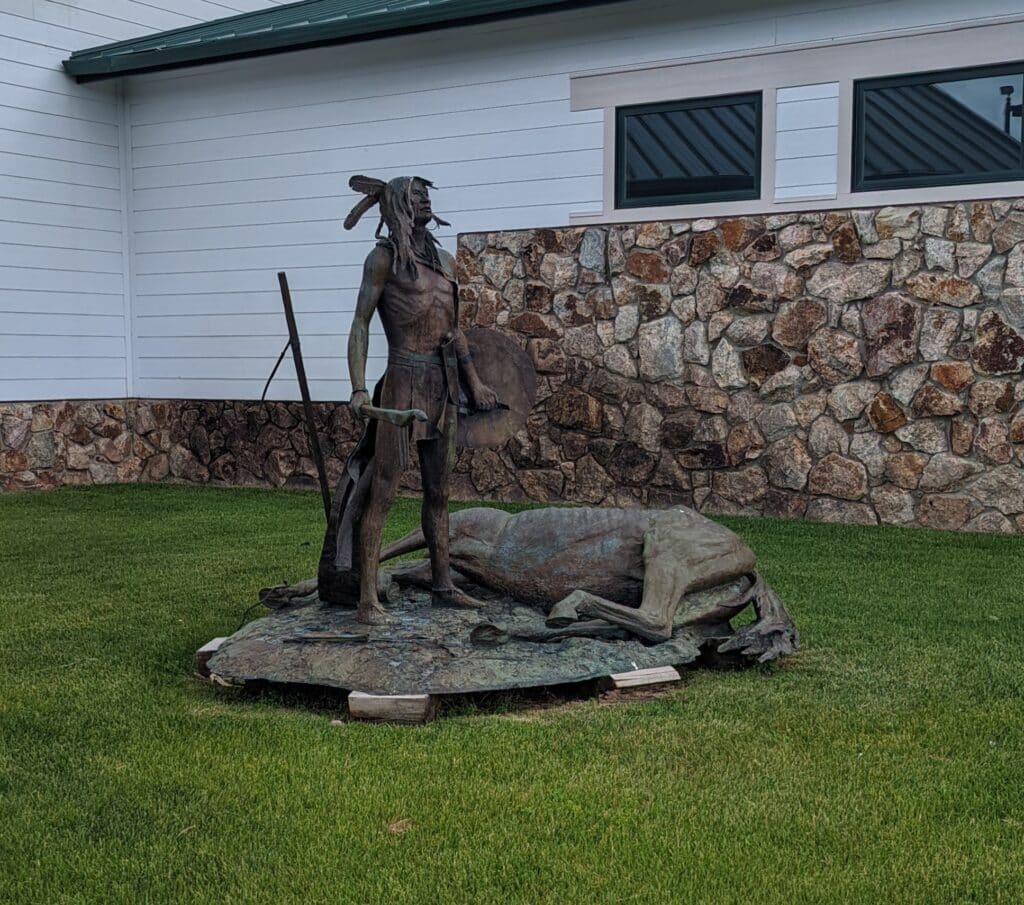 Crazy Horse is not too far from Mount Rushmore, so the drive is nice and short. Again, for some reason, there was not a ton of traffic. Once we turned down the road for Crazy Horse, we quickly see traffic backed up to get into the Tourist Center, but there are a few different lines, and they are moving along rather smoothly.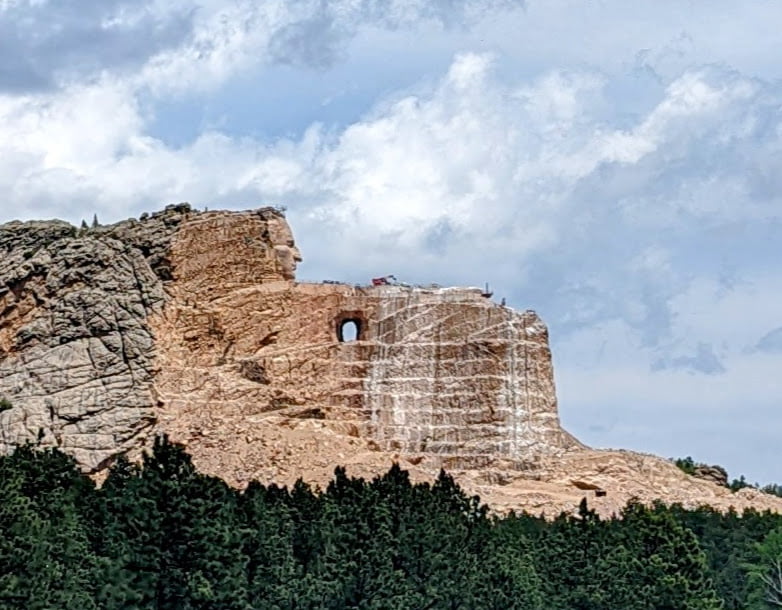 In no time were we headed down the driveway up to the Indian Museum of North America. Driving up the driveway to the center, you are hit with a fabulous view of the Crazy Horse Memorial and how large it is. Now, this memorial was started before I was born, started in 1948, and I'm pretty sure will not be completed in my lifetime, is a sight to see.
When you get inside the center you'll see just how expansive this memorial will be when done. It is one very ambitious project and will be very impressive, I only wish I could see it when it is completed. When it is completed, not if, it will be the second largest statue in the world, second only to the Statue of Unity in India.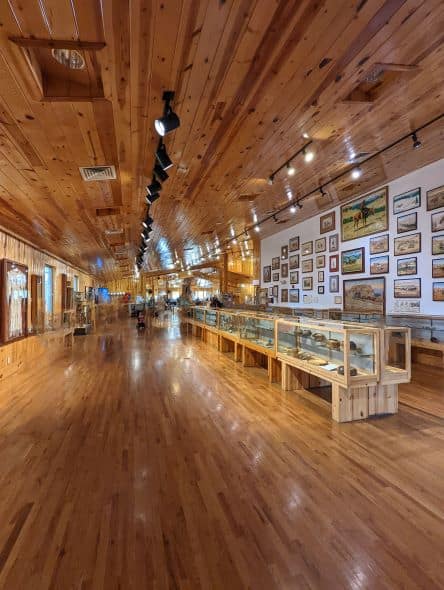 When entering the center, you are immediately hit with the dedication and passion that has gone into the museum / interpretive center. There is a lot of history in this building and really gives you a sense of the people living here long before anyone else. On a weird side note: the tourist center offers free ice water.
The interior of this tourist center is pretty big; if you are the type of person that likes to look and read everything posted, it'll take you quite a while to get through, do yourself a favor and see as much as you can.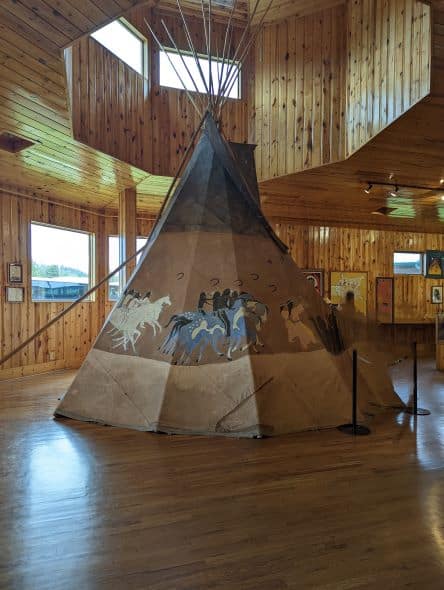 There is a bus tour, $4 a ticket, and lasts about 25 minutes. It'll get you a lot closer than just viewing from the Tourist Center. One amazing thing to me was seeing the construction equipment on the memorial and how small they were in comparison, they looked like little toys sitting up there.
Badlands National Park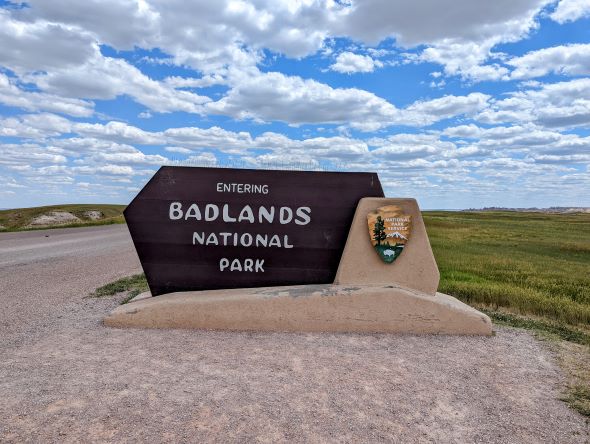 For our third day, we drove out to Badlands National Park; this place is awesome, filled with layered rock formations, canyons, and towering spires. We entered the park from the western entrance out of Wall, South Dakota, and drove the Badlands Loop Road east on highway 240; this road is about 40 miles and loops you back up to I-90.
There are many wonderful scenic overlooks and several trailheads right off the road. My favorite overlook was White River Valley Overlook and a turnout a few miles past there. It may have just been the time of day, but the sun was hitting the hills just right. We were fortunate to see some bison, bighorn sheep (walking right in front of us), lots of birds, and a lot, I mean a lot of prairie dogs.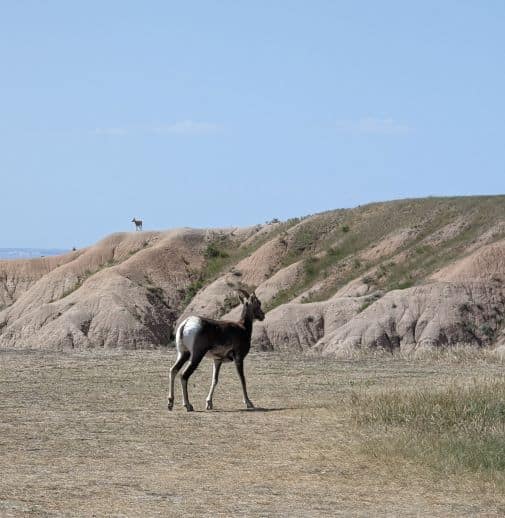 Unfortunately, we did not see any pronghorn or mountain goats, maybe next time. When we visit there again, I'd like to drive through it during a sunrise or a sunset, or better yet, just boondock or get a campsite.
Wall Drug Store, Wall, South Dakota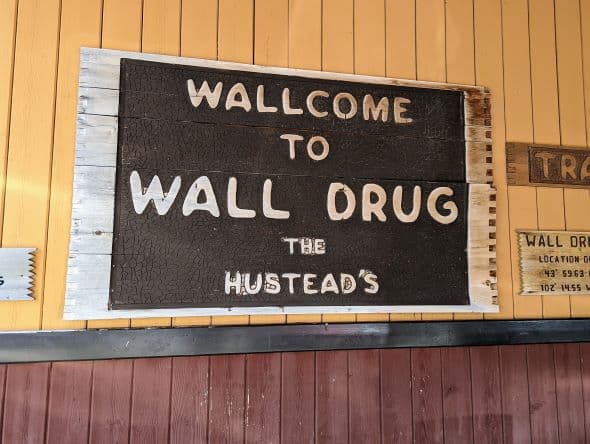 If you are driving back through Wall, you have to stop at Wall Drug Store. This place is big, so plan for extra time to spend walking the isles of the many stores. And yes, there is ice cream here too. This is a very popular place, so there can be a lot of people. If crowds are not your thing, then you may want to avoid them, but it is a sight to behold.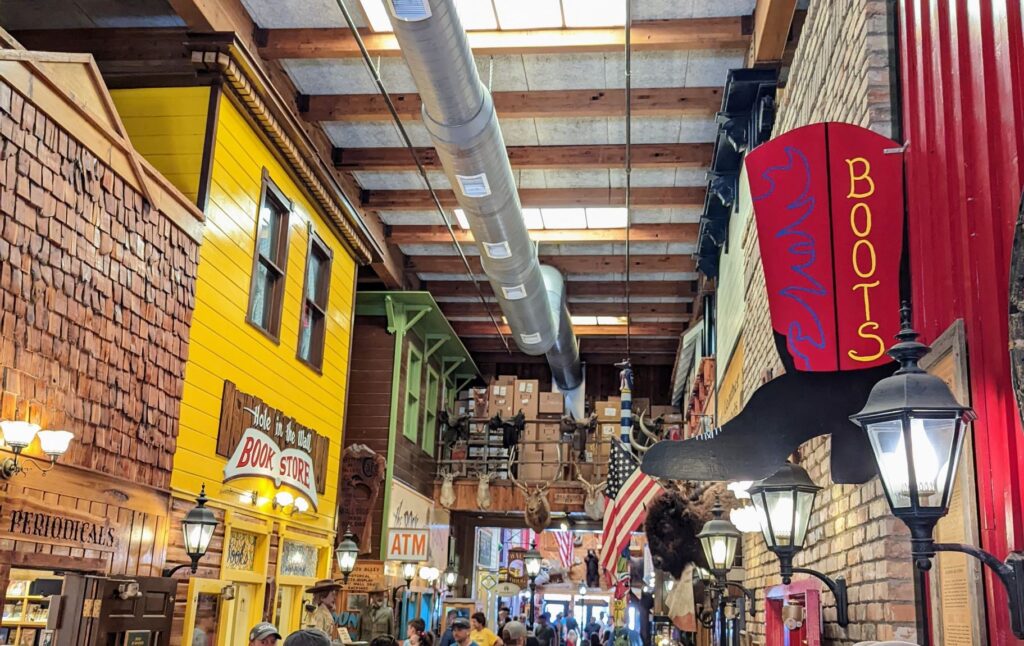 You can still drive down the main street and witness the western-style buildings. A great place we were told to visit by the flapjack chef at the KOA was the Custer State Park, but since the Badlands took a major part of the day, we did not have time to visit.
Then come to find out, a lightning storm that came through the area that evening sparked a fire in the state park, so we decided to head back west, bypassing the park the next morning.
Devils Tower National Monument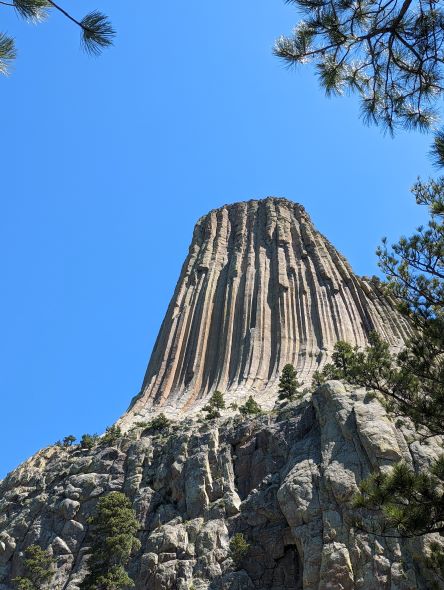 Since Custer State Park was a bust, we headed out towards our next stop, Devils Tower National Monument in Wyoming. It was going to be a couple of hours detour off the main highway. Wow! this place is amazing. It has a decent walking path around the entire monument and it is paved and no steps, so it is wheelchair accessible.
The path is about 1.3 miles long, with minimal inclines or declines. Fun Fact: Devils Tower was the first United States national monument, established in September 1906, by then, President Theodore Roosevelt. I'll admit, this one is a little out there in the middle of nowhere, but if you happen to be driving through the area, it is a must-see; you will be in awe.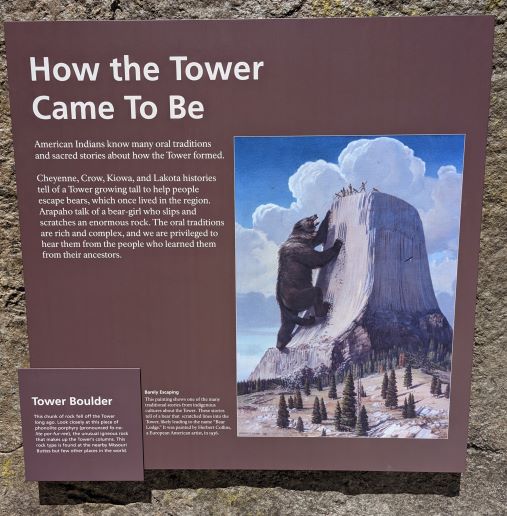 There is a visitors center here and a gift shop, so I picked myself up a t-shirt and a pretty cool-looking pin that will go on our "Wall of Travels" (just came up with that name, what do you think?). No ice cream shop here, though. Next stop, hot springs, baby!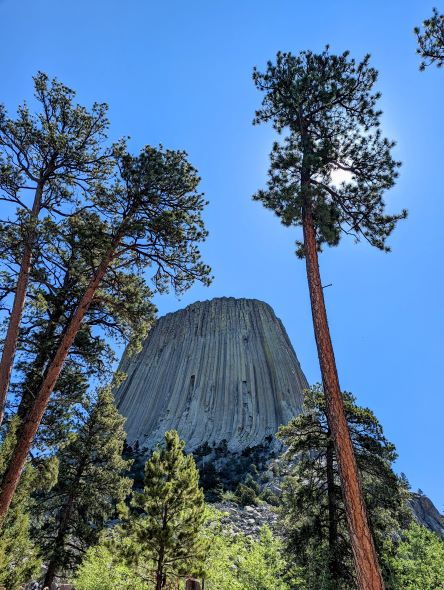 Hot Springs State Park, Thermopolis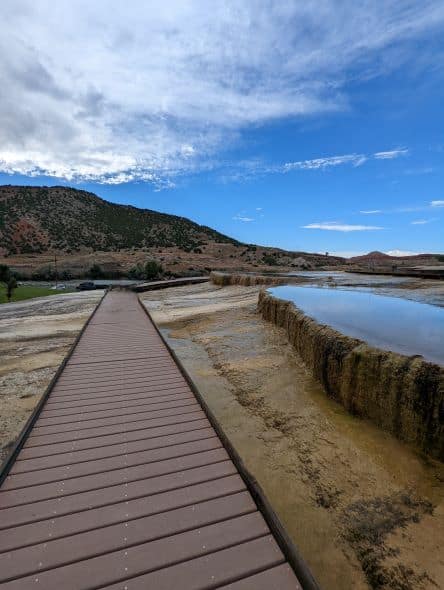 Hot Springs State Park in Thermopolis, WY. Unfortunately, it'd already closed for the day upon our arrival, which, online stated they'd be open, but we could tell the sign on the building and recently been updated. So no hot tub for us.
We decided to walk around the park a bit and strolled along the path around Rainbow Terrace to check out the Swinging Bridge, the girls thought the bridge was a little freaky when I started to make it bounce a little.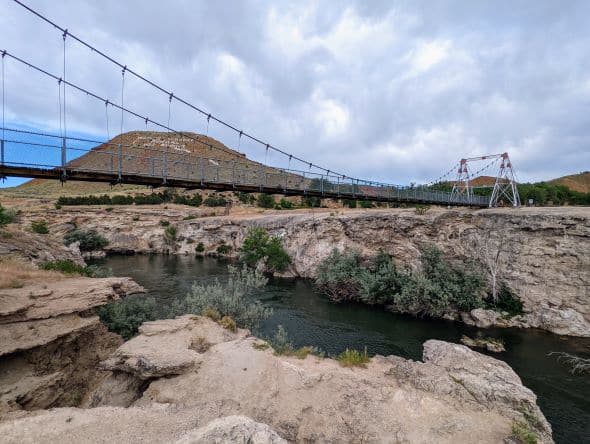 Since the Bath House was not open, we did not spend as much time as we thought we would in Thermopolis. So we started to head out of town, and what did we happen to pass on our way out? A nice big dog park, it was time to pull out the Chuck-it and run the girls for a bit. Now that they were nice and tired, we got back on the road toward the Tetons.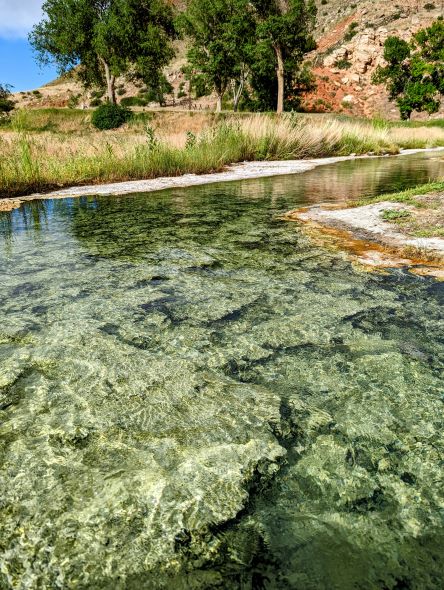 Grand Teton National Park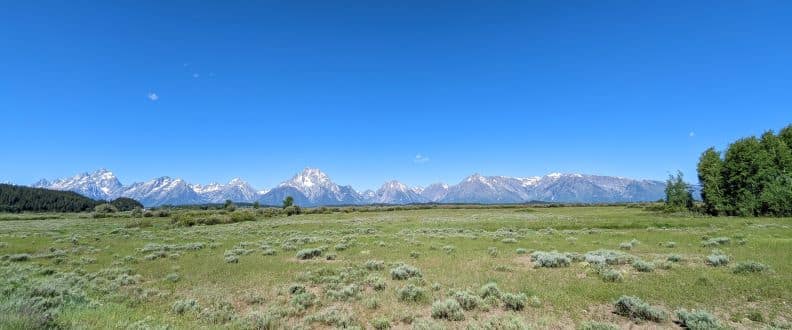 It was too late in the day to make it into the Tetons, so after 10 pm, we pulled into the Hatchet Campground for the night. It was dark and to me, it was late as well. There was a sign for checking in and paying, but I was too tired to take care of it.
Figured I'd have time in the morning. It had to be before 7 am and we get a knock on the van door. Startled the heck out of me, I must have been in a deep sleep since I was a little disoriented and a little confused.
The guy kept knocking, and finally, it donned on me what was going on. I pulled open the door a bit to see what was going on. It was the camp host with his hand out. Told him we came in late last night, he stated he was up and it was not that late, whatever.
So we settled up with the guy, but I took my time while he stood outside waiting. Now that I look back, it was a little passive-aggressive on my part, but it was early.
No need to hang out there. So we saddled up and headed down the road. Fortunately, there was a cafe close by for some coffee since I did not feel like making my own that morning, just wanted to get on the road.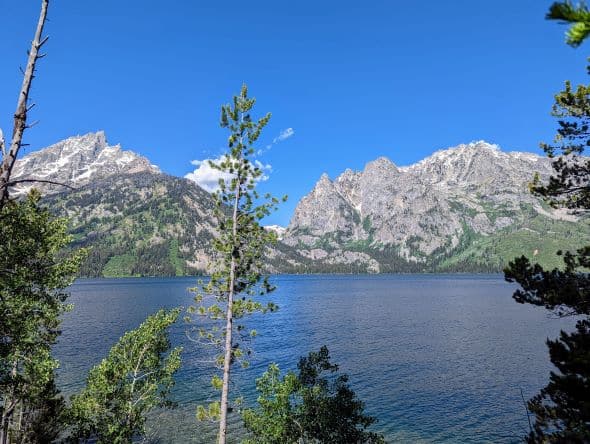 I had not really paid attention to the map, but we were just down the road from the Moran entrance. It was fairly early in the morning, but there was a decent amount of traffic. Luckily, they had a line where folks just flashed their America the Beautiful pass and kept rolling through the gate. We continued on Highway 191 along Jackson Lake.
Once the highway started to sway away from the lake, we turned around and headed back south stopping at a few overlooks.
The Jackson Overlook has a very impressive south-looking viewpoint of the Tetons. There were a handful of picnic pullout spots too, but we did not stop at any of those. We did want to check out the Colter Bay Village, and since we needed to get a Teton token for the wall and a good bathroom break, we pulled in and found a spot in the shade.
We also decided it was a good spot for breakfast. They also served ice cream but thought it was just too early for me. It did put a smile on my face when we saw an elderly couple sitting on a bench enjoying a scoop though
Taking the Teton Park Rd south, we drove over the Jackson Lake Dam, but there was a lot of traffic through here, so we did not stop, just stayed in line driving down the road. Not too far past the dam, the line came to a stop, with no clue of what was going on.
Finally, we started moving again and it was made clear why the cars had stopped. There was a very large bull elk meandering down the road.
By the time we got closer, the bull had made his way into the trees and made it difficult to get a good photo of him. We took another detour and drive along Jenny Lake. We pulled over in a spot we barely fit in and walk along the trail that went along the lake, finding a couple of decent viewpoints for pictures.
The rest of the drive south was pretty uneventful, except for all the bicycle riders, looked like a popular activity to bike from the Tetons back to Jackson, Wy. maybe another time.
It was time to reprovision and we knew there was a Whole Foods in Jackson, so our plan was to take the girls to the dog park we had visited last winter. I thought I knew where the park was, just down the road from the ski resort and next to the fairgrounds.
It was a really nice dog park, but come to find out, it is a seasonal park and is removed for the summer season. Bummer, for the girls' sake. So we finished our grocery shopping, a fuel stop, and we were back on the road. We were able to allow the girls to run around a bit up on the pass and they were happy once again.
Craters of the Moon National Monument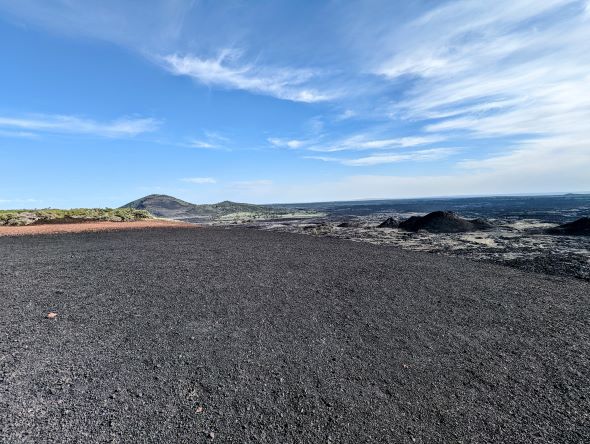 Our next destination? Craters of the Moon National Monument & Preserve. Now I had not looked up any information on this place, just knew it was some old volcanos. This is yet another really cool place that I'd like to go back to.
If you plan on going down into the caves you are required to obtain a permit. It is easy to get and really just involves several questions on whether you have been in any bat caves before and what you were wearing at the time.
For good reasons, they ask all these questions since the bats there have not been exposed to the White Nose Syndrome, and they do not want these bats to be infected. They do have a campground there with what seems like a lot of spots.
We did think about making this a place to stay for the evening due to its lack of light pollution, so it makes for a great place for astrophotography.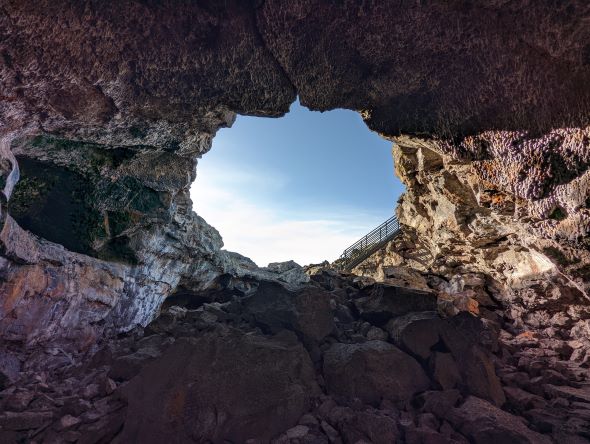 However, the weather called for overcast and possible thunderstorms in the evening through the night. Did not seem like the best of conditions for astrophotography. That aside, we had a good time walking around here and checking out the caves.
Only one of the trails was closed for maintenance, so we had plenty to do. Seeing and learning more about the Spatter Cones, walking up the Inferno Cone Overlook and down into Dewdrop Cave and Indian Tunnel. Dewdrop was pretty small, but neat to climb down into, plus it was a lot cooler down in there.
Indian Tunnel, we walked through the cave in both directions for a decent length, we only had one flashlight, so navigating through the tunnel became a little more difficult for two people.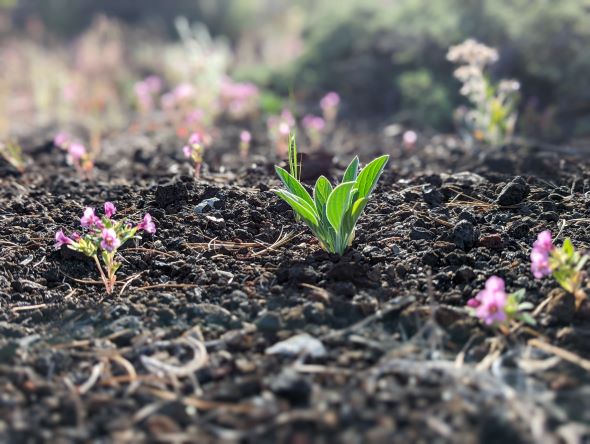 We never did see any bats in there, but a handful of pigeons. It was really neat walking through these, it had been quite a while since we had done any cave exploring, but these ones did not have a tour guide, so we were left on our own to enjoy at our pace.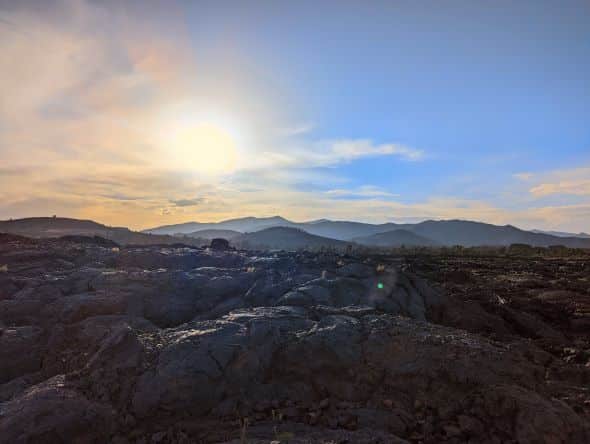 Craters of the Moon was to be our last stop, before heading back to Oregon, but since we had spent so much time there it was getting late in the evening and had made for a pretty long day. I wanted to make it back down to I-84 and west a bit before stopping for the evening. We made it to a rest stop just east of Boise after 11 pm, and I was ready to sleep.
Wrapping Up the Road Trip
The next day, bright and early, we were back on the road and before long, we had crossed over the Snake River for the last time on this trip, and we were back in Oregon. This time, however, we were South Dakotans visiting Oregon this time.
License plates are still Oregon so we were not fooling anyone. From here, the trip is very uneventful. We stop at our typical places for fuel and coffee in Baker City, Biggs Junction, and finally last stop, Sauvie Island. Sauvie Island was to be our home base for the next thirty days.
Conclusion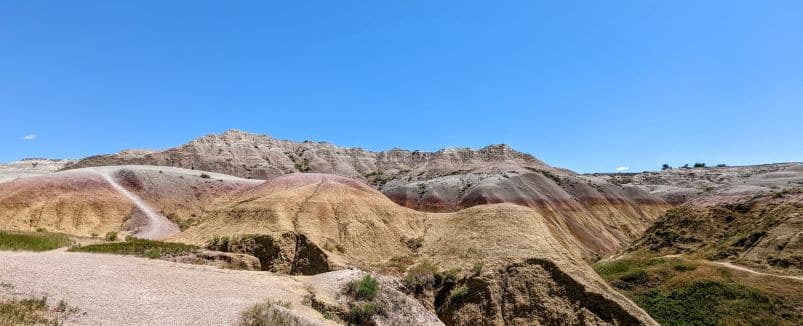 Next trip out to South Dakota, I'd like to stop in Deadwood, just southeast of Spearfish. Deadwood is steeped in history, like Mount Moriah Cemetery and two of its eternal guests, Calamity Jane and Wild Bill Hickok, as well as its gold rush history.
You can even stare at a large gold nugget and some dinosaur fossils. I'd like to spend some time in Keystone as well, and not just drive through it.
Yes, it might be a touristy spot, but there were some neat-looking stores that might just make it that unique place one has to see. Also in Keystone is the Iron Mountain Road, aka 16a. Apparently, it is a must-drive in order to appreciate it, so we'll see.
There was a hand full of state parks we missed too and we'd like to drive down to Wind Cave National Park and a few other scenic byways.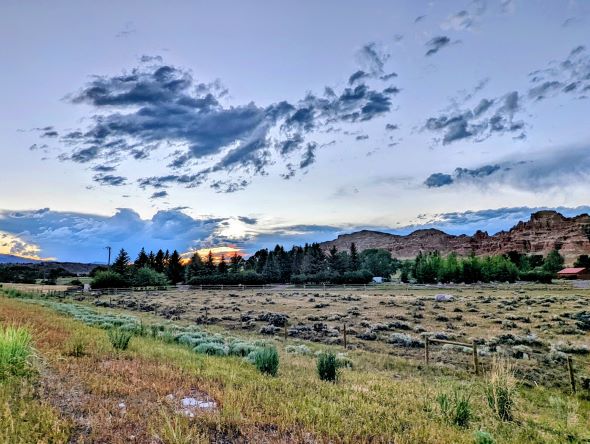 For the places we were able to see, I could not tell you what time is the best time to see them or what the peak season is. What I can tell you, though is South Dakota, Wyoming, Montana, and Idaho makes for an epic road trip.
Stunning landscape after stunning landscape made for one unforgettable road trip for us, and cannot wait to get back and explore the Black Hills area some more.
Additional Resources
Packing Your Car For Safe Travel