The Best Women's All Mountain Skis in 2023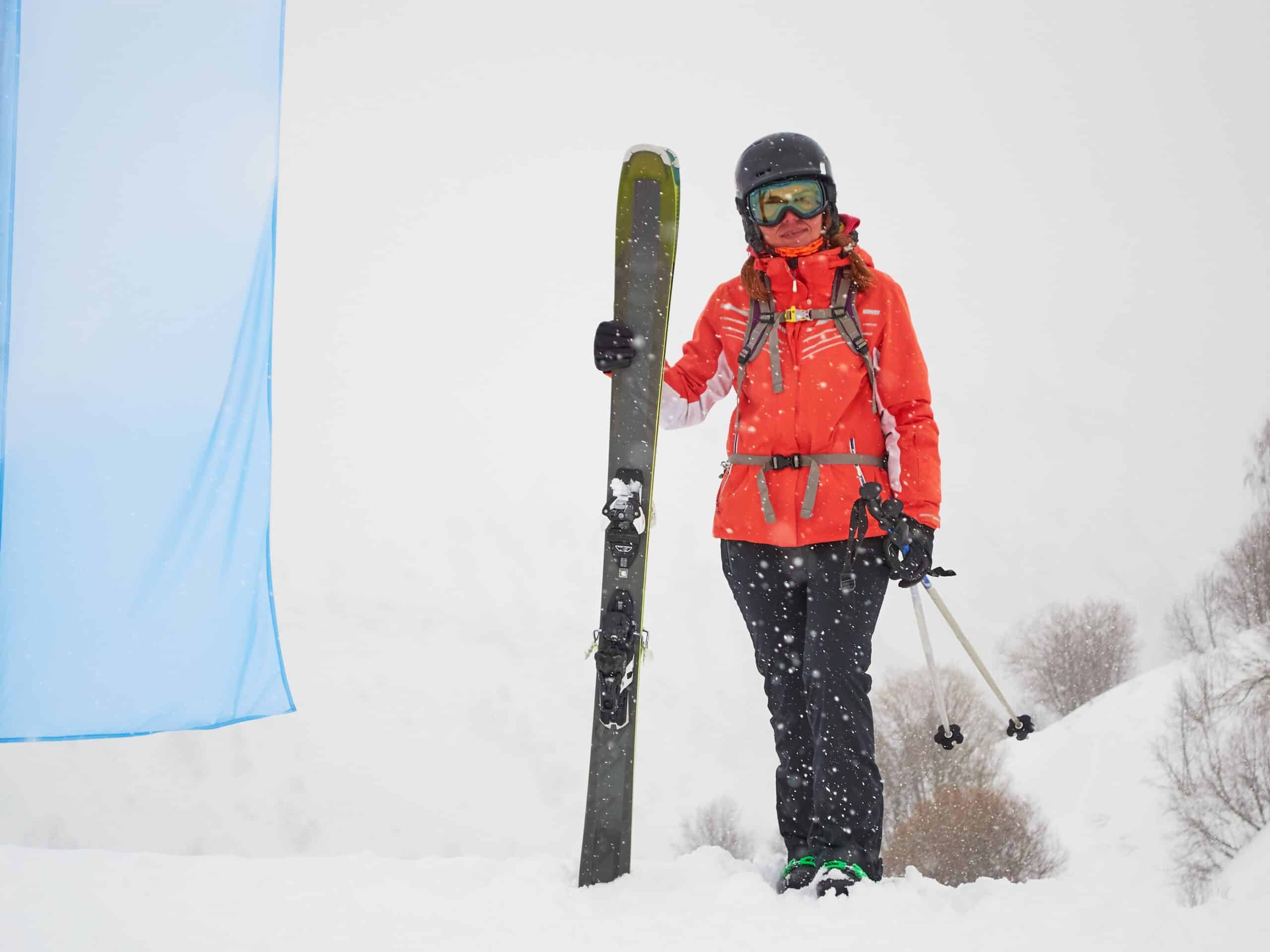 When it comes to exploring the mountain and taking on any terrain that comes your way, having the right gear is essential. That's why finding a great pair of women's all-mountain skis should be at the top of every serious female skier's list!
All mountain skis are a great choice if you're looking to explore multiple disciplines and terrain on one ski set-up. All-mountain means these are sturdy, versatile sticks built for conquering groomers, glades, and bumps with equal authority.
So if you're searching for women's gear designed to take on everything from steep lines to high-speed turns, you've come to the right place. Read on for our top picks for the best women's all-mountain skis this season!
This website includes affiliate links to various products. By using these links to make a purchase, you may support us, as we may earn a commission without any additional cost to you. Your support through these links is highly valued and helps us maintain the website and its content. We genuinely appreciate your support and thank you for using our links to make your purchases.
What are the Best Women's All Mountain Skis?
---
Blizzard Sheeva 9

Overview
The Sheeva 9 is designed for the modern female skier who wants it all! This fantastic ski provides exceptional responsiveness, stability, and playfulness across any terrain. Carbon Flipcore D.R.T Technology combined with a women's specific design allows riders to enjoy reduced weight without compromising performance – no need to sacrifice one over another! Blizzard proudly created this revolutionary ski in partnership with their Women2Women program, which brought together experienced free riders from around the globe – including athletes, retailers, coaches, and passionate skiers – developing a unique solution perfect for tackling everything mother nature throws your way! The ultimate one-ski quiver has arrived!
Features
Ability Level: Intermediate to Expert
Lengths (cm): 148, 157, 164, 172
Dimensions for 164cm length (mm): 114, 92, 124
Radius for 164 cm length (m): 14
MSRP: $850
Our take
Blizzard outshines the rest with this versatile women's all mountain ski, and we find it is an ideal choice for intermediate and advanced skis skiers alike. We love its performance in variable snow conditions while resort skiing and off-piste.
---
Nordica Santa Ana 98

Overview
The Santa Ana 98 is an all-mountain ski that can handle anything a skier may encounter. This new design boasts superior stability and edge control from powder to groomers with its innovative construction of a poplar wood core, carbon layer, and terrain-specific metal sheet for the ultimate smooth ride. Enjoy performing anywhere on the slopes without compromising your confidence – explore more, thanks to the impressive versatility offered by these reimagined legendary skis!
Features
Ability Level: Expert
Lengths (cm): 151, 158, 165, 172,179
Dimensions for 165cm length (mm): 131, 98, 120
Radius (m): 13.4
MSRP: $700
Our take
Nordica delivers with the Santa Ana 98 women's all-mountain ski giving advanced skiers the confidence to take on the day. This ski is ideal for expert skiers who can handle terrain and snow conditions and is your perfect powder harvesting tool. It isn't as playful or forgiving as some of the skis listed.
---
Atomic Maven 93 C
Best Intermediate All Mountain

Overview
The Atomic Maven 93 C is a versatile all-mountain ski carefully designed in North American and Austrian construction and validated by the Atomic #sheskis (Instagram LInk) ambassadors. This women's ski features the OMatic Core, which utilizes lightweight triaxial fiberglass and carbon layers blended with milled poplar wood for stability without compromising the flex. The Flow Profile offers camber, tip taper & rocker to give an exact ride in any snow condition – from hardpack to powder – while HRZN tech develops 10% more surface area to float across fresh pow! With this innovative combination of components built using premium materials, you're ready to take on anything the mountain throws your way.
Features
Ability Level: Intermediate, Advanced
Lengths (cm): 156, 164, 172
Dimensions for 164cm length (mm): 110, 126, 93.5
Radius (m): 16.5
MSRP: $800
Our take
We love these versatile skis. They are ideal for an intermediate skier looking to improve their turns, can handle more advanced mountain areas, and performs well in variable snow conditions.
---
Volkl Secret 96
Best Expert All Mountain Ski

Overview
For the daring female skier with a need for speed and exceptional performance, look no further than the Secret 96. Its Titanal frame is tailor-made to keep you stable under intense conditions and offers unmatched control of your turns on any terrain or at any speed; its carbon tips make it lighter yet still reliable from the ridgeline down. With this powerhouse ski at hand, even outstanding powder won't slow you down as you show off your skills and have one unbeatable ride from the start gate all the way 'til après ski celebrations!
Features
Ability Level: Expert
Lengths (cm): 149, 156, 163, 170
Dimensions for 163 cm length (mm): 135, 96, 119
Radius (m): 14
MSRP: $750
Our Take
We love Volkl Secret 96 for the hard-charging skier looking for a stable ski at the highest speed. These are expert skis for someone looking for speed, and if that's not you, Blizzard Sheeva 9 may be a better all mountain choice.
---
Elan Ripstick 94
Best Powder All Mountain Ski

Overview
Ripstick 94 W is the perfect companion for your next mountain adventure, no matter what terrain you take on. Boasting an incredibly lightweight construction and Elan's most advanced asymmetrical technology – Amphibio Carbon Line – this ski offers a dedicated left and right ski to help tackle anything from powder or groomers. With its versatile waist width of 94mm, this trusty setup ensures a stable ride that can take your skiing to the next level.
Features
Ability Level: Intermediate to expert
Lengths (cm): 146, 154, 162, 170, 178
Dimensions for 162cm length (mm): 133, 94, 108
Radius (m): 15
MSRP: $850
Our take
We love the Elan Ripstick 94 for almost everything and think it is an ideal choice for any intermediate skier looking to level up or an expert looking for a reliable tool to tackle almost anything.
---
Kästle FX96W
Best Groomer All Mountain Ski

Overview
Kästle has taken women's all-mountain skiing to a new level with their FX96 ski. Featuring Hollowtech 3.0 construction and an exciting blend of lightweight paulownia, beech, and poplar woods at its core for maximum responsiveness without the bulkiness usually associated with powder performance. This dynamic model delivers smoothness in any terrain while allowing you to predict your turns like never before! With early rise options available, skiers can enjoy rapid acceleration off-piste and incredible dampness that helps it float effortlessly through every turn on even deeper snow days.
Features
Ability Level: Intermediate – Advanced
Lengths (cm): 156, 164, 172
Dimensions for 164cm length (mm): 133, 96, 119
Radius (m): 14
MSRP: $899.00
Our Take
These skis are super fun and reliable for intermediate and advanced skiers alike. We love them for anyone looking to tackle the corduroy and packed powder, but not after faster speeds.
---
Head Kore 91 W
Best Mogul All Mountain Ski

Overview
HEAD's KORE 91 W offers an unbeatable ride for all your on-hill needs. Its cutting-edge construction features Graphene-fused tips and tails, a lightweight Karuba wood core, and triaxle woven carbon disperse vibrations to provide maximum energy transfer that helps carve up the frontside or explore the backside with ease. The shorter turn radius and camber underfoot will have you charging down the mogul fields or navigating the tress. Its newly designed top sheet shape guarantees durability so you can stay out there longer.
Features
Ability Level: Intermediate to Advanced
Lengths (cm): 149, 156, 163, 170
Dimensions for 163cm length (mm): 127, 89, 110
Radius (m): 14.7
MSRP: $699
Our take
We love the solid ski construction of the Head Kore 91 for anyone looking to conquer the trees or master the moguls. They are super playful and versatile to take on anything you can find on the front side.
---
Faction Dancer 2.0X

Overview
Experience pure, all-mountain freedom on the Faction Dancer 2X. With two razor-thin layers of metal perfectly blended with sustainably sourced Poplar wood core to give you lightweight energy and smooth handling over any terrain – even choppy stuff! Plus, power up your ride knowing it is backed by superior Austrian construction and 100% powered by renewable energy sources.
Features
Ability Level: Advanced- Expert
Dimensions for 163cm length (mm): 127, 96, 117
Lengths (cm): 155, 163, 171, 177
Radius (m): 15
MSRP: $749
Our take
We love this all mountain skis for hard chargers that want a versatile ski that cuts through the crud well and holds an edge at high speeds. It doesn't fair as well the Volkl Secret 96 at higher speeds, but it is easier to control in tight turns.
---
4FRNT MSP CC

Overview
The MSP CC brings unrivaled versatility and performance to the women's ski lineup. Its Contour Core technology shifts the core stiffest part to match a woman's power transmission style better, allowing you greater control as you confidently take on any snow condition. Featuring deep sidecut and light liveliness for effortless flow between turns, along with its 99mm waist width coupled with a smooth tip rocker – this ski will enable female skiers everywhere to effortlessly glide through fresh powder while experiencing increased levels of responsiveness! With all that it offers, push yourself harder than ever without reservation – because whatever energy is put into skiing on an MSP CC returns!
Features
Ability Level: Intermediate- Advanced
Lengths (cm): 159, 165, 171
Dimensions for 165cm length (mm): 132, 99, 121
Radius (m): 16
MSRP: $749
Our take
We love the 4FRNT MSP CC and many other skiers due to their vast following. This ski is fun, versatile, and checks all the boxes on the front side. The Contour Core technology is a game changer for those skiers looking to up their game, and if it had the forgiveness of the Atomic Maven 93 C, it would likely be holding the top spot for intermediate skiers.
---
Salomon QST Stella 106

Overview
From the first run to the last, you'll have loads of fun on the new QST Stella 106. With its redefined shape, carbon layup, and cork inserts for power and stability, this ski won't disappoint you when heading into big lines or tight couloirs. Get ready for a thrilling time – Throw in some fresh powder, and it's a match made in heaven!
Features
Ability Level: Intermediate – Advanced
Lengths (cm): 157, 165, 173
Dimensions (mm): 137, 106, 124
Radius (m): 17
MSRP: $750
Our take
While most of the women's all mountain skis typically cover all snow conditions, the Salomon QST Stella 106 stand out in the fresh snow and deep powder. We also love them for their agility for quick turns in tight spaces. A solid alternative to the Elan Ripstop 94 W if you plan to spend most of your time in the pow!
---
What is an All Mountain Ski?
All mountain skis are designed for alpine skiing on a variety of terrain. They are the most versatile type of ski, capable of navigating groomed runs, chutes and bumps, powdery snow in the backside, and everything in between.
An all mountain ski typically has an intermediate waist width that offers stability and maneuverability on various types of snow. With medium-stiff flex and added rocker technology, these skis provide maximum control when making sharp turns or riding through variable terrain. Ultimately, all mountain skis allow alpine skiers to conquer any alpine environment confidently.
If alpine skiers are looking for a one-ski quiver, an all mountain ski is a perfect choice. They provide stability and control on groomed slopes while allowing freedom to explore off-piste with agility. With its combination of features, an all mountain ski is suitable for alpine skiing beginners who want to progress their skills and experts who seek out varied alpine conditions.
All mountain skis offer the ultimate in alpine versatility and performance.
What are Camber and Rocker in a ski?
Camber can be a critical factor when looking for the right ski. A natural arch in the middle of your ski helps give it a grip when skiing on a hard pack and adds an extra layer of control to turns.
The arch's highest point is the camber when the ski is flat on the ground. The greater the distance, the higher the camber.
Rocker technology has revolutionized skiing since its launch about a decade ago and is now an essential feature of any alpine ski. Compared to traditional ski tips with their limited rise, rocker provides improved float in powder snow for uncompromised freestyle experiences and increased maneuverability on pistes so you can make your turns even more effortless.
What is Ski Radius?
Ski turn radius, or "sidecut," measures the agility and responsiveness you can expect on the slopes. Think of an hourglass shape – narrow at the waist but wider at the tip and tail, to carve tight turns even in crowded conditions or moguls.
This translates into agile handling with quicker turns – perfect for those who need maneuverability when carving up snow!
Conclusion
If you're a lady looking for your perfect ski companion, look no further than our top-ranked all mountain skis! From plowing through crud to floating on powdery goodness – these versatile planks are the ultimate sidekicks ready to take on any terrain. They can handle anything Mother Nature throws at them.
Get ready for an epic alpine adventure – no mountain too big or small for this trusty gear. So grab a pair of our favorite hybrid ski boots and a set of skins and start climbing the slopes.