Top 5 Van Life Toilets | Find Your Perfect Bathroom Companion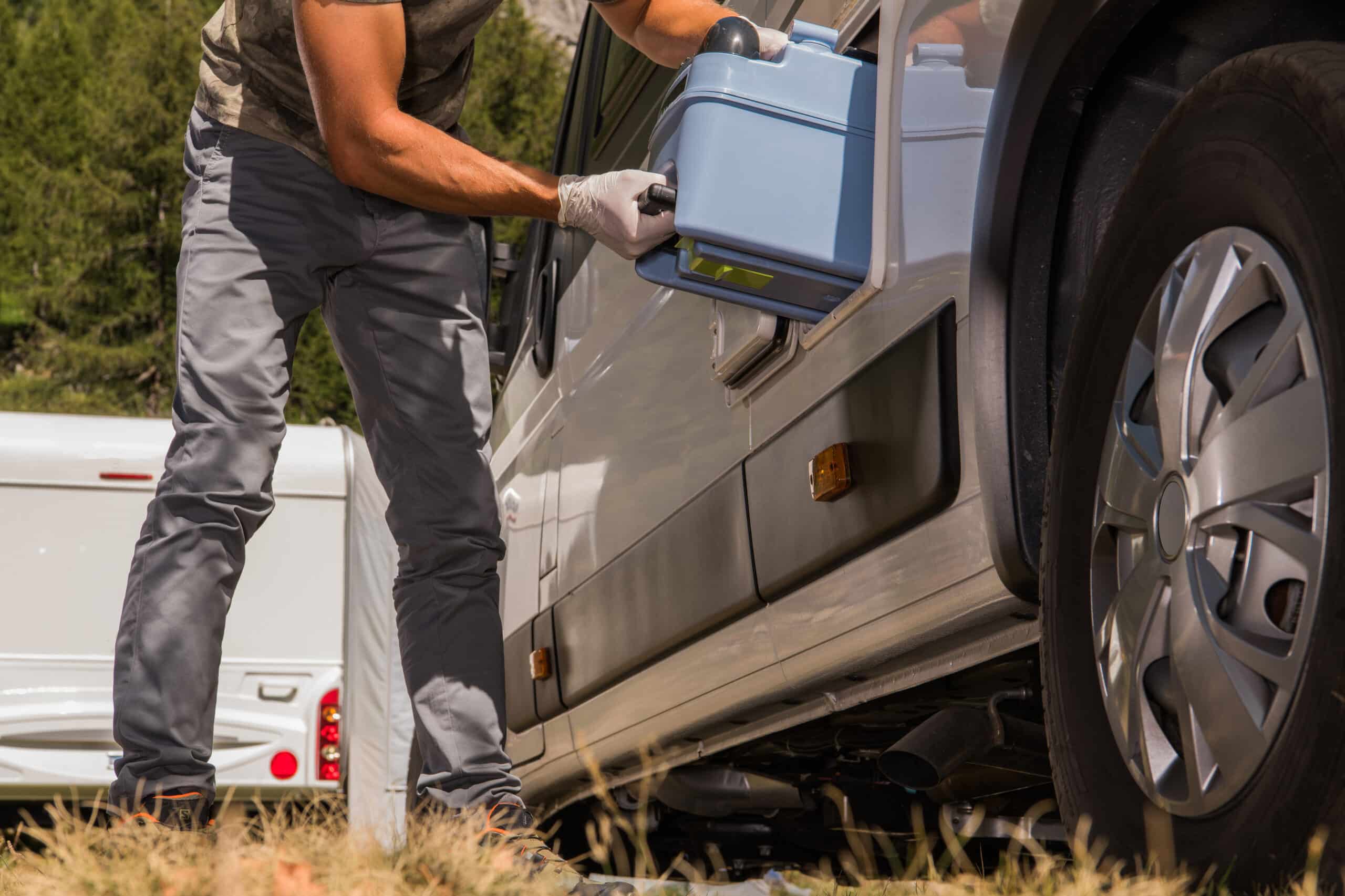 Having a reliable and comfortable toilet is essential for anyone living the van life (if you choose to have a loo in your van). There are many different options on the market, so finding the perfect one for your needs can be challenging.
To help you, we've compiled a list of the top five toilets for van life. From low-cost portable campervan toilet options to luxury models with all the bells and whistles, there's something for everyone on this list; these will also work as RV toilets, so do not despair.
So whether you're looking for the best value or features, we've got you covered. Just remember these are not like the regular toilet you may be used to. Happy shopping!
Best Overall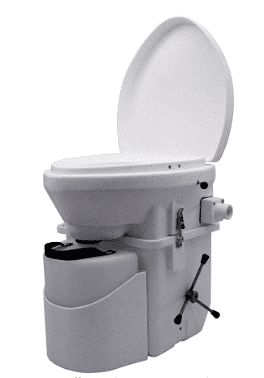 Composting toilets are becoming increasingly popular van toilet options due to their environmentally friendly design. The Natures Head brand is especially noteworthy and the most popular composting toilets, boasting a simple installation process, a smaller footprint than traditional designs, waterless operation, and low maintenance.
While these features make it great for a camper van looking to reduce its environmental impact, there are a few drawbacks. Those with larger groups may find the size unsuitable and its limited capacity–designed for two adults and up to 60-80 uses before needing disposal.
There is also an extra cost associated with the wood chips or other media you may use; it's required to help break down the solid waste when composting; this can range from $20-$100 per bag, depending on usage.
Ultimately, the Natures Head Composting Toilet could be a great solution if you're looking for an environmentally friendly option that is easy to install and use but should be carefully considered regarding space requirements and budget before proceeding.
Budget Option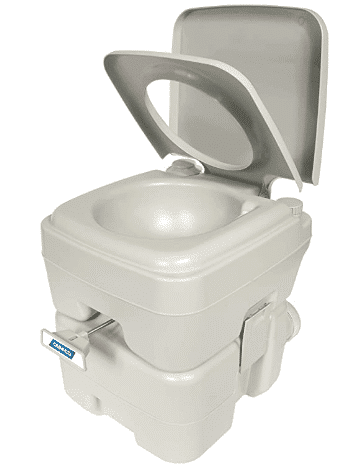 The Camco Portable Toilet (aka a portable cassette toilet) is a convenient evacuation and sanitation solution ideal for campers and RV owners. It features a detachable flush tank on the bottom, a 2.6-gallon holding tank, and a rotating pour spout to drain gray water. Making it one of the truly portable van toilets.
On the plus side, this compact toilet includes two small bowl clips to keep items secure, an integrated toilet paper holder, and an easily removable top cover, making it simple to clean the entire unit. It's also odorless due to its powerful flush process and double seals.
On the downside, it can be uncomfortable or too small for some users due to its low height of 15 inches and narrow shape of about 13 inches in diameter when open. Also, I'm not sure if you can consider these chemical toilets, but you can add chemicals to the tank to break down waste quicker and control the smell.
Additionally, emptying the waste tank requires caution as it needs to be disposed of responsibly according to local regulations. Camco offers portability and convenience for those looking for a reliable outdoor toilet experience, making it the best portable toilet.
Best Runnerup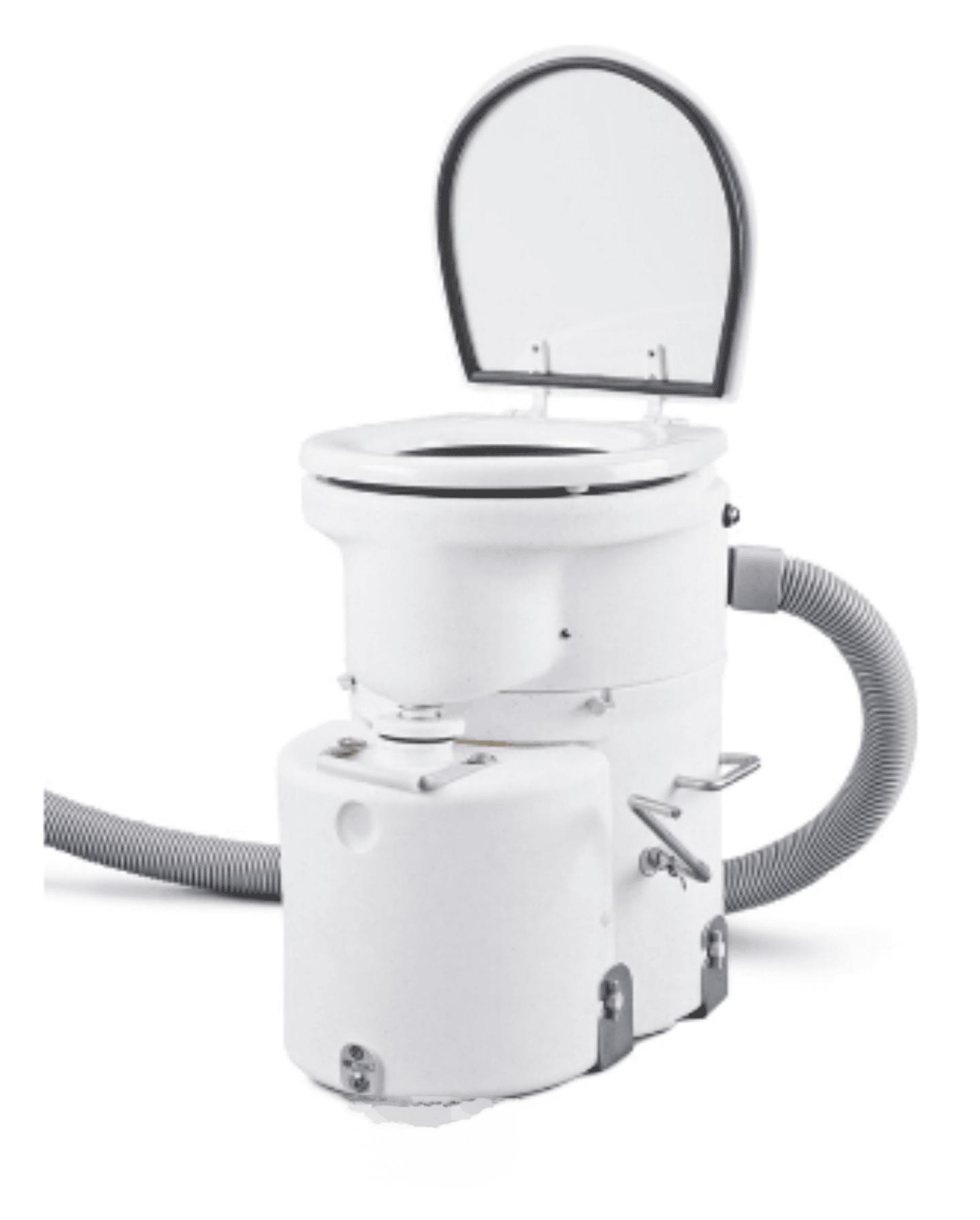 With van life becoming increasingly popular, RV owners see the same advantages as other van-dwellers thanks to systems like the Air Head Composting Toilet. Boondocking no longer has to be limited by black tank capacity; if two people use one of these toilets full-time for a month, they will have five gallons of semi-composted material that can be further composted in a plastic garbage can.
The urine is generally not harmful, so it can even be emptied on the ground in some rural locations. This self-contained system makes and processes liquid and solid waste with no offensive odors and takes up little space. It won't smell up your living area despite providing up to 80 uses for weekend trips or 60 when full-time van life is your reality.
There are, of course, a couple of cons with any composting toilet; you must follow the manufactures directions for your solid waste to break down properly. Secondly, and an important one, keep an eye on your sight window for the level of your liquid waste tank collection. If you fill it up too much, it can be tricky to remove for disposal.
With that said, van lifers and RV owners understand this system's convenience and its contribution to their way of life! This is the composting toilet we chose as our van life toilet.
Best Fully Off-Grid Toilet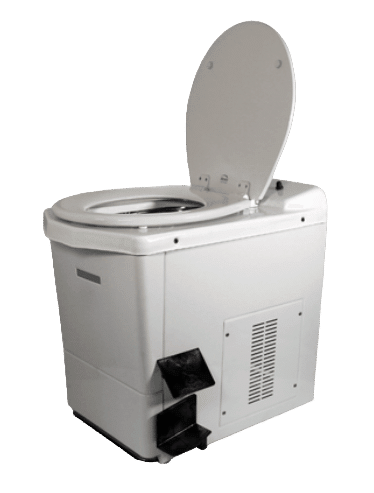 If you're living the van life and need a reliable loo that'll get you by in a pinch, the Incinolet toilet might be your ticket. Though it faces stiff competition from other compost toilets, the Incinolet stands out in its own unique way.
On the pro side, it's electric-powered, so you never have to worry about hand cranking it, plus no plumbing is required, which can save you a ton of time and energy when setting up and breaking down. Lastly, the solid and liquid waste does not need to be separated, making it an ideal toilet for van life.
As a van lifer, these three points make the Incinolet toilet an undeniable asset! Of course, just like any product, there are a few cons – mainly related to waste disposal. It's not as simple as flushing because you'll need to empty ashes and debris every now and again. There is also the power consumption issue; you'll need a decent battery bank and charging system, like solar panels or a DC to DC, to keep it operating.
But no frequent dumping trips into the rest stop bathrooms like other portable toilets. But if van life has taught us anything, it's that with proper preparation, almost anything can be managed!
The Most Budget of All Options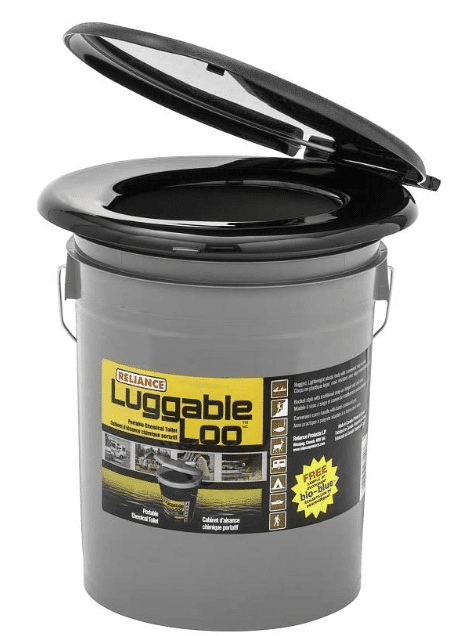 Yep, these are bucket toilets. The Reliance Luggable Loo Portable 5-gallon toilet is a great addition to van life or RV excursions! On the plus side, its portability means you can take it camping (grab a toilet tent for privacy), on road trips, or anywhere else you may need.
At 5 gallons, you don't have to worry about emptying the tank every 1-2 days (liquid) like other portable toilet models. It's also surprisingly comfortable for its size, with a contoured seat and lid that make any spur-of-the-moment bathroom breaks more bearable (emergency toilets).
On the downside, the waste bucket doesn't come with an odor-proof layer – so quite literally, what goes in there stays there until you can get around to emptying it! Unless you use a plastic bag, of course. All jokes aside, though, the Reliance Luggable Loo has earned itself a place among van lifers and RVers for being convenient and cost-effective.
How to Properly Dispose of Your Waste
Disposing of solid waste when living an adventurous van life can be difficult. However, it doesn't have to be a nuisance. To properly dispose of human waste, several essential steps must be remembered. A portable toilet specifically designed for holding and disposing of your waste is incredibly important, as it functions similarly to a traditional toilet without requiring access to plumbing.
Once the portable toilet has been used, the waste should be sealed airtight with a bag liner and secured before being removed from the RV or camper vans. From here, you are ready to find an appropriate dumping site or dump station, such as an approved septic system; when emptying your portable toilet into this option, use biodegradable and natural cleaning products to ensure no pollution is caused.
An environmentally friendly approach to van life includes caring for nature while learning how to handle any potentially hazardous wastes you might produce; following these key steps will give you peace of mind regarding the proper disposal of human waste.
Use a Composting Toilet to Reduce Odor and Save Water
A composting toilet is a great choice when you are looking to reduce odor and save water during van life. Composting toilets use a combination of sawdust, peat moss, and other bacterial additives to break down human waste into safe compost.
This process drastically reduces odors because the waste is biologically broken down instead of remaining in a tank that smells. Additionally, no water is required due to the natural structure of the toilet's design. This means you can enjoy the luxury of a toilet while conserving resources.
Let's Talk About Toilet paper
If van life or RV'ing is part of your plan, chances are you've looked into composting toilets. While they offer a range of advantages, such as being a great eco-friendly option, having to invest in the right kind of toilet paper shouldn't be overlooked.
Not all rolls are created equal when breaking down materials for your composting toilet. Specialized toilet paper is treated with biodegradable chemicals and additives that ensure it completely breaks down, resulting in a cleaner and more sanitary compost pile.
After all, what van-dweller loves feeling like their home on wheels needs a serious cleanup? Invest in the right type of TP for your unique living situation: you won't regret it! This also applies to other types of toilets, and it still needs to break down during storage.
side note: When peeing, do not put the used toilet paper in the toilet; discard it in your trash can. This will save you much-needed space in the solid waste tank.
Choose a Portable Toilet That is Easy to Clean
Whether you are living the van life or planning a camping trip, having a reliable and easy-to-clean portable toilet is essential. To make your search easier, opt for a toilet with a detachable lower chamber, which allows you to clean the interior more thoroughly and with less effort than one-piece toilets.
Look for models with handles for easy transport and foldable legs that provide extra stability. In addition, consider buying anti-splash lids and deodorizing sprays or formaldehyde tablets that will help keep odors at bay. You can find the perfect portable toilet for your van life adventures with careful research!
Consider an incinerating toilet if you want to be completely off-grid
If you want to take your van life experience off-grid, an incinerating toilet may be a perfect fit. While traditional camping toilets rely on holding tanks that need to be emptied periodically and use water in flushing, an incinerating toilet will quickly and cleanly combust waste without sacrificing convenience.
It needs no external power source or water supply, making it ideal for those who prefer no environmental footprints. The lack of odor and low maintenance required are also great benefits! With an incinerating toilet, you can enjoy being completely unplugged wherever your travels take you.
Conclusion
As you can see, there are various toilet options for van life. We've covered the best composting toilets and other campervan toilet options, even a bucket toilet. We've covered the campervan toilet pros and cons for each. When buying your van toilet or your RV toilet, ask yourself whether you want to be handling your poo or not.
If not, then go with cassette toilets. Yes, you still have to dump it, but you do not need to stir occasionally or transfer it from the holding tank to a where ever you are disposing of it. If this all sounds horrible, maybe a toilet in your van is not for you, or an Incinolet could be the answer.
However, I have to say I'm glad we have a toilet in our van. It is hard to beat when on a long road trip, and no restroom stop is in sight. I just pull over, do my business, and return to the road. Another option not covered here is a more permanent toilet solution, plummed to a black tank.
Unless you prefer to use a campground toilet, vault toilets, porta potties, pit toilet, or your uncle's outhouse with a dozen Little Trees to freshen it up, buy your toilet now and enjoy one of the best campervan toilets on the market.
And who knows, maybe someday you'll have a view like this in the morning from your own throne.